Endless fun awaits the whole family at MOTIONGATE Dubai
Gather the family and head to MOTIONGATE Dubai for a day of thrilling rides, mouthwatering bites and fun-filled entertainment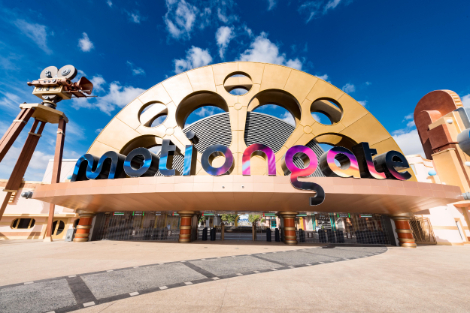 MOTIONGATE Dubai, the largest Hollywood-inspired theme park in the Middle East, invites adults and kids of all ages to enjoy a day packed with plenty of excitement.
Upon arrival, visitors will enter the magical world of Hollywood and can explore any of the theme park's five distinct zones, including Lionsgate, Columbia Pictures, Smurfs Village, DreamWorks and Studio Central, through a host of immersive experiences.
Lionsgate
The Lionsgate zone has recently revealed MOTIONGATE Dubai's two record-breaking rides: the world's first John Wick roller coaster, John Wick: Open Contract and Now You See Me: High Roller, the world's fastest single-car spinning roller coaster. In this zone, you will also have the opportunity to experience an adrenaline rush on The Hunger Games-inspired Capitol Bullet Train or get a Panem Aerial Tour through a 4D hovercraft motion simulator experience.
Columbia Pictures
At the Columbia Pictures zone, families can beat the heat with a Cloudy with a Chance of Meatballs – River Expedition; enjoy the twists and turns of the Green Hornet: High speed chase roller coaster; get recruited by New York City's Ghostbusters, explore Hotel Transylvania's Gothic mansion or escape zombies on the thrilling Zombieland Blastoff.
Smurfs Village
Fans of the Smurfs can head to the colourful Smurfs Village and enjoy rides such as Smurf Village Express and get on the Smurfs Studio Tour. The adorable Smurfs will also be around for some selfies.
DreamWorks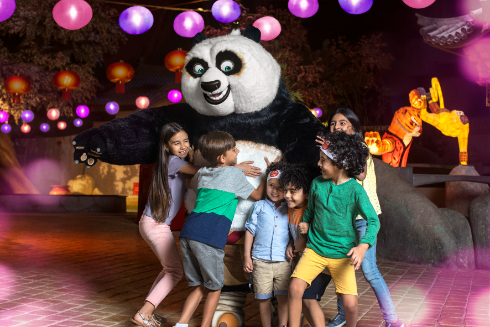 Discover the worlds of popular movie franchises, Madagascar, Shrek, Kung Fu Panda and How to Train Your Dragon at the indoor DreamWorks zone. Packed with fun rides, including the Madagascar Mad Pursuit! roller coaster, an action-packed drive through a circus; The Dragon Gliders roller coaster to experience the feeling of a flight with Hiccup and Toothless, and Swamp Celebration, a chance to celebrate an unusual birthday party with Shrek and Fiona, families can also meet their favourite characters and snap away loads of pictures.
Hollywood Theatre and The Studio Central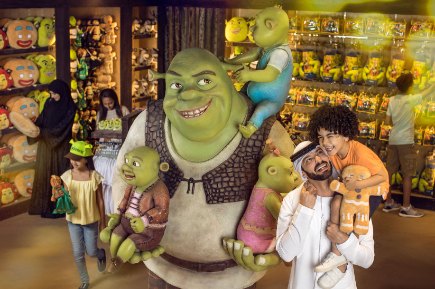 Music and dance lovers can visit the Hollywood Theatre to enjoy fantastic musicals or watch live shows and performances throughout their park journey. While The Studio Central is an ideal spot for shopping, offering popular merchandise and collectibles from any of the branded merchandise stores across the park.
Dining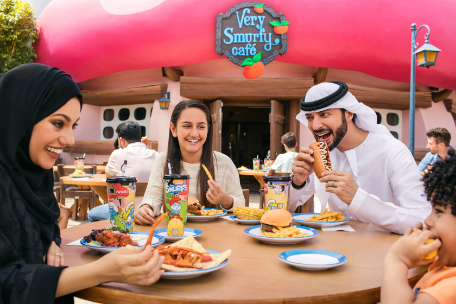 MOTIONGATE Dubai offers dining options to satisfy all palates, with plenty of restaurants serving cuisines from around the world. Visit Mr. Ping's Noodle Shop for authentic Chinese cuisine, The Dragon Flame Grill for hearty delights and the Very Smurfy Café for light bites and refreshing beverages.
Open from 11am-8pm on weekdays and from 11am-9pm on weekends. Call 800-AMAZING (2629464). Visit the website.