Save time on cleaning this summer with eufy WetVac W31
Sponsored: Make the act of cleaning and mopping a more pleasurable activity with eufy WetVac W31, a powerful and versatile hybrid vacuum mop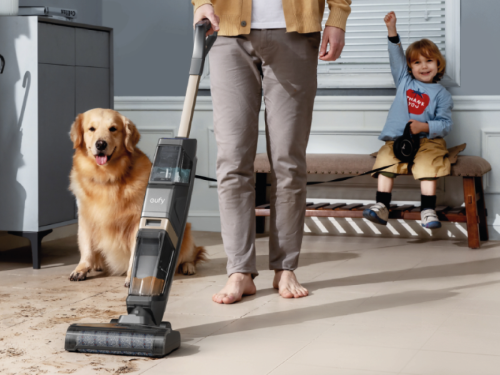 Today's fast-paced society makes it seem as though we have little to no time for ourselves because we are either working at the office or doing chores at home. Cleaning the floors is one of the larger household tasks that requires a lot of time to perform, but things are about to change with the new eufy WetVac W31 vacuum cleaner.
Cleaning has never been more enjoyable thanks to this powerful vacuum mop that can mop the floors and gather all the dust at the same time, reducing cleaning time and allowing you to spend more time doing the things you actually enjoy.
The ability to mop and vacuum at the same time is the major benefit of purchasing the eufy WetVac W31. The rolling brush effectively removes dirt from your floors at 2,500 revolutions per minute while the 12,500 Pa suction power pulls it in, allowing you to get a deeper, more comprehensive clean. As it cleans the floors, a 600-cc water tank pushes a steady stream of fresh water to rinse the rolling brush.
What makes the eufy WetVac W31 even more special is its ability to switch between modes in a quick and agile manner. Cleaning hardwood floors, carpets and tiles can be done seamlessly without stopping for even a second to change extensions or vacuum heads. No matter what the surface, the vacuum mop can clean any mess created by beans, oatmeal, eggs, spaghetti, art supplies, pet food, wet fur and much more. This is certainly a revolution for the home appliance industry as people do not need to pre-prep a surface for a thorough clean – everything can be taken care of in one swift motion.
Additionally, the user's health has been taken into consideration when designing the eufy WetVac W31. The unique design divides wet and dry messes for a quick and hygienic tank cleaning. A separate tank holds unclean water.
The eufy WetVac W31 also offers an additional level of comfort and security. Place it back in the charging base as soon as you are finished cleaning, and it will begin to clean itself. eufy says that the rolling brush can self-clean in 75 seconds and self-dry in about 180 seconds, leaving it clean, fresh, and odour-free and ready for the next clean.
The eufy WetVac W31 gives only what is required for its purpose, unlike other cordless vacuum cleaners that come with a range of parts and attachments (that are rarely utilized). The box has only 8 pieces in total. A multi-surface rolling brush, a carpet rolling brush, a hard floor cleaner, a filter, a charging base, and a cleaning tool, which are all included with the WetVac W31 unit.
In the cordless vacuum sector, smart LED screens are standard equipment, so users can quickly access all the necessary information. The eufy WetVac W31, however, goes a step further by providing audio prompts. With the help of this straightforward feature on the W31, you are immediately informed of what is happening and do not need to take additional time or exert further effort to clean a particular region.
The eufy WetVac W31 is definitely worth the money if saving time is vital to you.
For those interested in getting this vacuum mop, Sharaf DG is currently running a promotion where at just AED1,999/- you will get both the eufy WetVac W31 Vacuum Cleaner and the RoboVac 25C Max (which is worth AED 799/- by itself).