Why you should try ice bath therapy
Take a dip in the ice bath at ReFIVE Spa Palm Jumeirah, embrace the challenge of being immersed in ice cold water and feel the epic benefits, such as accelerated muscle healing, enhanced sleep quality, stress reduction and immune boosting.
Ice bath therapy involves putting the body entirely in a bathtub of ice. It is used by both athletes and others who want to develop a mind-over-matter type of practice in their lives. Ice baths are used by professional athletes both after competitions and as part of their training regimen because they are believed to have many health benefits.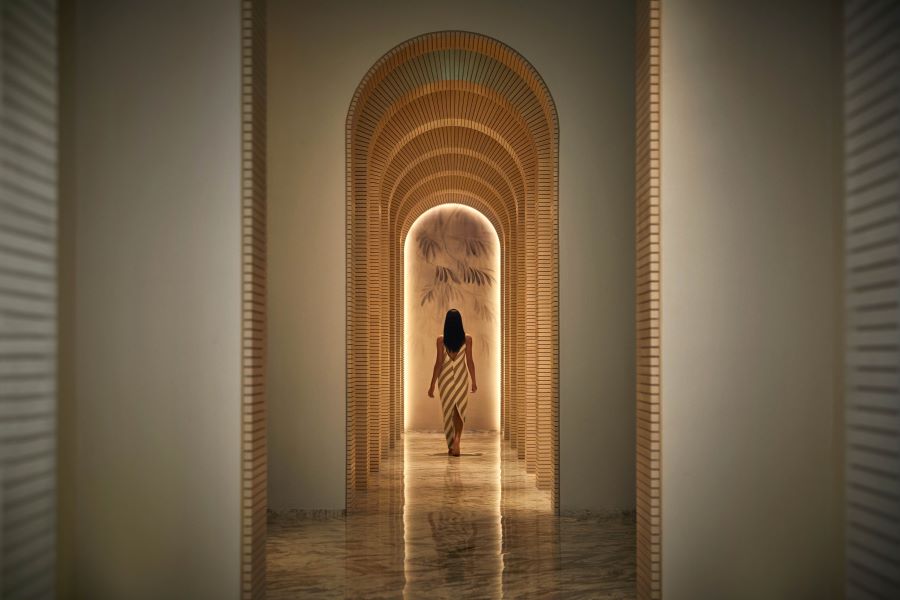 Cold water therapy has its origins in ancient medicine and has been used to treat and prevent illnesses for thousands of years. In the last few decades, this practice has won a lot of interest again, inspiring hundreds of thousands of people worldwide to use cold water immersion for its remarkable advantages.
Among fans of ice baths, we can find celebrities such as the Kardashians and Lady Gaga, and even Hippocrates used to love them.
Ice is probably best known for its ability to soothe sore muscles and reduce inflammation, but it is also believed that exposure to sub-zero temperatures strengthens the central nervous system. The sympathetic and parasympathetic nerve systems of your body can be stimulated to improve mood, sleep quality, and response to stress.
If you can sit in an ice bath for a couple of minutes, the uncomfortable aspects of daily life won't seem as bad. In addition to the physical advantages of the ice, the practice contains meditation components that leave you feeling centered and energized.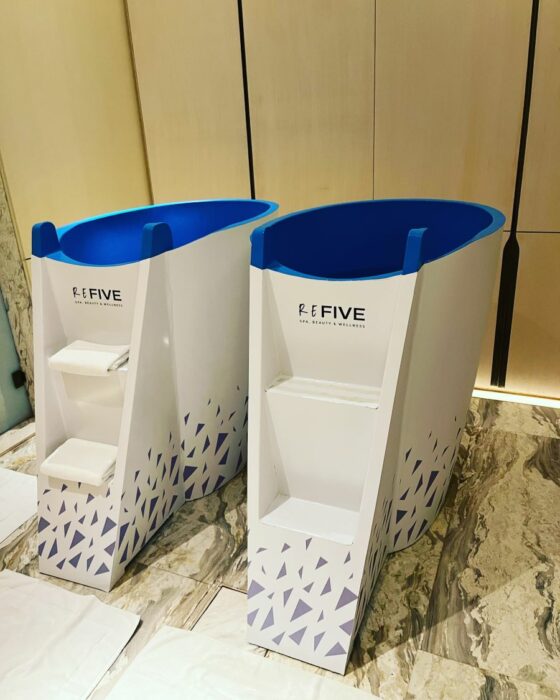 The question is do I dare to sit in an ice bath for as long as it takes to feel all the health benefits? Curious to try this, but also scared as hell as I hate cold showers, I challenge myself to give this a go and experience it.
As soon as I come into ReFIVE spa, I am warmly welcomed by the receptionist who explains to me the whole process. First, I need to go for a couple of minutes to the steam room and once I feel quite warm and sweaty, I can go and embrace the cold. She tells me also usually people only do one or two minutes the first time and after that, you can do more sessions of up to ten minutes.
I go into the steam room trying not to think too much about the cold and I stay there for three minutes. After that, I enter the ice bath and it's as cold as I imagined it! I immerse myself in the water until it reaches my shoulders and my therapist tells me to focus on the breathing exercises. I try to breath in and out, but I can only think of the cold and want to get out badly!
After 40 seconds, I jump out and my therapist tells me to go again to the steam room and then come back to the ice bath. I do as I am told and, without thinking too much about it, I enter the ice bath again. This time I feel more focused, I manage to concentrate better in my breathing and am able to do the full minute, which it kind of gives me a great feeling of accomplishment.
I take a shower after the ice bath and I am given a warm cup of mint tea. My body still feels slightly cold, but I feel invigorated and energised. As my muscles were a bit sore from my gym session earlier, I can feel them less stiff now.
Would I do it again? Probably not because I do love hot water and I don't take well the cold, but I strongly recommend to everyone to try it at least once because it's a challenging experience who won't leave you indifferent and a great way to boost your mental health and immunity.
ReFIVE Spa Palm Jumeirah. AED995 for 10 sessions, subject to availability. Advance bookings are recommended. Call + 9714 455 9964 and visit the website or Instagram