Review: Azure Beach
Located at Rixos Premium Dubai in JBR, Azure Beach features six luxury private cabanas which are the ideal place to sunbathe, relax and spend quality time with your family and friends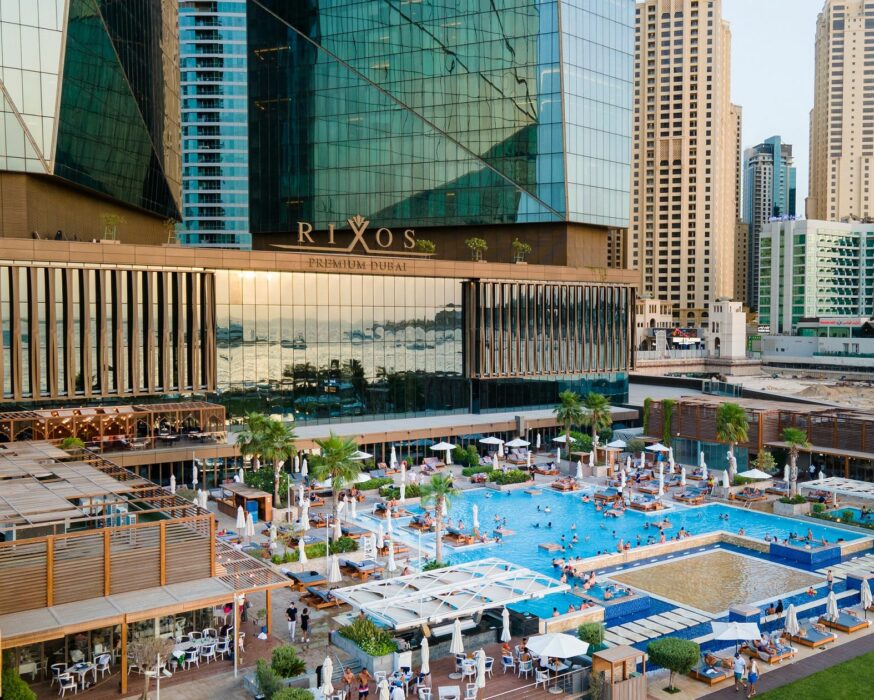 The cabana area boasts a cosy booth with double sun beds and a stunning private pool. As soon as we arrived on a busy Saturday afternoon, the hostess gave us a warm welcome and took us to our private cabana. I always like to have a walk around to get a feel for the place when I go to a new venue and I found myself admiring in awe the stunning views of the Marina skyline & Arabian Gulf and the lush green gardens that surround all the private cabanas.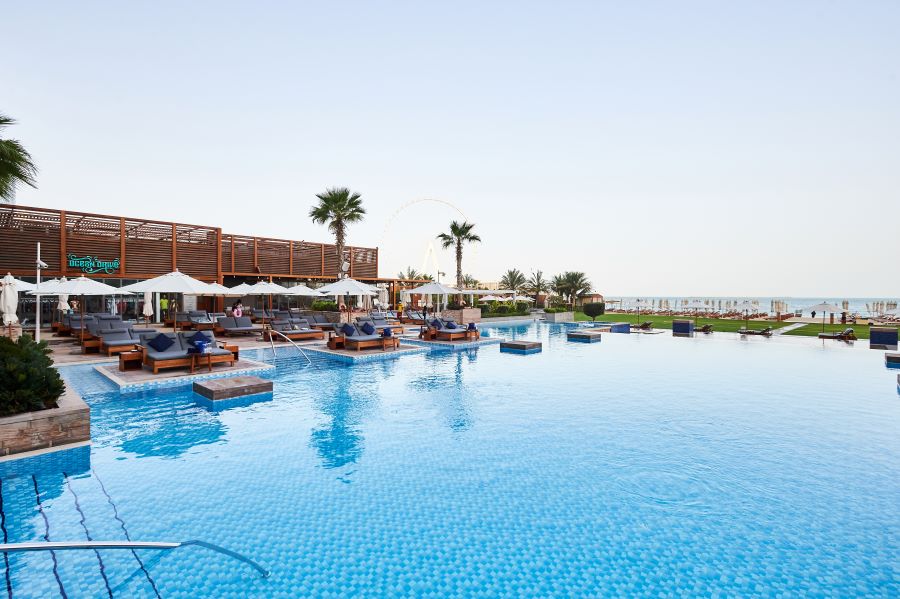 Depending on the number of people in your group, there are two cabana sizes to choose from. Up to ten people can stay in the largest cabana with a double pool, and up to six can stay in the smaller cabana. The small private cabana is AED4,000 minimum spend and the large one is Dhs6,000 (both fully redeemable on food and beverages, water and soft drinks included).
Our waiter provided us with impeccable table service throughout the entire day, going above and beyond to meet all of our needs, from serving beverages regularly to keep us hydrated, putting towels on the corners of the pool to enter it and asking us at all times if we were comfortable and needed anything in particular to make our day even more special.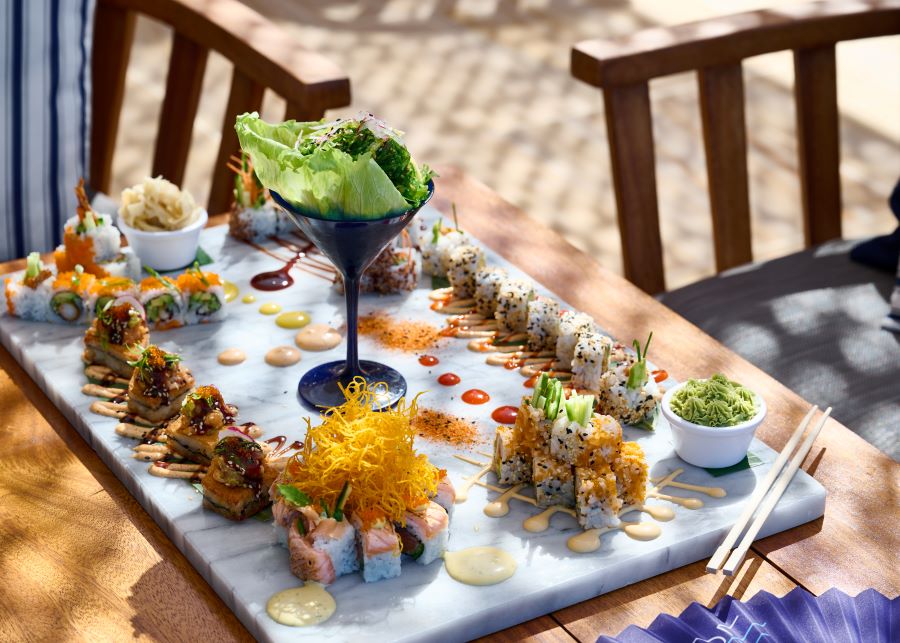 The menu features light bites, mouth-watering sandwiches, healthy salads, hearty pizzas and delightful sushi. We were treated with the 'Azure sushi platter' that features a generous portion of salmon, spicy tuna, fantasy and crispy veggie rolls, sushi pizza, wakame salad and a selection of delicious sauces.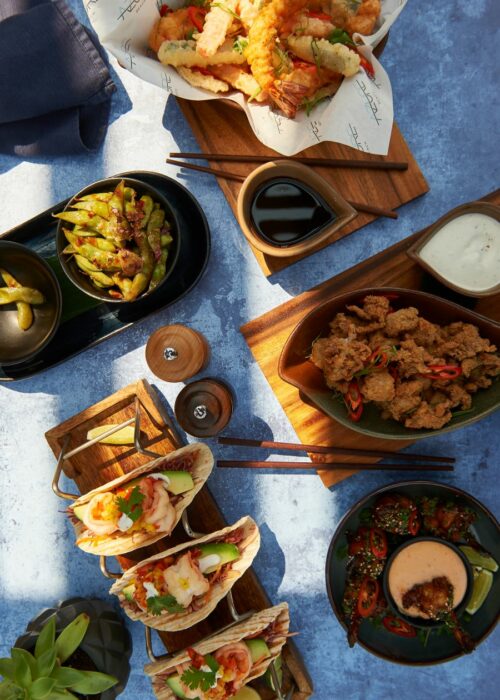 From the starters, we also tried salt & pepper squid with yoghurt, lime and aioli with was crunchy and utterly delectable and firecracker chicken wings with tangy pepper sauce and that were just the right amount of spicy and really tender.
After a short break and dip in our pool, we had a colourful and refreshing fruit platter for dessert, with watermelon, kiwi, red grapes and passion fruit which was the perfect ending to our meal.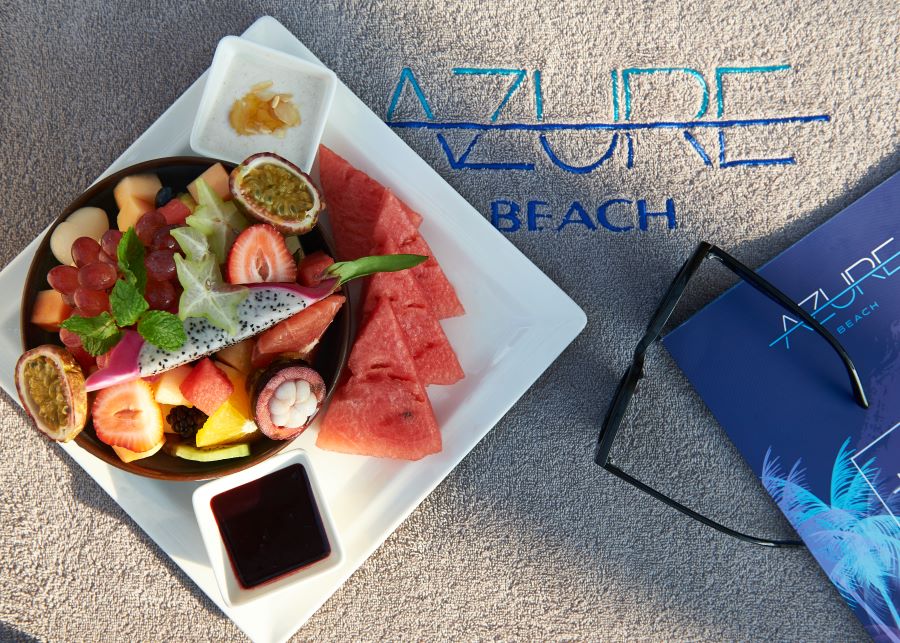 As the sun set down and it was time to leave, I truly felt lucky to have experienced such a memorable day.
If you are looking for an exclusive, luxurious and fun pool day to enjoy with your loved ones, with outstanding service, delightful food, creative blends and breath-taking views, look no further.
Azure Beach, Rixos Premium Dubai JBR, Dubai. Daily from 10am-8pm. Call +9715 2777 9472 and visit the website or Instagram