Top places to celebrate Thanksgiving in Dubai
Thanksgiving falls this year on November 24 and is a day for people in the USA & Canada to give thanks for what they have. Here our suggestions to celebrate the blessings of the past year with your family and loved ones in Dubai
Weslodge Saloon Business Bay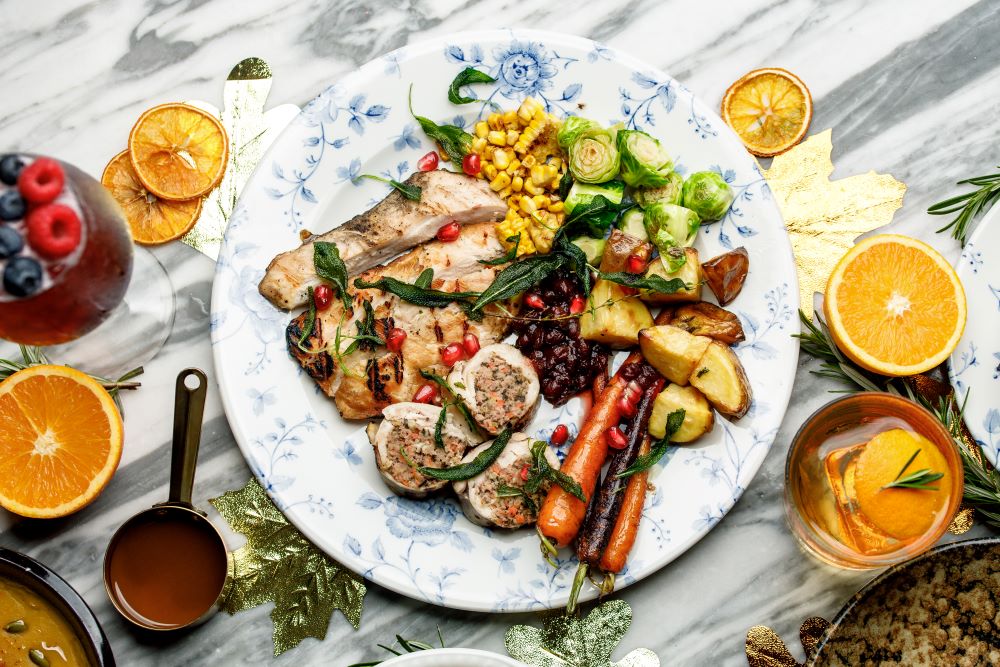 The finest comfort cuisine classics from North America are available on a limited-edition menu at Weslodge Saloon to celebrate Thanksgiving Day. The menu features delightful dishes such as a cream-laced mushroom soup, fluffy flatbreads topped with decadent truffle, a juicy turkey roulade served with signature trimmings such as maple-glazed carrots and WS's special cranberry sauce plus grilled corn and onion rings on the side. For dessert, expect a fluffy New York cheesecake and maple-syrup-soaked pancakes.
November 24 from 5:30pm-12am. AED250 per person for four courses, side dishes and two beverages. Call +9715 0731 9808 and visit the website or Instagram
Weslodge Saloon City Walk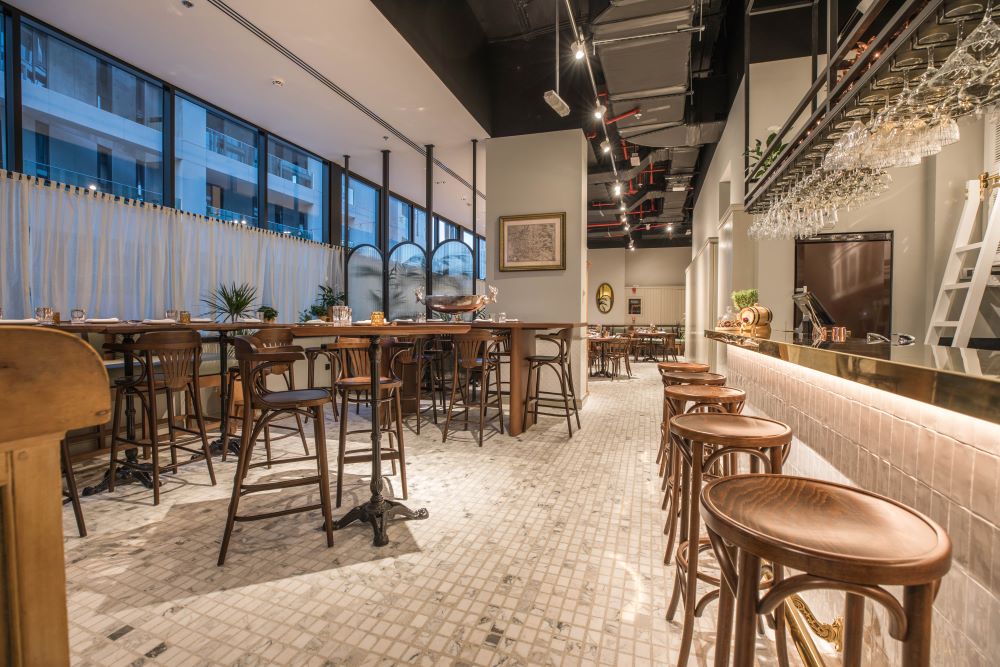 The City Walk branch is celebrating Thanksgiving with delectable dishes such as a tangy tomato soup and a crisp and creamy blue cheese salad with onion rings to start, a juicy turkey roulade served with signature trimmings such as maple-glazed carrots and WS's special cranberry sauce plus roasted potato and brussel sprouts on the side. For vegetarians, indulge in a decadent truffle and burrata risotto. A variety of expertly shaken mocktails are available for diners to toast this wonderful day.
November 24 from 5:30pm until late. AED190 per person for per person for four courses, side dishes and two soft beverages. Call +9715 0731 9808  and visit the website or Instagram
CLAW BBQ at Hilton Dubai Palm Jumeirah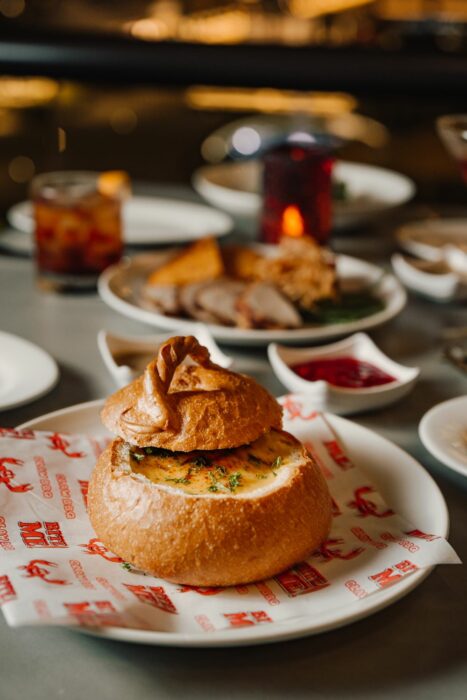 This American hotspot is hosting a Thanksgiving three-course set menu that includes roasted butternut squash and cauliflower soup and kale & quinoa citrus salad for starters. The main course features delicious dishes such as slow-cooked turkey breast, sweet potato yams, green bean salad, skillet corn bread, turkey gravy, and cranberry sauce. End the evening on a sweet note with a pumpkin dump cake or an apple crisp.
CLAW BBQ also has a number of fun game stations, including the popular bucking bronco, 8-ball pool, air hockey, hoops and pinball to keep the whole family entertained.
November 24 from 12 pm-2am. AED149 per person for the three-course set menu. Call +9714 230 0054 and visit the website or Instagram
Black Tap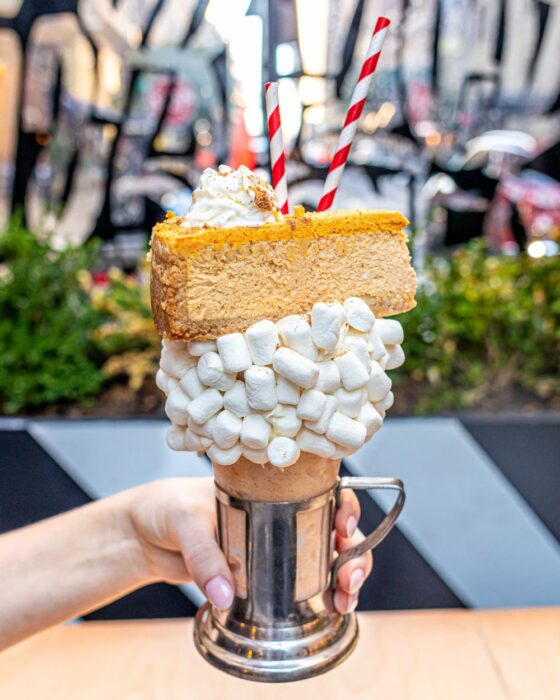 Thanksgiving will be celebrated in Black Tap from November 21 to 27 with a special menu featuring mouth-watering dishes such as the Thanksgiving combo (starter: truffle mac & cheese, atomic shrimp or buttermilk tenders. Main: fried turkey & brie burger or vegan burger. Choice of a side, CrazyShake®: pumpkin cheesecake hake or The cookie shake and mocktails), the Thanksgiving burger with fried turkey, melted brie, pecan and cranberry stuffing, roasted garlic mayo and watercress, and more.
November 21 to 27. AED150 per person for the Thanksgiving combo (The combo needs to be booked by the whole party to be applicable). Visit the website or Instagram
Swissotel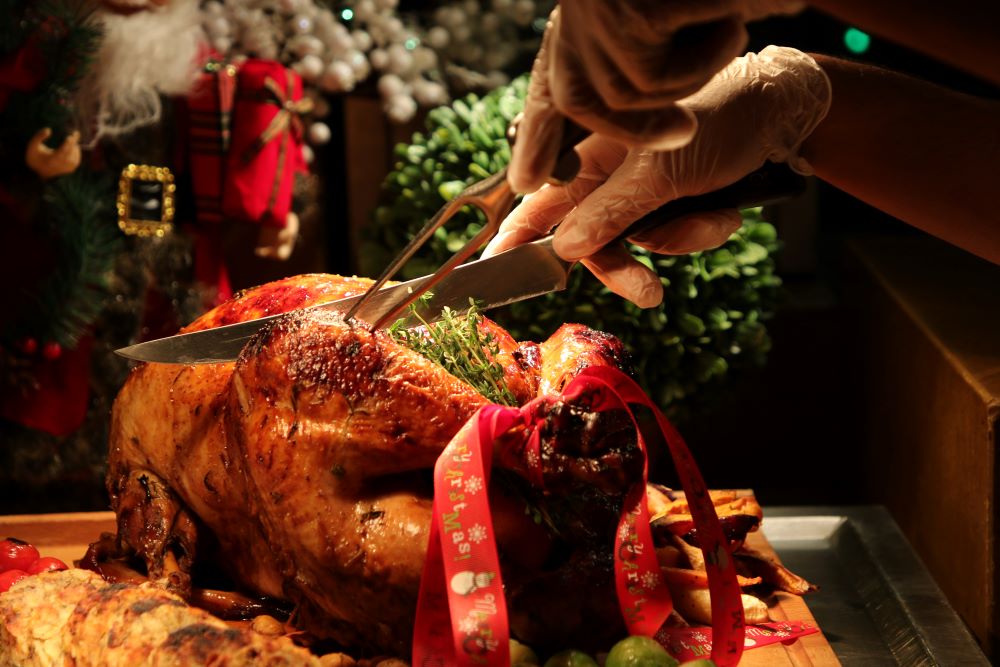 The "Around the World" Meal at Swissotel Al Ghurair honours Thanksgiving traditions with a family-friendly brunch featuring a special menu with a live carving station for honey-glazed turkey with trimmings and cranberry sauce, and fish with a herb crust baked with almond flakes and sweet potato.
Liwan restaurant. November 27 from 12-4 pm. AED179 per adult, AED89 per child aged between 6 to 12 years, and complimentary for children below 6 years. Call +9714 293 3270 and visit the website or Instagram
Swissotel Al Ghurair is also offering a festive turkey takeaway with free delivery and available for pre-order. The turkey is carefully packaged with all the traditional trimmings, including roasted chestnuts, Brussels sprouts, potatoes with herbs, as well as homemade holiday desserts.
Festive Turkey is available for pick-up at Yasmine Lounge, as well as for free delivery at any location in Dubai, from November 20 until December 25, from 11am-9pm. AED 499 for a 4kg turkey for up to six persons and AED599 for a 6kg turkey for up to ten persons. All orders require 72 hours' notice. Online orders can be placed from https://forms.gle/q5BQguXpomaMw8z2A
The Croft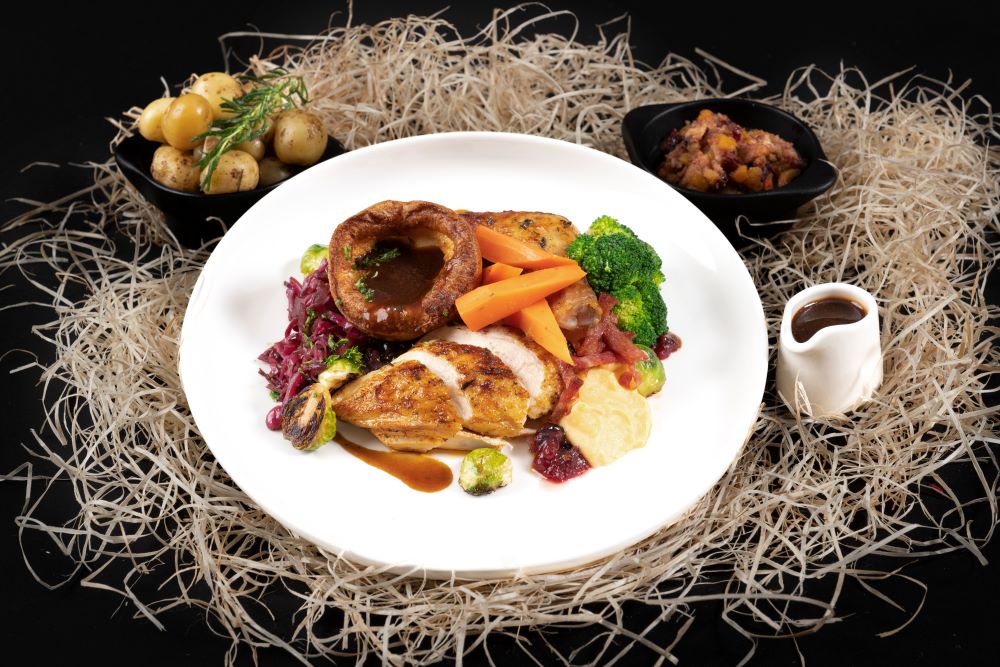 Enjoy a lavish Thanksgiving dinner with family and friends at The Croft's stunning terrace. Expect delectable holiday classics such as roast turkey with cranberry sauce, beef stew, mac & cheese, pumpkin pie, and more while admiring the Dubai Marina.
November 24 from 7-10pm. From AED199 per person. Call +9714 319 4000 and visit the website or Instagram
Grand Millennium Dubai Barsha Heights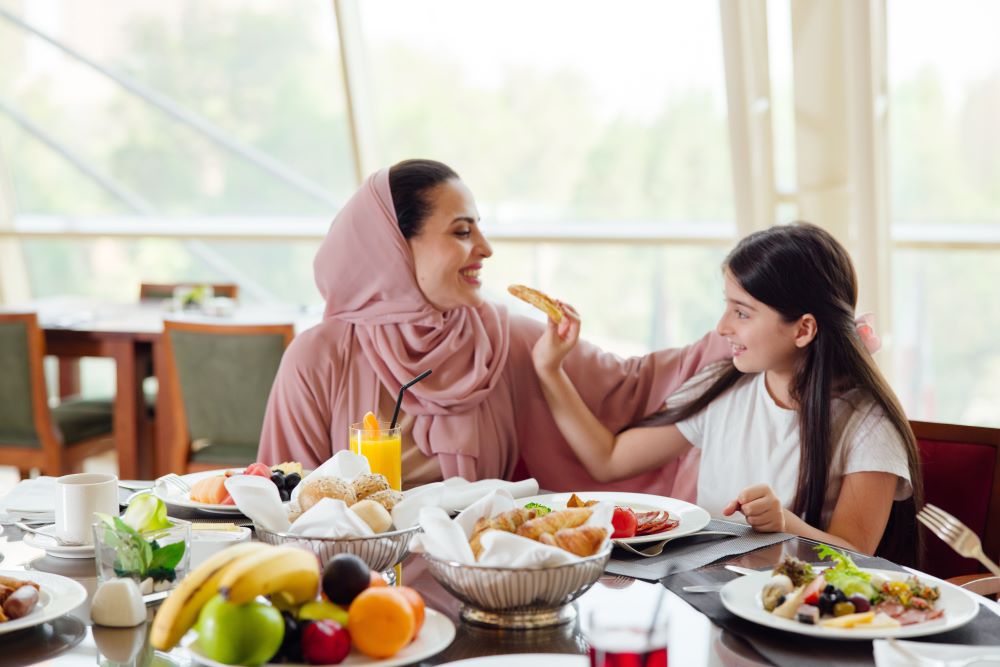 Celebrate Thanksgiving the traditional way with a delectable takeaway of turkey feast or traditional roasted chicken served with trimmings, starters & a chef's special dessert. For an unconventional Thanksgiving feast, try the grilled half lamb ouzi.
November 15 to December 31 from 9am-11pm (48 hours prior to pickup/delivery). AED699 for 6kg roasted turkey, AED159 for roasted chicken and AED899 for 8kg grilled half lamb ouzi. AED100 for delivery outside of Al Barsha Heights. Visit the website or Instagram
Holiday Inn Dubai Al Maktoum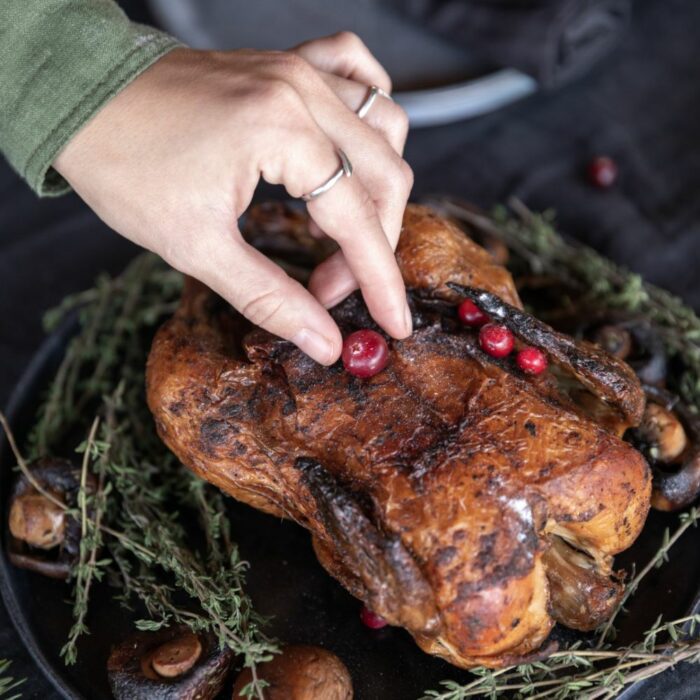 Give your loved ones a memorable turkey supper by serving them a whole butter-basted turkey, along with traditional stuffing, glazed Brussel sprouts, cranberry relish, roasted root vegetable gravy, and perfectly crafted buttermilk mashed potatoes.
November 20 to December 31 (takeaway only). AED495 for the whole family (serving 5 – 7 kgs). Visit the website or Instagram
LDC Kitchen + Coffee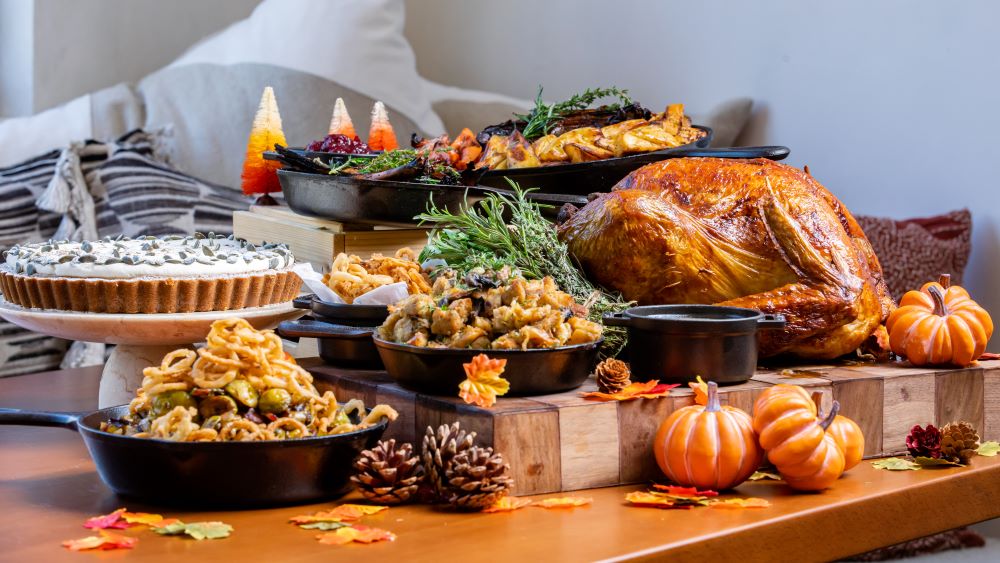 Your Thanksgiving celebrations at home should be easier thanks to The LDC Turkey Takeaway (and less messy). Let the skilled crew led by Chef Omar Basiony take the stress out while they prepare a gleaming, full slow-roasted Turkey that serves 6–8 people.
The LDC Turkey takeaway package costs AED650 and includes a ton of side dishes including crispy shallots, brussel sprouts with veal bacon, and seasoned root vegetables. The gorgeously basted whole slow roasted Turkey is available for pick-up at all LDC locations or for delivery through Chatfood beginning on November 20 with a 24-hour preorder.
From November 20. Visit Instagram
Hampstead Bakery & Café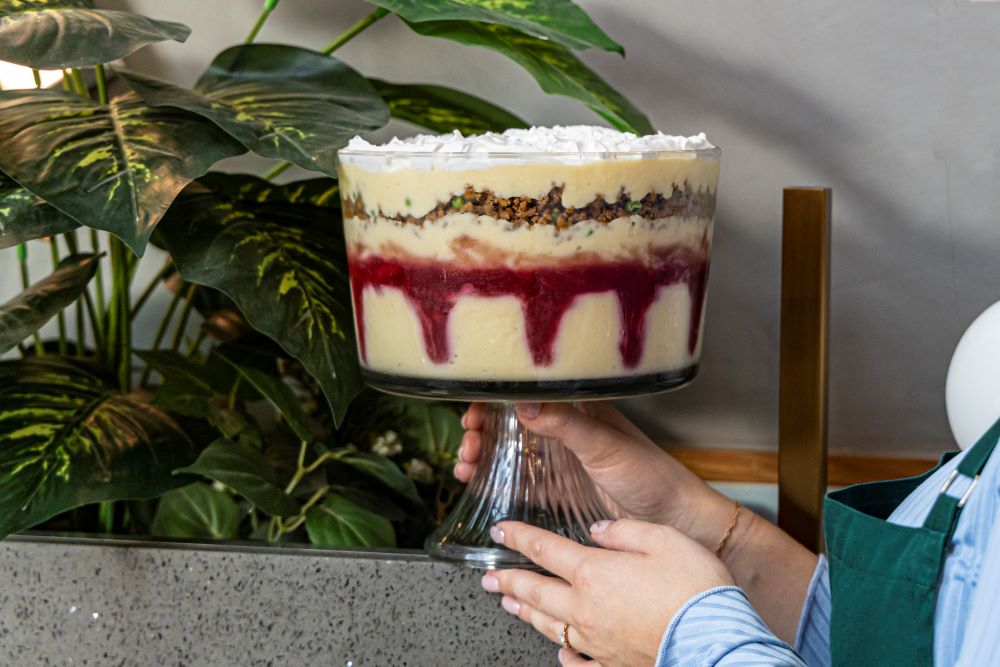 Head to Hampstead Bakery and Cafe this Thanksgiving with your family to celebrate the holiday with a distinctively English flavour! The iconic West London-inspired restaurant is remaking Rachel's "English" trifle from Friends season six, when Monica assigns Rachel to prepare the Thanksgiving dessert. Because the cookbook's pages get tangled up, she regrettably only manages to complete half an English trifle and half a Shepherd's pie.
The sweet and savoury dessert at Hampstead Bakery and Cafe was made using Rachel's classic English trifle recipe and the restaurant's beloved Shepherd's Pie recipe. The finished product is made up of layers of ladyfingers, jam, homemade custard (of course), raspberries, bananas, and lamb that has been sautéed with peas and onions before being topped with whipped cream.
November 24 to 26 from 9am-11pm. AED35 per portion. Call +9715 0583 0155 and visit the website or Instagram
Ben's Farmhouse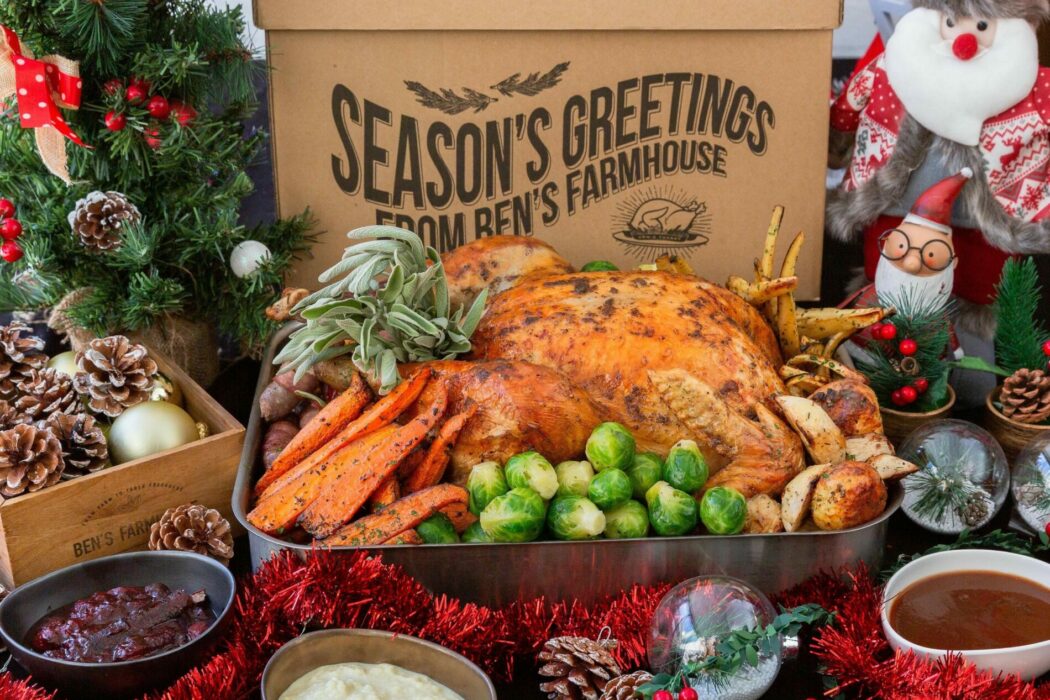 Celebrate Thanksgiving at home with your loved ones with Ben's Farmhouse's signature Thanksgiving box containing a de-boned turkey breast, roast potatoes, a selection of vegetables, plus the all-important cranberry sauce, gravy and bread sauce from AED350 (serves 2) up to AED1,260 (serves 8). Orders are available from the November 24 to 27 with 24 hours' notice required.
Non-meat eaters will get a box full of vegan treats to go with the lentil, chickpea, and sage nut roast. To keep the children pleased, additional extras are also available.
Call +9715 8545 2207 and visit the website or Instagram
Kibsons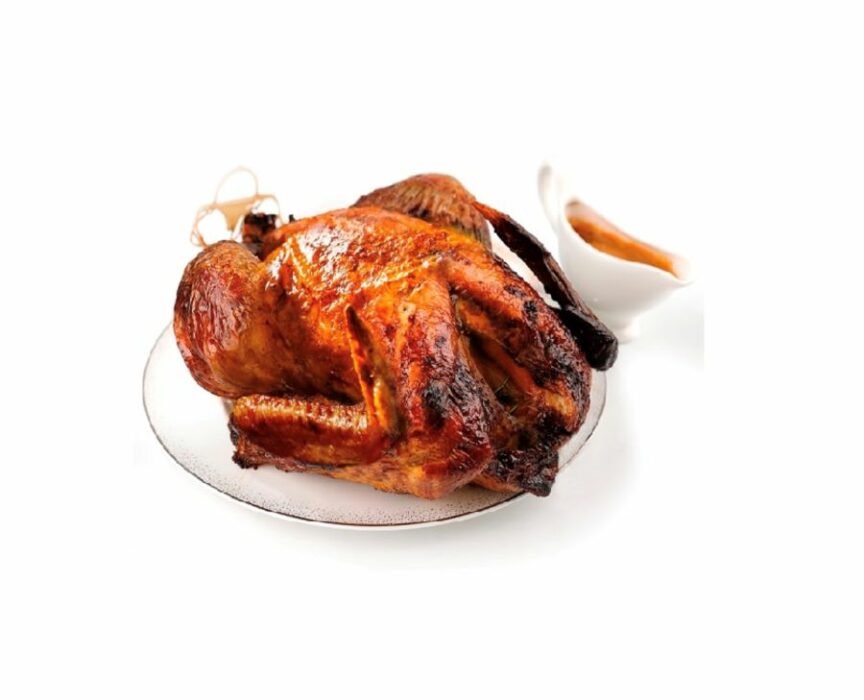 Thanksgiving turkeys, vegetables, sauces, and DIY kits from Kibsons come with everything you need for a sumptuous feast to celebrate this special occasion. Even better, those following a plant-based diet can now purchase vegan DIY boxes. Additionally, if you order your Thanksgiving turkeys and boxes before November 20, you'll get amazing early bird savings.
Call +971800 542 7667 and visit the website or Instagram
Habtoor Grand Resort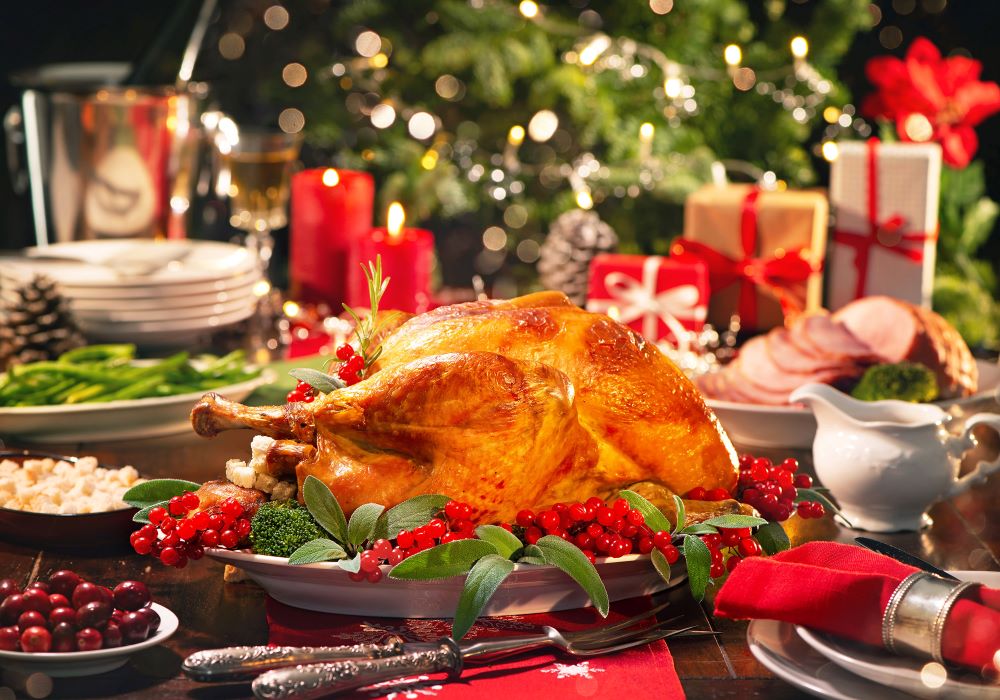 Bring a traditional roast turkey into your home this holiday season and enjoy it with your loved ones to get into the holiday spirit. Enjoy a deliciously soft turkey that has been stuffed, served with roasted potatoes, veggies, chipolatas sauce, and a thick gravy as you spend priceless time with your loved ones.
From December 1 to January 7. AED 650 for 6kg stuffed and plain turkey. Serves up to 8 people. 48 hours advance notice required. For online payment, a lead time of 72 hours is required. To book, call +9714 399 5000 or email hgrs.fbreservation@habtoorhospitality.com
Café Society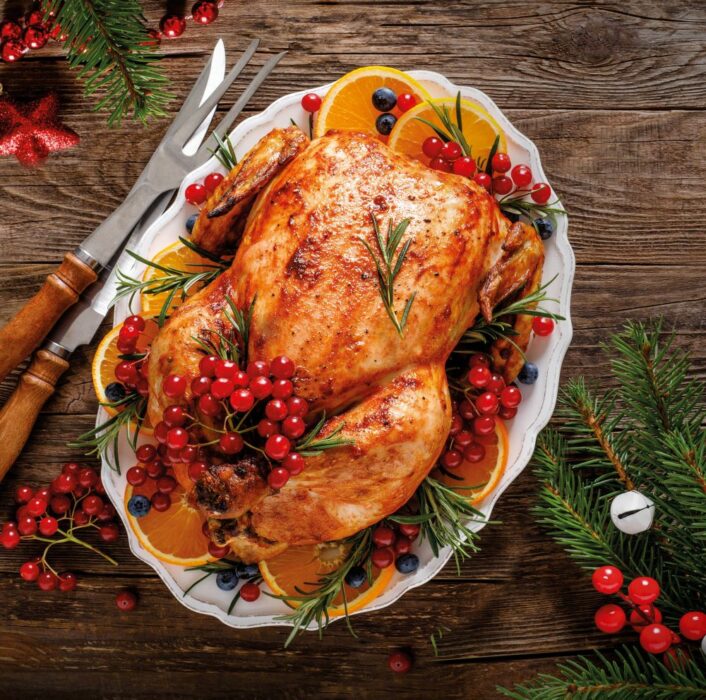 Café Society is offering a special turkey takeaway to make your holiday celebrations at home easier as the holiday season approaches. All you have to do is make sure your loved ones are there to feast on a sumptuous buffet with you. The restaurant offers a scrumptious turkey with all the delectable trimmings, such as Kalamata olive bread and cranberry sauce. The cost is AED399 for 6kg, AED499 for 8kg and AED699 for 10kg.
Orders for Turkey Takeaway must be made 48 hours in advance. Delivery depends on the location and a fee of AED 100 will be charged. Call +9714 318 3755, email info@cafesociety.ae or visit the website