Refresh your baby's nursery with Pottery Barn Kids
From chic accessories to furniture statement pieces, create a vibrant space this spring for your little one, with the region's much-loved décor label. There's no space quite like a baby's nursery.
It's a place that is filled with happiness and exciting times but should also be functional and fit for purpose. This spring, Pottery Barn Kids, the leading and sustainable home retailer for children, is here to provide ideas that will inspire the design and decoration of your baby's space, in line with the freshness of spring, and your family's tastes.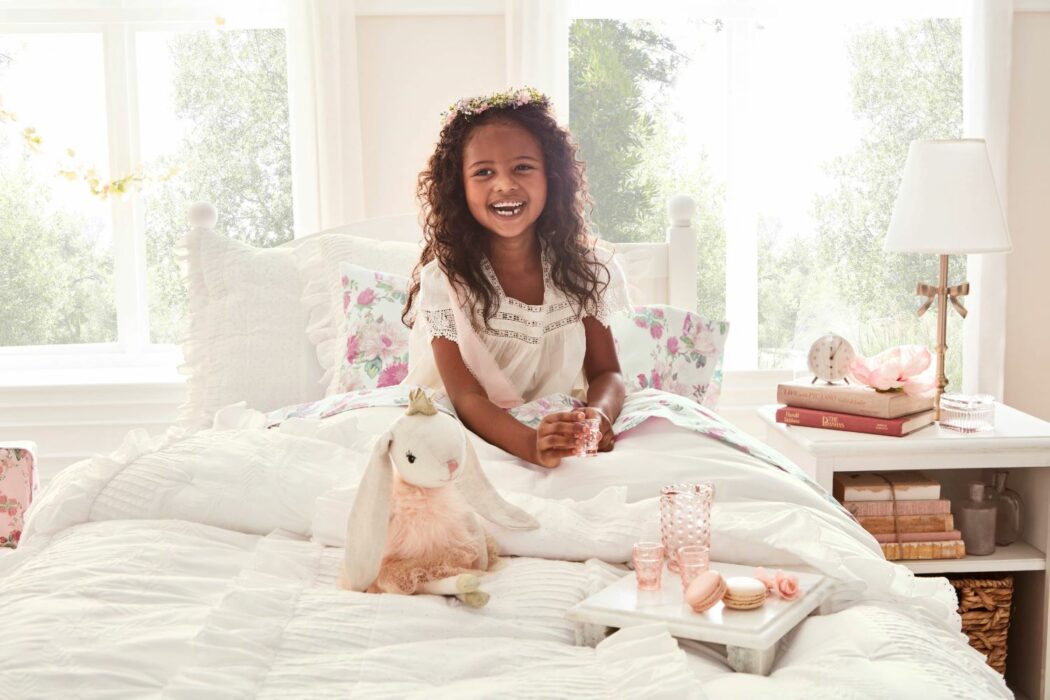 SPRING HAS SPRUNG
A new season is always a great time to get creative and refresh your little one's spaces, one piece at a time. From nursery furniture to seasonal decorations and soft furnishings, spring provides a much needed breath of fresh air after the dreary winter months! This issue, we're turning to Pottery Barn Kids for inspiration, known for its stylish and child-friendly furniture, decorative accessories, classic toys and nursery essentials. Pottery Barn was founded on the idea that home furnishings should be exceptional in quality, design and value.
All its stores reflect this ethos and are organised according to lifestyle displays, designed to make your shopping easy, inspiring and enjoyable. Pottery Barn exemplifies casual comfort and style, backed by premium quality and excellent service, meaning your family will have no trouble finding everything needed to make your baby's space as good as it can be!
Choosing the right crib
The crib you choose for your child plays a big role in your nursery decor right from the start. With the wide range of crib styles available, you can focus on finding the look you like and getting the features you want. We recommend the Bellevue crib as it offers enduring beauty and a timeless feel in the nursery. It easily transitions from a crib to a toddler bed for a comfortable sleep space as your child grows and is GREENGUARD Gold Certified to contribute to healthier indoor air. An all-round dependable, stylish and useful piece to invest in, that will serve your baby as they grow.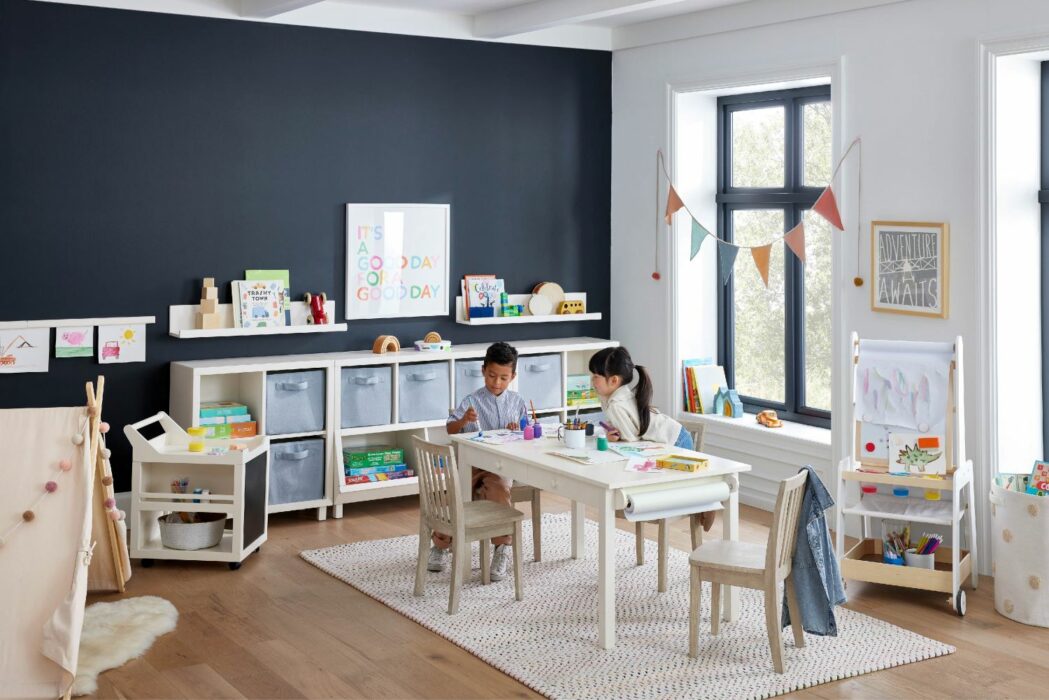 A good seat makes all the difference
Since soothing a newborn can be a full-time job, it's important to create a cosy space in the nursery to be with your baby. If you have the space, seating in a nursery can provide both parents and children a place to perch, whether it's for nursing, reading or playing. The Paxton Recliner is a brilliant choice. It's carefully crafted from solid, sturdy pinewood for durability, to make for a safe, stylish and modern addition to any nursery. The convenient swivel feature gently and noiselessly helps you rock your baby to sleep, while the reclining mechanisms are thoughtfully within easy reach so you can comfortably sit back and relax.
The power of storage
Ample storage is a gift you will treasure more with each passing year, as your baby – and your baby's wardrobe – grows. Keeping functionality in mind, the chic Mila Dresser and Topper Set serves as both a storage solution and a changing table. Designed with artful curves and lathe-turned legs, this piece has three spacious drawers to store your little one's wardrobe. As your child gets older, the cushioned topper comes off to create a stand-alone dresser. Most importantly, it's constructed from made-to-last materials that ensure stability and longevity. A quality piece that will be useful for your little one for a long time!
Soft furnishings for colour
Baby quilts are a simple, easy way to add style and colour to your child's crib and nursery space. While really young kids aren't ready to sleep with a quilt yet, many toddlers appreciate the comfort that a quilt can provide. From lightweight, spring-ready designs to heavier quilts for those that feel the cold, Pottery Barn has a wide range of styles for the season ahead. Add style, colour and warmth to your child's crib with a new quilt from their colourful collection.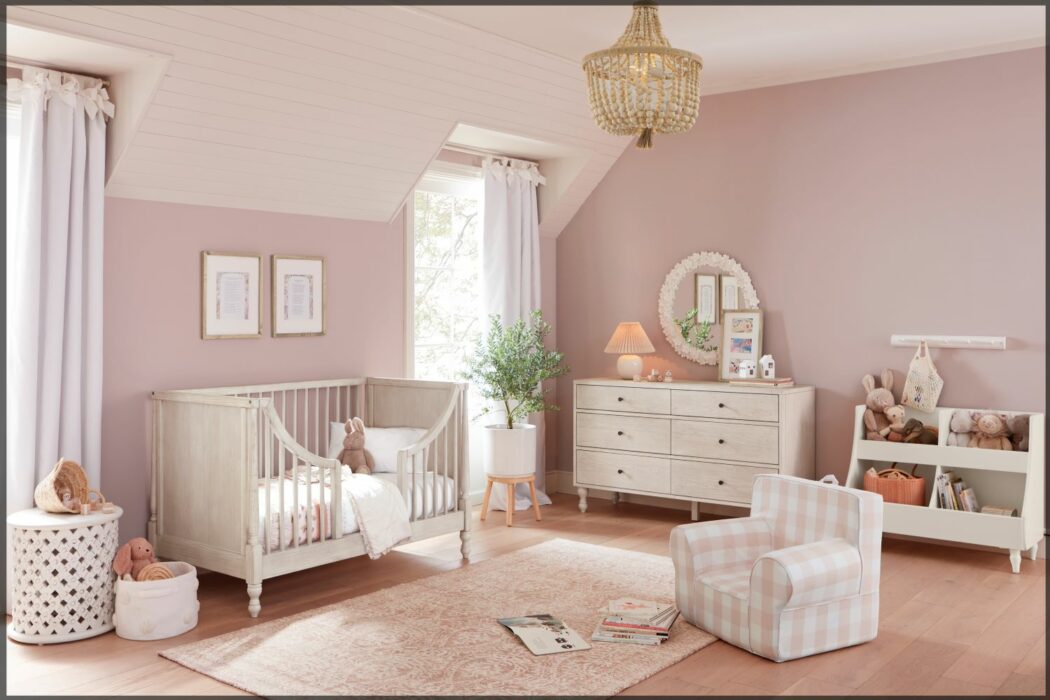 QUALITY AND SAFETY STANDARDS
Pottery Barn Kids' pieces are organically and sustainably sourced, made from cotton that has been grown without harmful chemicals and pesticides, leaving your child's nursery healthier, while keeping the planet safe. Each piece from the Pottery Barn Kids collections, are GREENGUARD Gold Certified, where they are screened for more than 10,000 chemicals and VOCs that are commonly known to pollute indoor air, so you can rest easy, knowing you're keeping your little one's space safe. The brand upholds the highest safety standards, bringing quality design, sustainability and security into every family's home with products that have been meticulously tested to keep your little one happy and safe.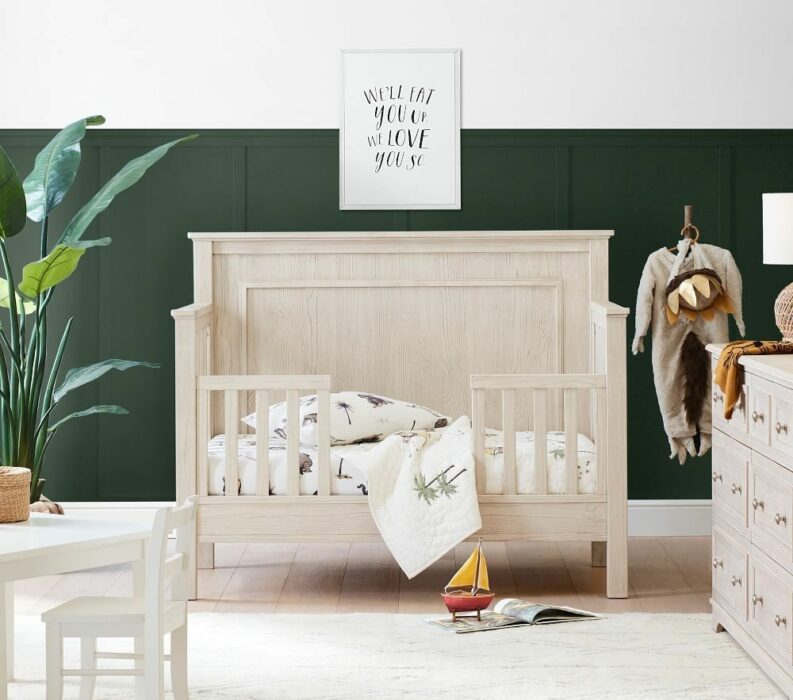 DESIGN EXPERTISE JUST FOR YOU
Pottery Barn Kids offers complimentary design services that allow you to further personalise your spaces, with the assistance of the specially trained Design Crew team. Virtually, in-store, or at home, their design experts will help you add your unique interior design stamp on your baby's nursery.