Deliveroo and The Family Hub team up to launch empowering Kindness Calendar for Ramadan
Inspiring children to embody the 5 pillars of kindness, the limited-edition calendar aims to instil a culture of compassion and goodwill from an early age.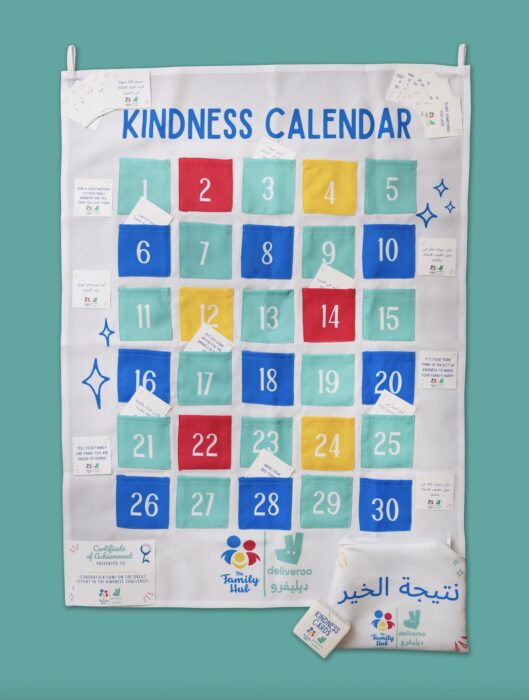 Deliveroo and The Family Hub have teamed up this Ramadan to spread the importance of kindness and compassion. The Family Hub is an educational platform that supports families in positive parenting through courses, workshops, educational materials, and neighbourhood events. It was founded by Hanan Ezzeldin, an accomplished and qualified positive discipline educator.
Deliveroo and The Family Hub are providing a daily program that is not only a fun activity for families but also a manual for teaching kids the 5 pillars of kindness that are at the core of the season through the debut of this unique Kindness Calendar.
The 30-day calendar has a pocket for each day of the month and 50 different cards with different acts of kindness on them to inspire kids to do good deeds every day. The cards provide kids simple daily activities to perform while adhering to the 5 pillars of kindness, which include being nice to one's self, family, friends, school, and the larger community.
The calendar tries to teach and implement good habits in children from a young age, with tasks including sharing a toy, watering a plant, finishing a job, writing a thank-you card to a delivery driver, and occasionally letting kids choose a selfless act of kindness.
The daily tasks, which are offered in both English and Arabic, have been created to motivate kids to show kindness and form a habit that they can use all year long. The calendar also gives parents and their kids a chance to have in-depth discussions on the genuine meaning of giving.
The Kindness Calendar costs AED110 and comes with a calendar, pouch, 50 cards, and a certificate for the kids.
Speaking about the collaboration, Hanan Ezzeldin, Founder of The Family Hub said, "We are excited to launch the Kindness Calendar in partnership with Deliveroo UAE. The month of Ramadan reminds us of all the things we should be grateful for, and we can't think of a better occasion to teach the principles of gratitude and generosity to children."
Taghrid Oraibi, Head of Communications at Deliveroo Middle East added, 'The UAE has become a hub for families to raise their children. We are proud to be joining The Family Hub Community to expand its reach and support parents to instill habits of kindness in their children from a young age. We are humbled to be able to use our platform and network of riders for a cause such as shaping the future of our children.'
The Kindness Calendar is now available for purchase through the  Deliveroo app and The Family Hub portal, until limited stocks last.