Discover the health & taste benefits of cheese!
If you love cheese, you know you didn't need the excuse of World Cheese Day on 4th June to indulge in the world of textured, creamy, zingy, soft delicious, versatile…cheese! There are few things more impressive to your guests than the sight of a beautiful cheese board at the end of a meal. Even nicer is preparing a cheese board for your family movie night, and having fun choosing your selection of new and exciting cheeses to try, along with a few of your favourite breads, pickles, chutneys, nuts, dried fruits and crackers on the side. A cheese board is fun to create, it always looks amazing, and is a wonderful way to introduce your children to the concept of appreciating ingredients, classic food combinations and eating well. Not only that, there are lots of health benefits hidden cheese too!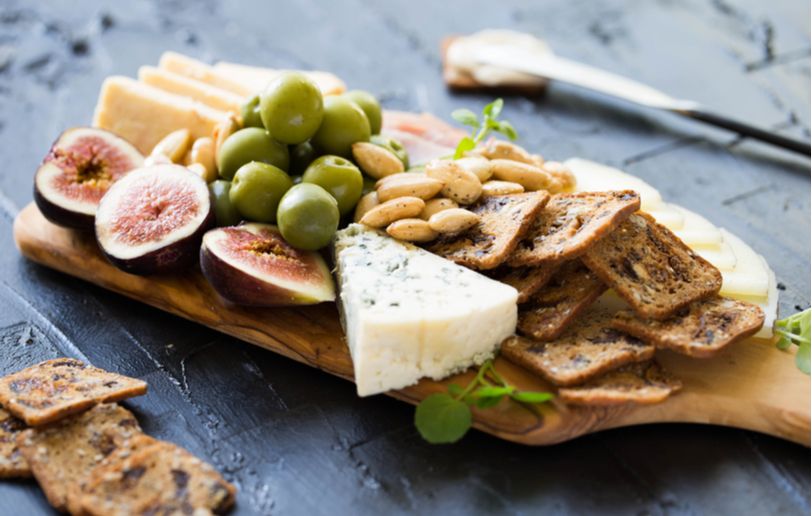 Health benefits of cheese
Cheese helps to keep your bones strong. Dairy products, particularly cheese fortified with vitamin D, can be a great way to up your intake of calcium and protein to keep your bones strong and help prevent osteoporosis.
Cheese is a useful food to help you or your child gain weight. We are used believing that a healthy weight is all about losing excess kilos and weight loss, but there is less media coverage of people who are underweight, in a way that does not benefit their health. Also, if you are working out and want to gain more calories, or if your doctor has said that you or your child need to gain weight, then adding cheese to your diet, given its fat and protein content, plus the various vitamins and minerals it contains, is a great choice for gaining weight in a healthy way.
As balance is the key to a healthy diet, try to balance your cheese intake with low energy-dense foods, like fruits and vegetables!
Cheese is a great protein provider. Protein helps to repair cells and tissues in the body, protein and is crucial in our diets to help give you a strong immune system, healthy hair, and proper balance of fluids in your body. Without proper protein intake, you are at risk for fluid retention and muscle tissue shrinkage. Because our bodies don't store protein, your daily diet should include about 2-3 servings of protein-rich foods such as meat, dairy products, and dark green leafy vegetables such as watercress, spinach, asparagus and broccoli. Cheese is a great source of protein, and can help you receive your daily amounts of protein, giving you leaner muscle and healthier skin and hair.
Trying new cheeses is the perfect way to explore national foods and discover new favourites. So…our thanks go to Marks & Spencer for offering a range of 65 delicious cheeses, all sourced from the finest producers in Europe.
Here are some of our top picks from the Marks & Spencer range:
The Marks & Spencer cheese range includes the launch of over 20 new cheeses to inspire both existing cheese-lovers and foodie families, so why not treat yourself and your partner to romantic late night date night cheese board with charcuterie meats – which happens to be a traditional French Valentine's Day treat for couples!
Discover a world of cheese in Marks & Spencer stores including: Dubai Festival City Mall, Dubai Mall, Marina Walk, Springs Souk and Yas Mall. Selected lines are also available on the M&S Food, el Grocer, Deliveroo, NowNow and InstaShop apps.
CLICK HERE to count yourself in to receive our free newsletter to read more about healthy family food choices, advice from the experts, find out about interesting products, discover things to do with kids, read up on parenting techniques, child development, health…and lots more!