A day in the life of a Barre studio owner
Nora Hameidani, barre instructor and founder and creative director of Barre Effect studio in Al Wasl, gives a peek into her day…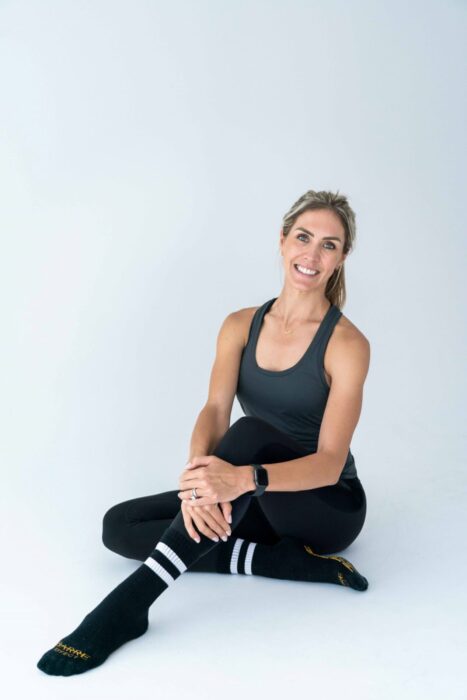 My alarms are set for 5:45am and 6am in the hope I wake up before my three kids, but sometimes they beat me to it. On the weekends, the kids are the alarm clock.
While I sometimes wish I could hit snooze, the morning is still my favourite time of the day. It is such a nice feeling to have the whole day ahead of you, and I try to steal a few minutes of quiet and calm before I really get going, to help me start the day focused.
On weekdays I have my breakfast with the kids which is usually oats, or Greek yogurt with berries – something light but filling. I try to start with herbal tea and delay my first coffee by at least an hour because after that, it's coffee all day.
Choosing an outfit is quick, as I am always in active wear. If I'm not teaching or taking class, I'm meeting with someone about the studio, so I have an excuse. And I exclusively wear Alo and Lululemon as they fit me the best.
After dropping my kids to school, I usually go straight to the studio to teach, take class, or have a meeting.
As a family of five and with my husband and I both being business owners, I keep an organised, color coordinated calendar on my phone and I must put everything in my agenda, or I will forget. From the kids needing to bring something special to school, to when I'm teaching, to dinner with friends, it all goes in. My husband and I share calendars as well as for us, no two days look alike, and it can get confusing.
My to-do list is always long so I prioritise what needs to be done immediately, and what can wait. I used to get stressed if I did not complete my to do list, but I've learned sometimes it's just not possible and you have to have down time otherwise you will burn out.
I have a busy life but working out gives me energy. Even if I am feeling a bit off or tired, I always leave class feeling accomplished and pumped up. When I finish my workout, I also try to take a few moments to reflect on what and who I am grateful for. I think it is so important to take a second each day to realise how lucky we are. My schedule is flexible, and I can still spend time with the kids. I also feel very thankful that my passion for working out is my job, and I combine my hobby and my business. One of my favorite things about boutique fitness is interacting with all kinds of people and hearing their unique stories and journeys. At Barre Effect we have built a beautiful community of women, they inspire me every day.
Hydration is key to staying focused for me, especially when working out, so I drink a lot of water throughout the day, and add electrolytes from a brand called Humantra, and I always have my Swell water bottle on me.
Between classes or as an afternoon snack I have a protein bar, and lunch is usually a salad with protein for lunch, and dinner is protein with vegetables. My treat is Pink Berry frozen yoghurt – my husband and I are obsessed, and order it too often in the evenings.
Like many parents, the evenings are fun, but challenging. When the kids are tired and we are tired, we can all be a bit grumpy, which is why I am strict about our routine – it works well, and I know that once they are asleep, my husband and I have time to catch up and relax. Most days end with dinner and Netflix but I try to go out for dinner with my husband or friends at least once a week.
I like to think that it is the small things make it a good day for me – if I have a full night's sleep, there is nice weather, and I get in a good workout, I end my day happy.