Create unforgettable memories with your family at Hampton by Hilton Marjan Island
Embark on the perfect family staycation: a fusion of relaxation, adventure and gourmet delights at Hampton by Hilton Marjan Island.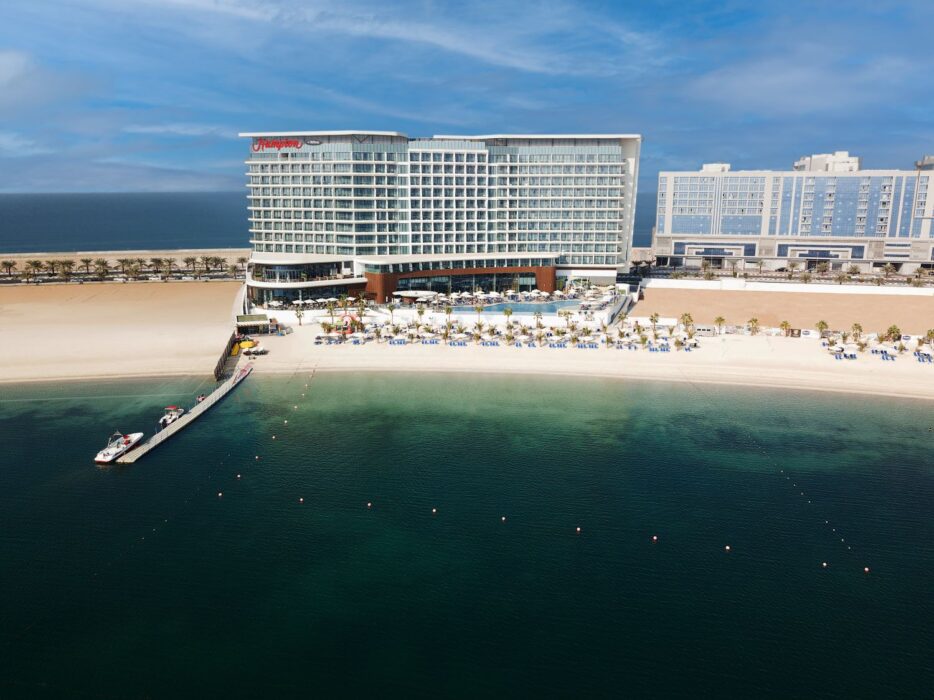 Nestled along the picturesque shores of Marjan Island, this stunning resort offers an idyllic retreat for those seeking tranquillity, impeccable service and extraordinary views.
Boasting a contemporary design that seamlessly blends with the natural beauty of the island, the resort offers a range of stylish and spacious rooms and suites, each equipped with state-of-the-art amenities that cater to your every need.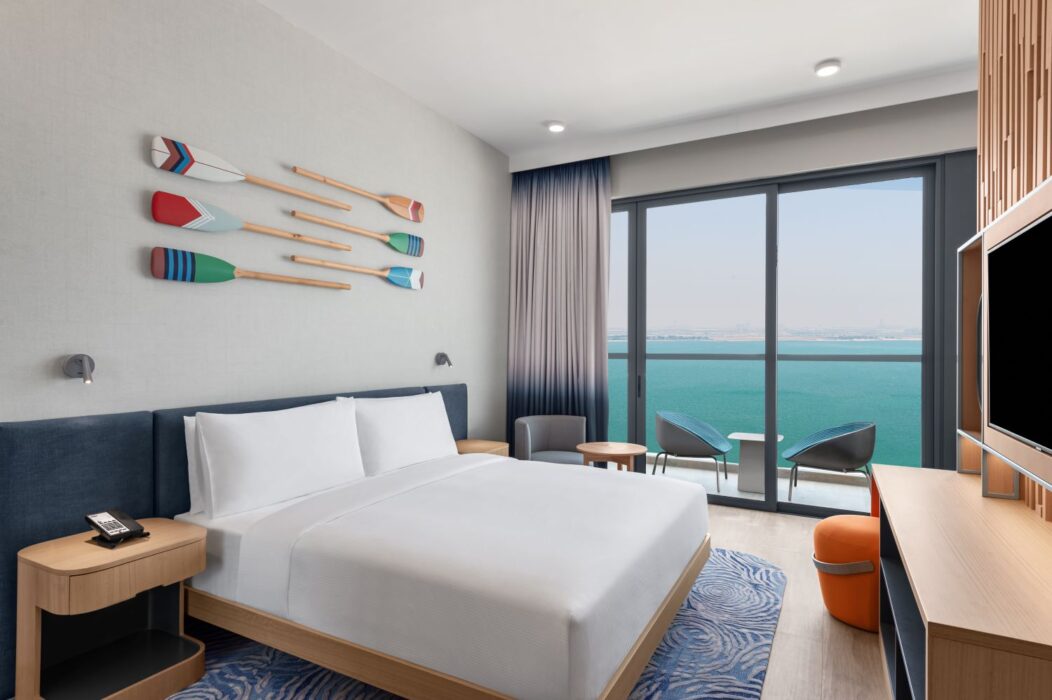 Upon my arrival, I was immediately delighted by the bright and spacious lobby, adorned with vibrant paintings and neutral tones. After a quick check-in, my travel partner and I entered our bright and spacious king family dream room that features a big balcony with panoramic views of the Arabian Gulf, a sofa bed, seating area, desk and soundproofing.
The resort's dining scene is a gastronomic haven, catering to every palate with its diverse range of culinary offerings. Our lunch plans took us to the popular Claw BBQ, an award-winning American restaurant that's renowned for its fresh seafood, succulent smoked BBQ meats, roast carving station, zesty salads and delectable desserts. But that's not all – for the more adventurous diners, the restaurant offers a variety of free and extremely fun games to enjoy, including the Mechanical Rodeo Bull, Pin Ball Machines, Boxing Machine, Jenga, Connect 4, and Billiard.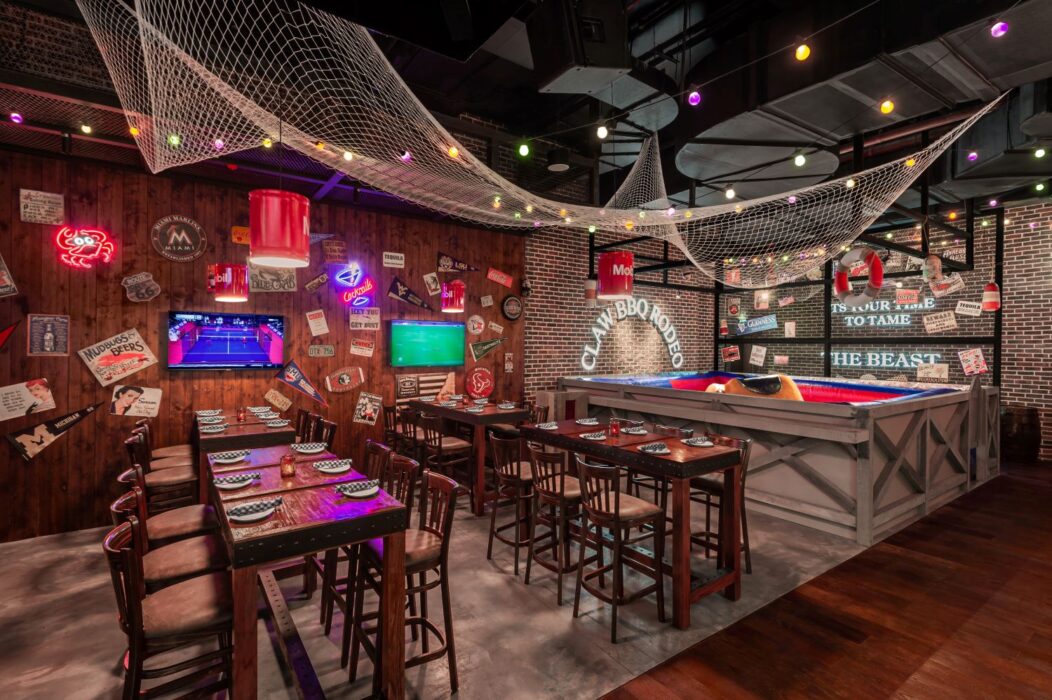 After a thorough examination of the menu, we settled on a mouth-watering trio of dishes to start with. We ordered the chips and guacamole, which were expertly prepared fresh at our table, smoked BBQ non-halal meat riblets, and the blackened shrimp tacos filled with crunchy cabbage, juicy tomatoes, zesty red onions and tangy Cheddar cheese. Every bite was a tantalizing explosion of flavours, leaving us eager to continue with the mains.
My dining companion decided to have the succulent New York strip, cooked to perfection at medium-rare, and served alongside crispy French fries and garlic bread. Meanwhile, as a seafood enthusiast, I couldn't resist trying the steamed 'deluxe seafood bucket', which boasted an array of delights such as sweet snow crab, plump mussels, flavourful clams, and juicy shrimps.
By the time we finished our mains, we had no room left for dessert. However, for those with a penchant for sweets, the menu offers an array of delectable treats, including old-fashioned apple pie, banana dream, New York cheesecake, and Calvin's Big Daddy Cookie.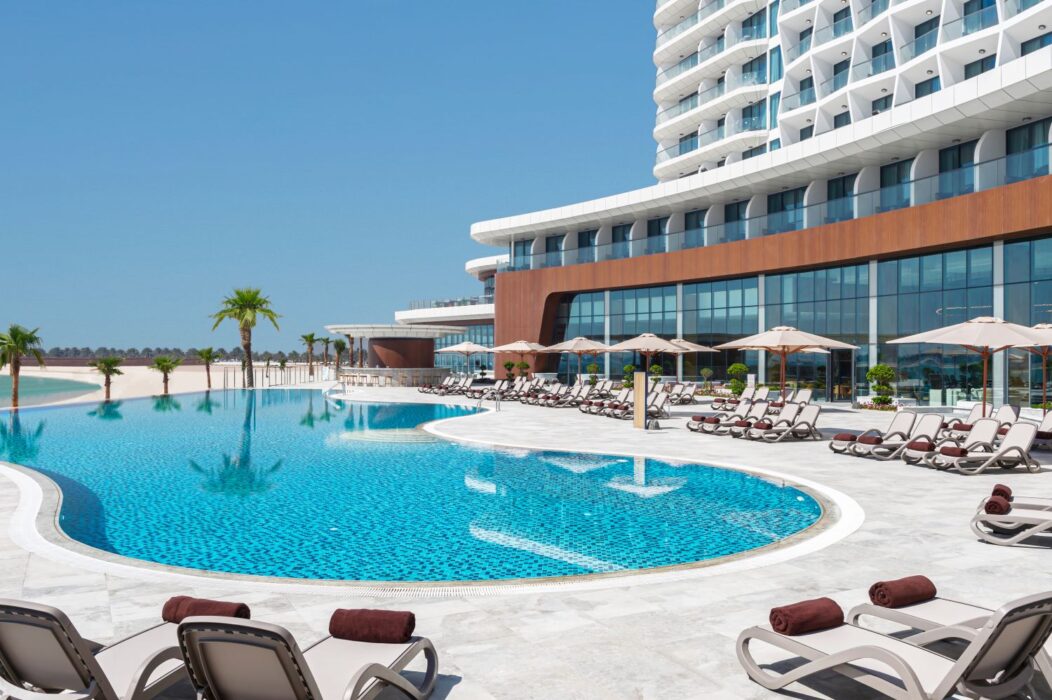 Prior to preparing for dinner, we made a spontaneous decision to take a refreshing dip in the pool. The cool water embraced us, bringing a sense of pure bliss and relaxation. It was a rejuvenating break and left us feeling refreshed and invigorated for the evening ahead.
We made our way to Karma Kafé by Buddha-Bar for dinner, enticed by its reputation for serving up delectable Pan-Asian cuisine, alongside its opulent interiors and breath-taking views. To kick things off, we indulged in the chicken truffle gyoza, accompanied by a tangy Yuzu Ponzu sauce, along with the succulent salmon sashimi. However, the real standout was the limeno ceviche, featuring fresh sea bass, tangy leche de tigre, zesty red onion, and fragrant coriander, culminating in an explosion of flavours that truly delighted our taste buds.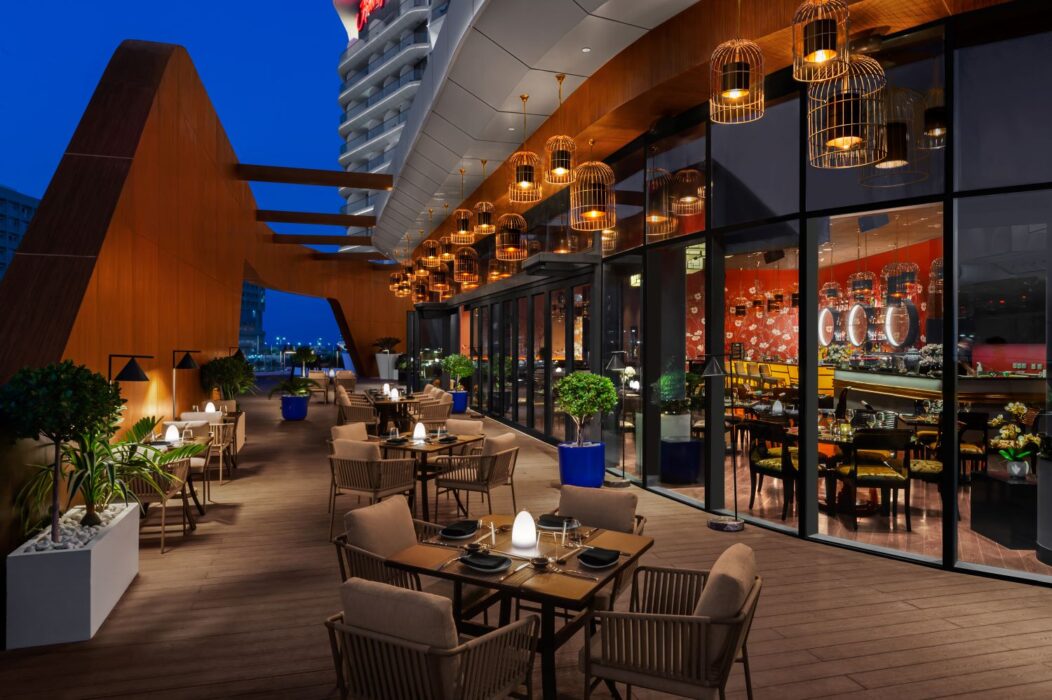 For our mains, we opted to share one of Karma Kafé's most celebrated dishes, the black cod with sticky rice, edamame, shiitake, asparagus, and Nikkie miso. The dish did not disappoint – the black cod was beautifully soft and tender, and the flavours were nothing short of remarkable. The addition of perfectly cooked asparagus and shiitake, combined with the nutty flavours of the sticky rice, elevated the dish to a whole new level. It was a true feast for the senses, leaving us completely satiated and content.
The next morning, we made our way to Flavours to have breakfast which offers a variety of different of Indian and European specialties, live cooking stations and even a kid's section.
During Eid, CLAW BBQ RAK is offering something truly special with their Surf & Turf promotion from April 21 to 23. This indulgent feast promises to be a meat-lover's dream, featuring a half-kilogram of juicy Rib-eye Steak or BBQ Ribs paired with a succulent whole lobster, all topped off with a glorious kilogram of Tomahawk Steak.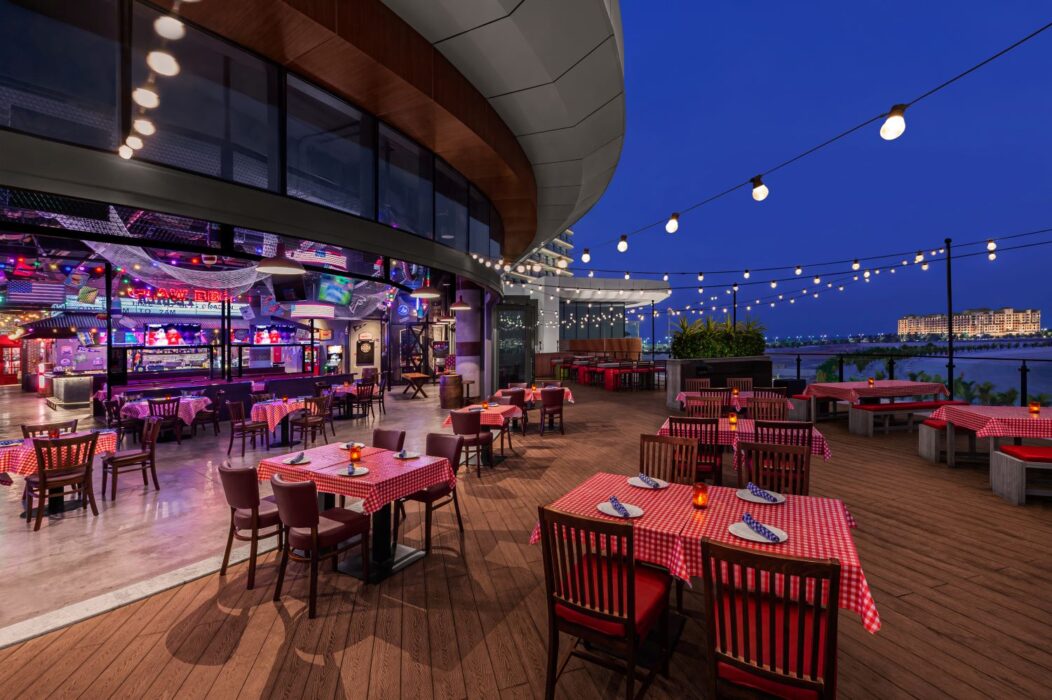 Meanwhile, at Karma Kafé by Buddha-Bar, on April 22, the Karma Session will be the place to be. This immersive evening promises to be filled with energetic entertainment, delectable dishes, and free-flowing beverages.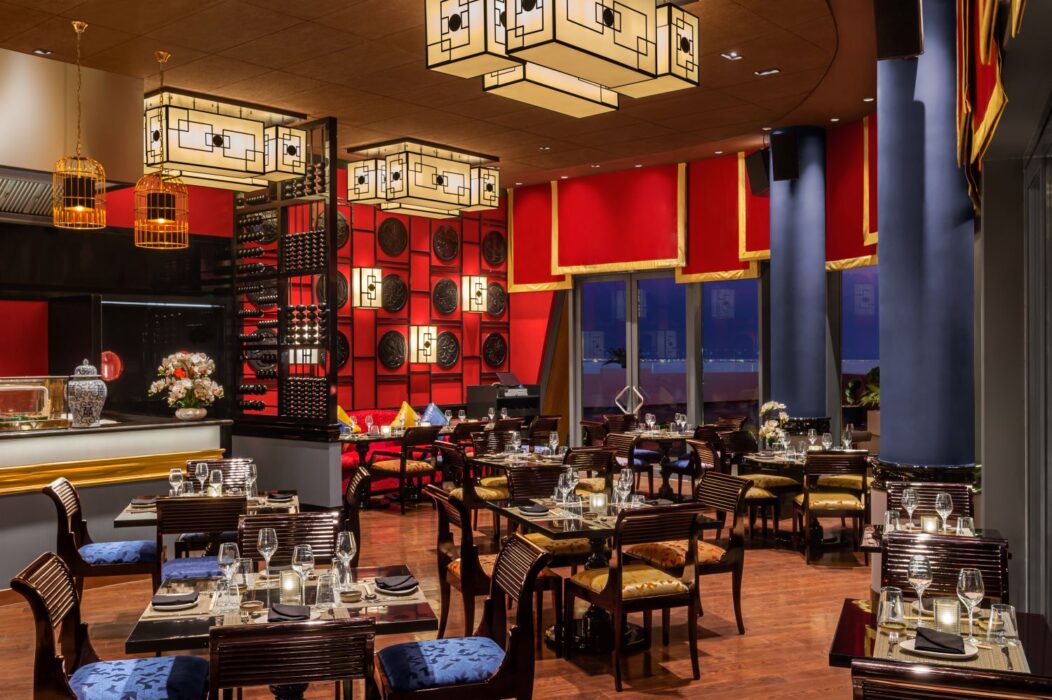 The celebrations will continue on the property's private beach, with an exciting line-up of entertainment kicking off at 8pm. From thrilling fire shows and mesmerizing belly dancing and Tanoura dance performances, to live music from a talented singer and saxophonist, and even magicians to entertain the little ones, there's something for everyone to enjoy this Eid.
Hampton by Hilton Marjan Island. Call +9717 209 0000 or email 1.hamptonmarjan@hilton.com. Visit the website or Instagram
EID Surf & Turf Party with live band & DJ. CLAW BBQ, Hampton by Hilton Marjan Island. April 21 to 23 from 1pm-1am. AED 349 per person. Call +9717 209 0090 or email reservationsrak@clawbbq.com
Karma Session. Karma Kafe by Buddha-Bar, Hampton by Hilton Marjan Island. April 22 from 7pm- 2am. From AED199 per person. Call +9717 209 0099 or email info@karmakaferak.com