Dolphin Bay at Atlantis Aquaventure launches three no-contact programs to promote ocean conservation
The accredited, state-of-the-art facility Dolphin Bay in Atlantis Aquaventure is now offering three new no-contact programs that offer a unique opportunity to witness the daily training and enrichment sessions of a pod of Indo-Pacific bottlenose dolphins.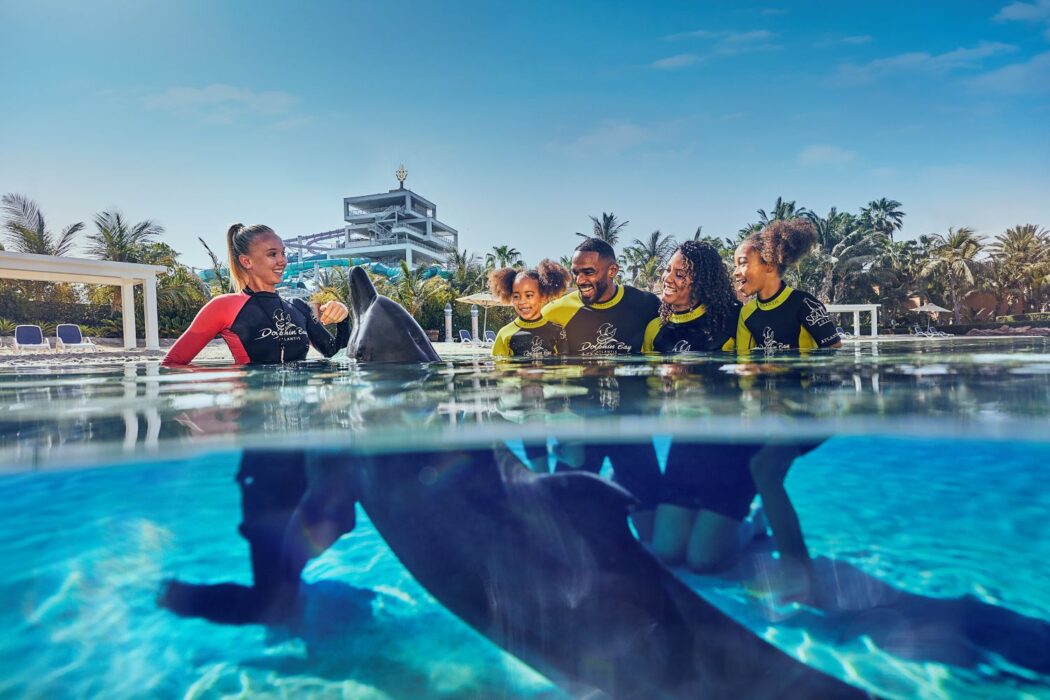 These experiences – Dolphin Kayak, Dolphin Paddle, and Dolphin Sunrise – aim to inspire and educate guests on the importance of protecting marine life and preserving our oceans and have been introduced while maintaining the highest animal welfare standards.
Atlantis Aquaventure, which is home to The Lost Chambers Aquarium, Dolphin Bay, and Sea Lion Point, is the first Middle Eastern destination to receive accreditation from the Association of Zoos and Aquariums (AZA) – an internationally recognized gold standard in animal care and welfare. The destination also received membership from the World Association of Zoos and Aquariums (WAZA) in 2021, which brings together world-class zoos, aquariums, and leading wildlife experts to encourage the highest standards of global animal welfare.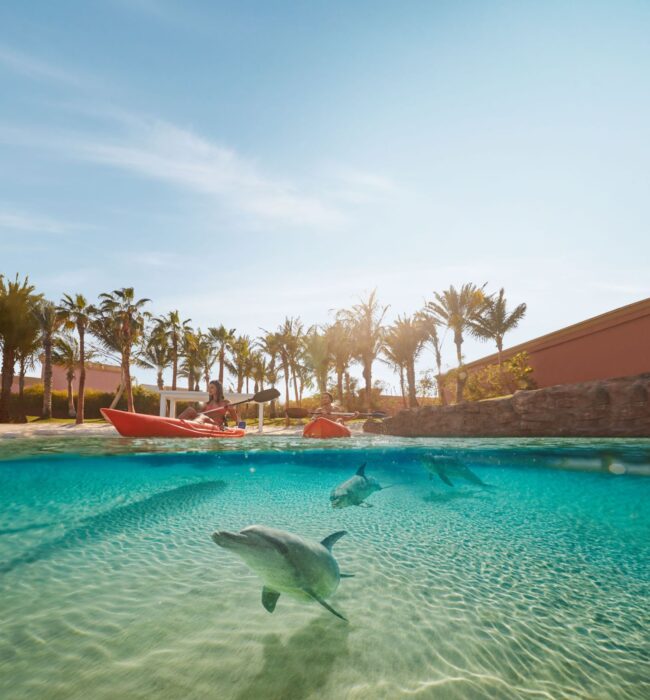 The goal of Dolphin Bay is to inform each and every visitor about how altering their regular behaviour might help save the local ecology and our oceans. After actively participating in their pod's enrichment activities, you will have a greater understanding of dolphins and be motivated to take action to safeguard all marine life, such as limiting your use of plastic in daily life or making sure the fish you eat is caught responsibly.
In addition, for every guest who experiences a programme at Dolphin Bay, Atlantis contributes 1 USD into partnerships that drive conservation and sustainability locally and internationally. In 2022, this resulted in a $120,000 (USD) investment fund, which continues to support nine UAE-based projects to help protect the ocean and the environment.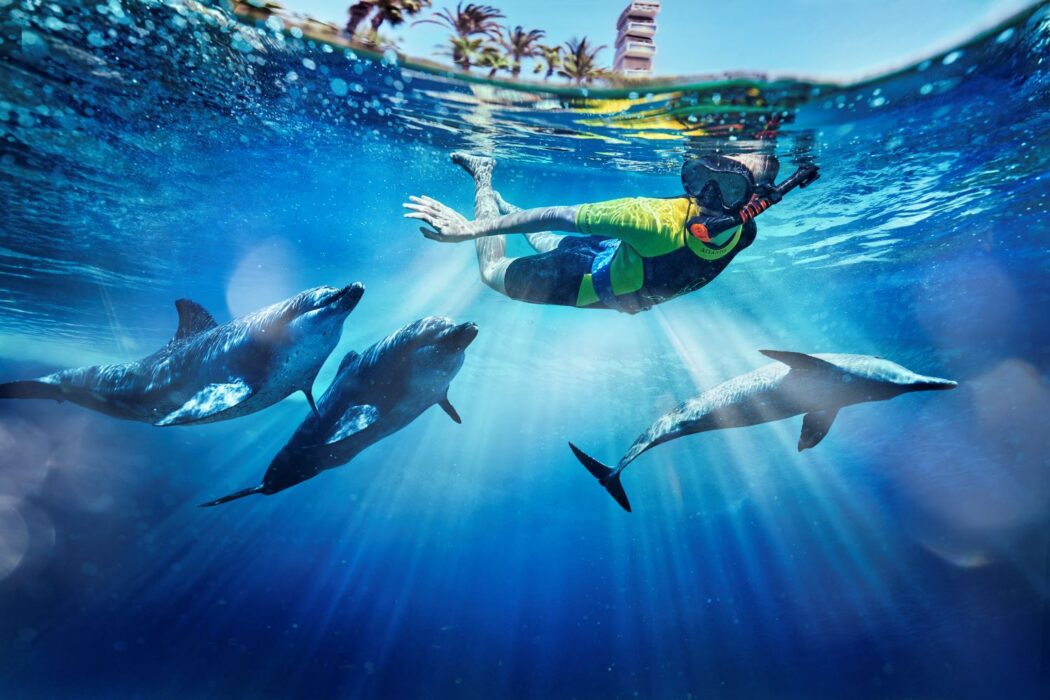 During the new no-contact experiences, guests can learn more about the dolphins' natural behaviours while participating in the following enrichment programming:
Dolphin Kayak – The only kayak with dolphins experience in the UAE, guests will enter the water in a double or single kayak and watch as the naturally curious dolphins swim by in the tranquil setting of the lagoon.
Dolphin Paddle – Guests can relax the mind and body as they paddle around the lagoon alongside the playful resident dolphins. This is the only stand up paddleboard with dolphins activity available in the UAE.
Dolphin Sunrise – Available to in-house guests only, early risers are invited to walk into the shallow part of the lagoon with a marine mammal specialist and join the dolphins in their daily morning routine.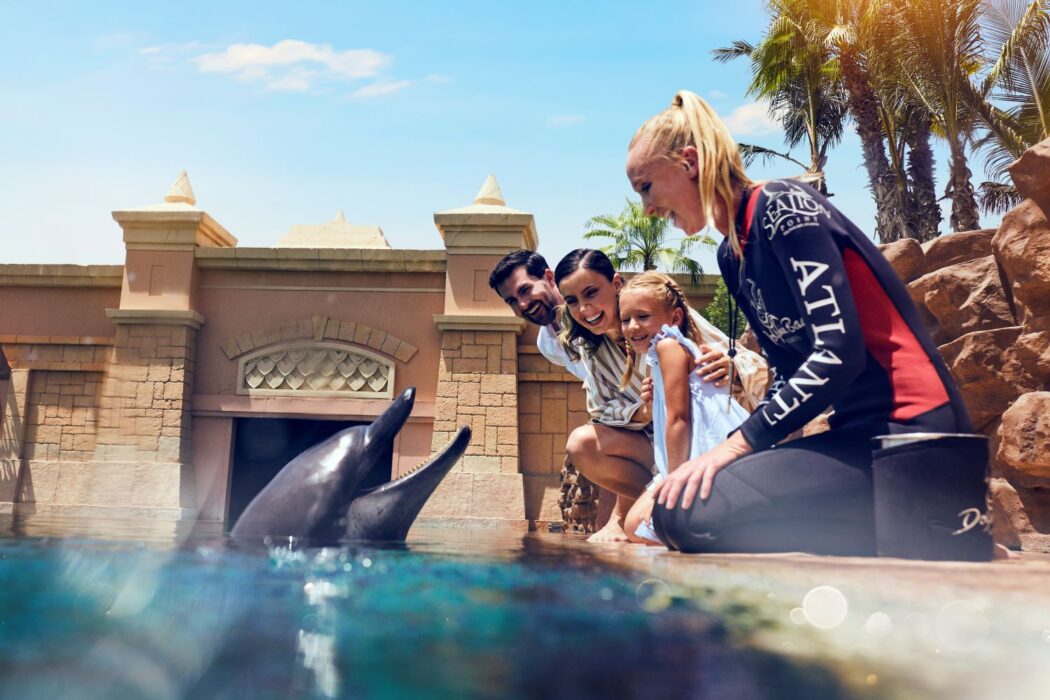 The following programmes have also been improved, offering guests unforgettable, educational experiences to connect with these magnificent marine animals:
Dolphin Encounter – In this shallow, waist-deep water experience, guests will join marine mammal specialists to get up close and meet the resident dolphins while learning more about their unique biology and natural behaviours.
Dolphin Swim – A one-of-a-kind experience with an exciting element of snorkeling in the deeper part of the lagoon, guests can witness first-hand as the dolphins interact and communicate underwater.
Dolphin Meet & Greet – Guests can meet a dolphin from the edge of the lagoon as they learn about their interesting behaviours and how they can help protect the oceans.
Dolphin  Specialist – A unique behind-the-scenes marine education programme, where children can join our team of specialists and learn how we take care of these animals.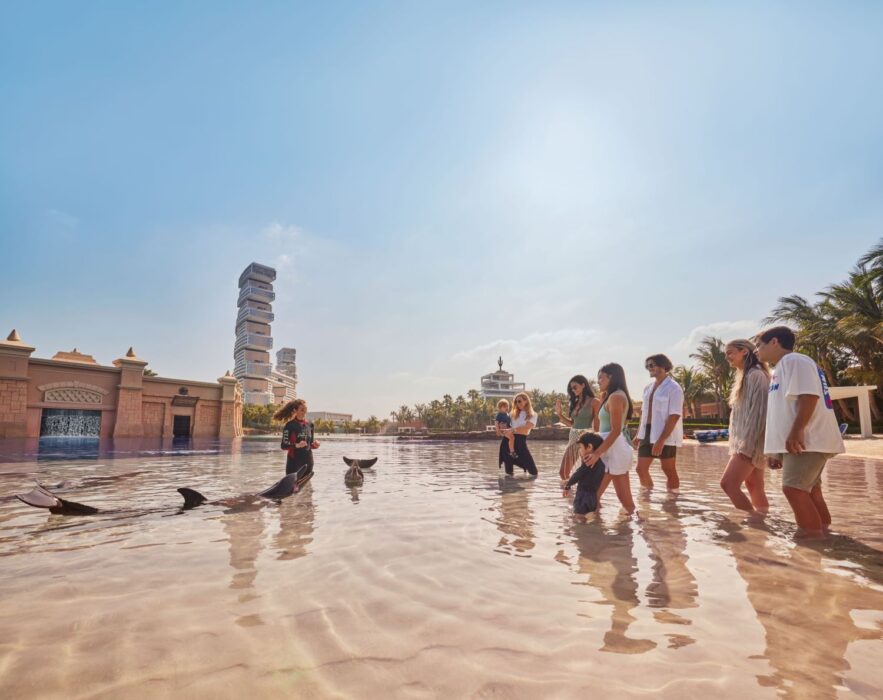 "Dolphin Bay is on a journey to ensure everything we do enriches the lives of our marine animals, supports our ongoing conservation efforts and offers fun, but most importantly, educational experiences for guests. We are so excited to introduce the new experiences which further contribute to guests building a life-long appreciation for marine life and a desire to protect their natural habitats," said Kelly Timmins, Director of Marine Animal Operations and Sustainability, Atlantis Dubai. "Guests can experience the dolphins' high energy behaviors, hear their unique vocalizations, and enjoy up-close encounters to connect with these incredible animals in a meaningful and educational way."
As part of its sustainability and conservation initiatives, Atlantis established a collaborative partnership called the Dubai Dolphin Survey in 2021, which brings together the expertise from Zayed University, the UAE Dolphin Project Initiative and F3 Marine, and has since been gathering scientific baseline information about the local dolphin population off the coast of Dubai. In the first year of the project, the team spent more than 270 hours implementing 60 boat surveys, spanning a distance of 5,444km along the UAE coastline. This resulted in 11,043 images taken – and dolphins spotted 18 times. The Dubai Dolphin Survey is currently underway for 2022-23.
Daily from 10am-sunset. From AED 250 per person. To learn more about Dolphin Bay or to book an experience, visit the website