Recipe: Best roast turkey
Spending Christmas at home in Dubai this year? We've got the best roast turkey recipe for you and your loved ones to enjoy…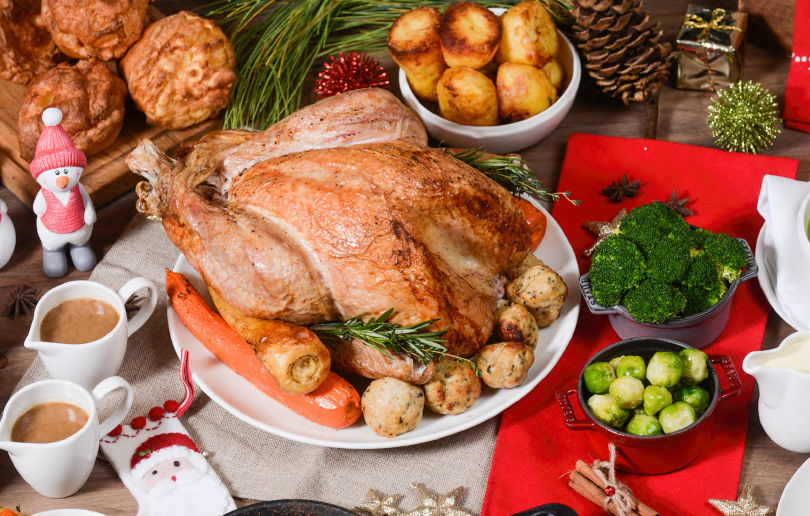 Serves: 6 with leftovers
Prep 20 mins
Cook 3 hours mins
Ingredients
3 onions, sliced
2 carrots, sliced
15g rosemary
15g thyme
200g unsalted butter, at room temperature
Method
Preheat the oven to 210°C, fan oven 200°C,
Work the skin away from the flesh of the bird and rub the 100g butter between the skin and the flesh, being careful not to tear the skin.
Rub any remaining butter over the skin of the bird.
Season with salt pepper.
Set the bird on top of the onions and carrots and cook for 30 mins to allow the skin to colour.
Melt the remaining 100g butter in a pan and add the rosemary and thyme.
Reduce the temperature to 130°c, brush the turkey with the herb butter and cook until the thickest part around the neck or thigh reaches 70°C.
Continue basting every 45 minutes (if you use all the butter continue with the juices in the tray.This should take around 3 hours, depending on the size of the turkey.
Always check the thickest part when testing if it is cooked that none of the meat is pink, and the juices run clear.
Remove the turkey from the oven and allow to rest for at least 30 minutes before carving.
Reserve the pan juices and vegetables for making the gravy.
Remove the vegetables and the juices from the tray, place onto a low heat stove, add 2 tablespoons of flour and mix, slowly add the juices and allow to boil helping to remove all the flavor from the tray.
Add the vegetables and allow to cook until you have a nice thick gravy, strain and serve.
Recipe provided by Senara restaurant and chef.