Brilliant Young Minds
Brilliant Young Minds
The Inventor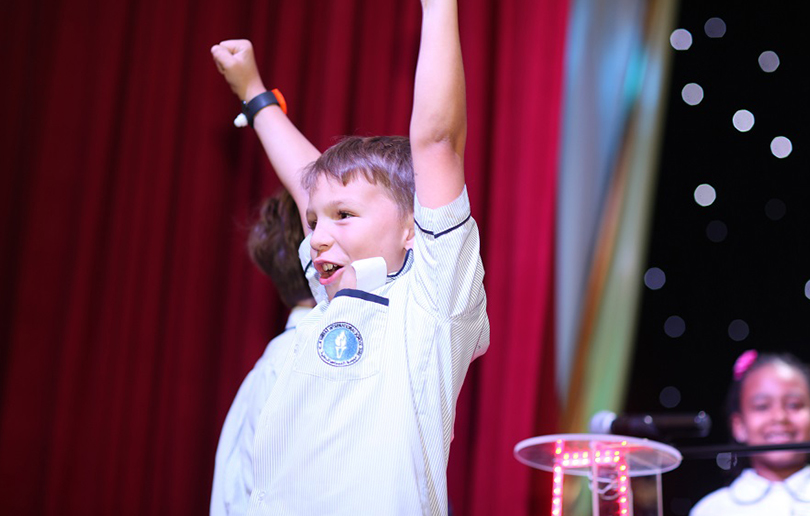 Genius tends to be discovered in the most fascinating of ways. Like any child, then nine-year-old Emirati Adeeb al Blooshi was not a fan of doing house chores. When asked by his mother to clean his room, his answer was to – simply – create a robot that would do it for him. Inventing a device which vibrated with batteries and feathers, his creation managed to do the job.
This would have come as a surprise to any other mother. Not for Adeeb's though, as he had developed his first medical apparatus by the age of five. Seeking to help his father swim after a trip to the beach, the young inventor decided to upgrade his father's prosthetic leg which, by not being waterproof, had prevented him from doing so.
The UAE's wise leadership, and the entire world, have since opened up for Adeeb. Recognized through the Hamdan bin Rashid Al Maktoum Award, the now 11-year-old's ambitions have no limits. After his science tour of the world, Adeeb can only dream big.
By the time you were five, you had developed your first medical apparatus; how have your parents and school encouraged you to work this hard?
First of all, I would like to say that whatever I am today, it is because of my supportive parents and the values they have brought me up through. I was always encouraged to believe in myself and work towards accomplishing my dreams, no matter how big or small they were.
While my parents believed in me and gave me all the moral support I needed, my school inspired me to excel through education and creativity. The friendly nature of my teachers helped me open up my ideas and thoughts, which has given me a lot of confidence.
You have invented a wonderful device to help your father; tell us about your feeling when you first saw him use it.
When I first saw him use it, I felt very happy that I was able to solve my dad's problem and it made me even happier when I saw a smile on his face. He is my role model, so I am glad I was able to help him. After that, I made it a point to reach out to other people around the world and solve their problems through my inventions and ideas.
What about that cleaning device? Tell us about the funny story behind this invention.
My mother is like the secret superhero of the family. She does so much of the work and ensures the family is happy, so I always feel like I have the best mother in the world. Since she is busy most of the day trying to keep us all happy, I wanted to do something for her that would help her and also make her feel loved. So, one day, I decided to invent this small, but cute, cleaning robot which could help my mother around in cleaning the house.
What is the most important thing you have learned on your science tour?
One of the most important things I learned is how to benefit humanity and spread peace through education, technology and science. That is my dream and the vision of this great nation.
Do you have any plans for an invention you have not told anyone about? Tell us about it!
Yes I do, but it will be a big surprise.
BOX: Mother to Mother, what Adeeb's mum has to say: Be your child's best friend. Believe in your child, bring them up with good morals and values and always make them feel special. When your child sees you like a friend, they will open up and learn so much more from you. In this way, you can ensure the child will learn good lessons of faith, peace and love more easily.
The Astronaut
It runs in the family.
Dana al Blooshi is Adeeb's younger sister. Growing up as a part of the same science-loving family, she was encouraged to work for what she loved. Hence, Dana reached for the stars, literally.
Named "Dana of the Emirates" by His Highness Lt. General Sheikh Saif bin Zayed Al Nahyan, UAE Deputy Prime Minister and Minister of Interior, Dana looked up to her brother following in his footsteps, and later joining him at the Space Center Houston's Space College.
The first Emirati child to get involved in exciting programmes in the fields of aeronautics and space administration at the National Aeronautics and Space Administration (NASA) in the United States, Dana was awarded nine certificates and two gold medals.
Your family values are characterised by a focus on creativity and innovation, how has this helped build your ambitious character?
God bless my parents; I would like to thank them. Their love for science and support throughout have made me feel more confident and unique – they are the world's greatest parents.
Tell us about your brother's influence on you; would you consider him your role model?
Adeeb is both a brother and an inspiration. He is my role model and friend, and I have learned so much from him as I used to shadow him during our younger years at all of his scientific conferences and trips. He has the kindest heart I have ever seen, and he is very sensitive, so no matter how busy or tired he was, he would guide me whenever I had any questions. I wish every girl in the world a brother like him!
You have done so much with NASA! Tell us about this experience.
My experience at NASA was both fantastic and fascinating. I took part in an ongoing, yearly training program with them and the scientific value of such an experience is infinitely beneficial and inspiring.
I have undergone space and robotics trainings – on land and underwater – in the US and graduated as a top student, in addition to living in zero-gravity conditions. We would be assigned on missions outside the space station, which was difficult and risky as any mistake could affect the entire mission's success.
My training lasted for two months and a half, non-stop, from 8 am until 4 pm daily, but I was overjoyed because this is what I love.
How has your NASA training affected your schoolwork?
It had no effect whatsoever; my training took place during the summer holidays, so there was no conflict.
What else would you like to say about the path you have chosen?
I would like to thank my country's wise leadership for the immense support and indescribable honour of being named Dana of the Emirates – such a precious meaning is attached to my name, and I am forever-thankful for His Highness Lt. General Sheikh Saif bin Zayed Al Nahyan's support.
My future plans are huge and, to me, the sky is not even the limit. You can be on the lookout for more surprises!
The Brainiacs
KidZania®, the dedicated children's city at The Dubai Mall, along with the Sharjah Children's Book Festival (SCRF) have launched Brainiac, a first-of-its-kind competition to find the UAE's most gifted and intelligent students between the ages of 8-11.
Schools took part in the qualifying and elimination rounds, vying to earn a coveted place in the KidZania Brainiac Semi Finals and Grand Finals, which were held at Dubai Ice Rink on March 11.
Brainiac tested students' ability to be team players, hardworking, proactive, dynamic and up for a challenge, in order prove themselves to be the 'Zmartest' in the country. Six schools have made it through to the Semi and Grand Final at Dubai Ice Rink.
Two finalists from The Dubai National School spoke to Mother, Baby & Child, right after their competition, about their parents, favourite subjects and love for science:
Why have you decided to take part in Brainiac and what is your favourite subject?
I wanted to show people I could do it and to make my parents feel proud. My favourite subject is ICT. I also love doing experiments watch science videos on YouTube. My parents have always encouraged me; they always talk with me and give me prizes if I get good marks. – Eiman Aiman Ghabash
My school has chosen me to represent it! I hope I have made my parents proud; I love science because I enjoy getting information about different things and all the experiments. I love knowing things about the world and where I am living too. – Lina Amin Al-Sayyed