What to expect when you're expecting: Amy Stead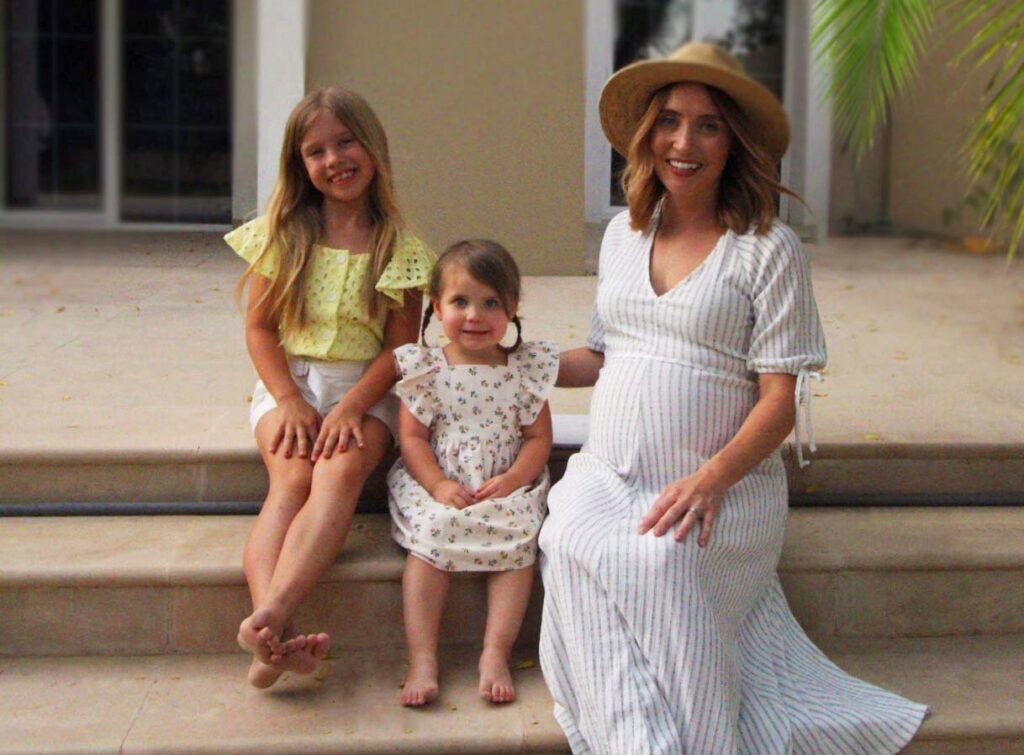 Amy Stead is a mum of two girls with another child on the way. Here, she takes us through her third pregnancy.
October
I went to bed on the 13th October fully expecting to get my period the following day. My husband and I had only discussed trying for a third baby a few weeks prior to this. However, that night I had a vivid dream that I took a positive pregnancy test. This, of course, prompted me to buy a real test the next morning, sure enough, there were the two faint pink lines. After another test to confirm a few days later we could be rest assured that were indeed pregnant for a third time. There were no real pregnancy symptoms to report of for the following few weeks, unlike my first two pregnancies that had telltale signs almost immediately. After a trip to the doctor for a quick transvaginal ultrasound, there was indeed a tiny foetus. I began to have moderate, time of the month style cramps and stretching sensations which I recognised as early growing pains as my uterus began to expand. Worryingly I had light spotting which I'd not experienced before in pregnancy, the doctor assured us that it can be very normal at this stage.
November
This will, without doubt, be remembered for all day, all-consuming, debilitating morning sickness and truly the worst sickness I had experienced with all three of my pregnancies. The only things I could stomach were apples and oddly tinned tomatoes on toast. I was losing weight daily and everything smelled so terrible – I was also very cranky, not unlike I'd have with PMS symptoms. I'd wake up and throw up then struggle through getting my oldest child ready for school. After drop-off, I'd come home and have to adopt a horizontal position on the sofa for a while as I tried to gather myself together to take care of my two-year-old as we don't have home help and she wasn't in nursery at that point. I did, however, manage to soldier on, we made it through each day with the mantra, "this too shall pass!"
December
Morning sickness was still very much part of my daily life and the struggle continued, I'd learned to recognise when a wave of nausea was about to come on, so I'd quickly grab an apple or dry piece of toast. We'd only told a handful of close family members and friends at this point that we were expecting our third baby, the news was, for the most part welcomed, but we had to laugh off the slightly offhand comments from some people, such as "you're having another one?" We had our 12-week ultrasound this month which amongst a full check of the baby's growth and development, also looks for Nuchal Translucency at the back of the baby's neck to check for possible birth defects. Along with the results of a blood test from myself we were given a low-risk score so we were happy to not partake in any further testing for birth abnormalities. We also learnt that there was a pretty good chance we were expecting another girl, but we would have to wait until the 20 week scan for confirmation. During the second week of December, my 35th birthday came along, as the weather is so beautiful in Dubai at that time of year I wasn't going to waste the opportunity to dine al fresco despite feeling terrible. We went for an early dinner and thankfully that evening I felt ok-ish. By late December, I began to feel a little more like a normal functioning human which was a welcomed relief.
January
My priority now was finding a lovely welcoming nursery for my two-year-old daughter. I wasn't out of the woods with the sickly feeling, but I was seeing the light at the end of the tunnel. After looking around several nurseries we found the perfect place for her. This meant I had some time to get back into a yoga class with a prenatal trained instructor, which allowed me to begin to feel much more like myself. At around 17 weeks my baby bump was just visible, so I was now beginning to enjoy dressing the bump! I didn't quite need maternity clothes at this point though, I found buying stretchier clothing or going a size up worked well to accommodate the bump.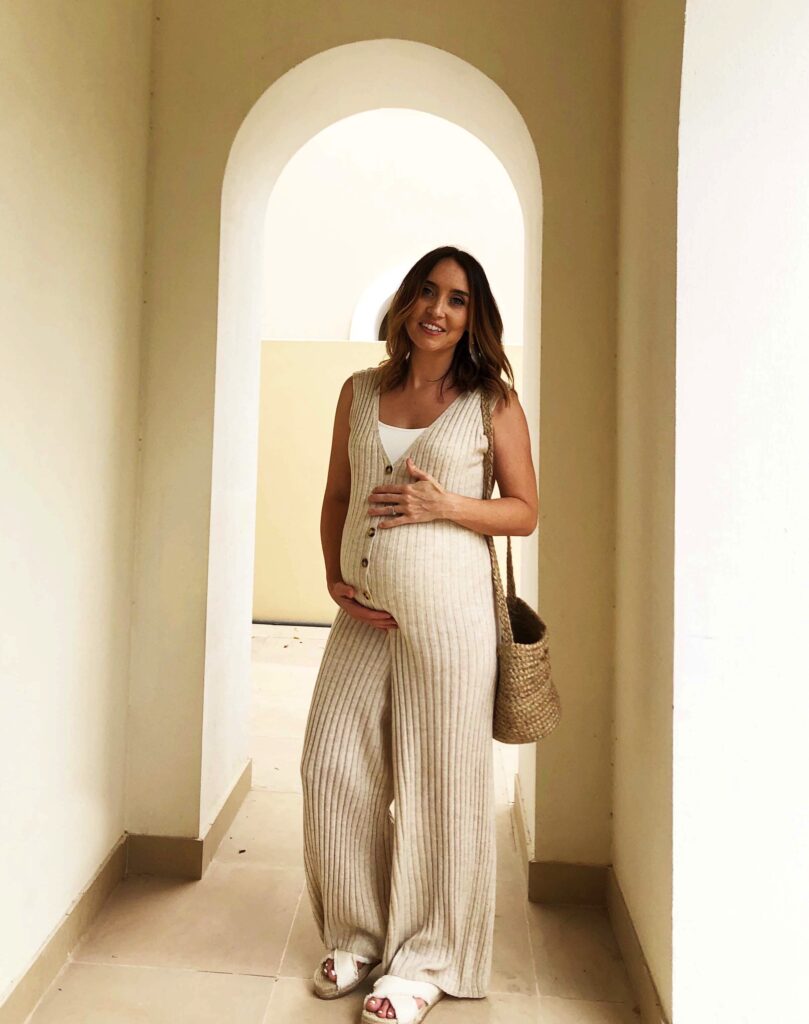 February
Finally feeling so much better, I was now able to enjoy my pregnancy at last. We had our 20-week anomaly ultrasound which goes into an in-depth look at the baby's development. With the baby growing perfectly, one thing that was noted was that I had low lying placenta which would need to be re-scanned at 30 weeks to make sure it had moved up and away from the cervix.  If it didn't move then it could be classed as Placenta Previa which can result in a c-section birth.  I had faith that it would move though as I had the exact situation with my previous two pregnancies, but I'd have to wait for the next scan to know for sure. We also got a good look at the baby with 3D ultrasound, it was wonderful to see our baby growing so well. The sonographer had predicted correctly at our 12-week scan too. We were elated to confirm that we were having girl number three! As we spread the news we'd occasionally be asked, "were you going for a boy?" We'd politely respond to that by saying, "nope, just going for a baby!"
March
My mother and father in law came to stay for half term, during which we arranged for them to look after the kids for a few days, which allowed my husband and I to have a much-needed childfree staycation. During this month, as well as continuing my regular check-ups with my doctor to look at things such as blood pressure and the babies heartbeat, I also had my GTT test or Glucose Tolerance Test which turned out normal, but I did have low haemoglobin levels so I had to up my vitamin dose of iron and make sure I was eating plenty of leafy greens. After a few days, I did notice a difference as I wasn't so breathless anymore.
April
We're now roughly nine weeks away to meeting our next little bundle and we're all very excited.  Pregnancy a third time around has been different mostly for the fact that having two children already keeps me very busy. Having been there twice before, I'm not as on-track with apps that give details about the baby's development, but I have been keeping track of my appointments and test results on one called Ovia Pregnancy as I've found myself to be a tad more forgetful this time around. I've begun to mentally prepare for birth by practicing calming breathing techniques and listening to hypnobirthing MP3s, as this helped me to birth naturally and drug-free the last time. We also had our scan to check the placenta's position and thankfully it has moved upwards and in a good position for normal delivery.  I now fully intend on making the most of the third trimester, for me that involves keeping as fit as I can, enjoying healthy meals and spending quality time with my family before the whirlwind of the newborn stage comes along all over again.
With thanks to Amy for sharing her pregnancy with us, you can follow her on Instagram @the.steady.life to keep up-to date with her motherhood journey. 
If you enjoyed this article, you may also like: UAE mum influencers and kids speak out about dad