Four family-friendly brunches to try in the UAE
Now that the weather is finally cooling down, we can look forward to dining outdoors again and enjoying fun in the sun! Treat the whole family this weekend to one of these family-friendly brunches in the UAE…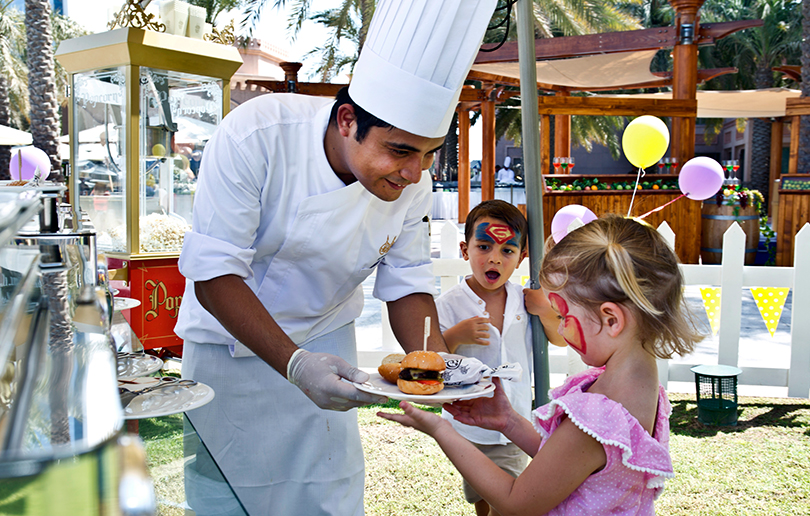 Meydan Friday Family Brunch, The Meydan Hotel
This season's 'Meydan Friday Family Brunch' offers a wide choice of new and interactive experiences satisfying every taste. Here, a massive buffet with a dozen of live-cooking stations spread in the garden area overlooking Dubai skyline and inside Farriers restaurant and foyer, offers an extensive culinary journey from around the globe featuring European, Middle Eastern, Asian and South American cuisines together with a wide variety of vegetarian specialties.
To upgrade this family friendly brunch with exclusive children offerings, a larger kids' area with wider fun varieties, supervised by a dedicated and trained team, welcomes all young guests accompanying their parents to the weekly 'Meydan Friday Family Brunch'. Here, fun activities will keep the children entertained throughout the brunch, from face painting, drawing, arts & crafts, balloon twisting to family movies, PlayStation games and the famous bouncy castles together with weekly surprise activities that will keep the kids on their toes.
Details: Every Friday at 'Farriers restaurant' at the lobby level from 12:30pm – 4:00pm. Prices start at AED 290 per person for soft beverages, AED 400 per person for house beverages. Children up to 4 years enjoy complimentary brunch, 50% discount for children from 5 up to 12 years old (AED 120 per child). To book, call +971 4 381 3111 or visit the website.
Pirates and Mermaids Brunch at Mazina, Address Dubai Marina
Dress your little ones up as a pirate or mermaid and enjoy a wide variety of specially-themed dishes at this fun, family-friendly Saturday brunch in Dubai Marina.
With prizes for the best-dressed pirate or mermaid, there's entertaining activities and fun for everyone. Follow the map to find the buried treasure, and lay siege to the bouncy castle.
The Pirates and Mermaids brunch takes on a spooky twist on 27 October for Halloween and also includes a pumpkin carving competition for the little ones.
Details: Every Saturday from 12:30pm to 3:30pm. Prices start at AED 325 per person including soft beverages; AED 450 per person including house beverages; AED 600 per person including house beverages and free flowing bubbly; Children aged 6 to 11 –  50% discount, Children aged 5 and below – DSne with our compliments. For more information and reservations, call 04 888 3444 or email dine@emaar.com
Brunch at The Palace, Emirates Palace Abu Dhabi
Navigate a Mediterranean weekend market and make your selection from an array of sumptuous dishes at Emirates Palace's Friday brunch.
Drawing inspiration from iconic European food markets such as Barcelona's La Boqueria, renowned for astounding colour and theatrics, guests can indulge in a diverse array of Mediterranean delights, from the organic vegetable garden, to Spanish tapas, Arabic mezze and a juice and fruit bar. Expect the unexpected when it comes to live cooking and enjoy wagyu burgers and short rib from the parrilla grill, organic eggs dishes, a paella corner, and the ever-popular fish and chip shop, before concluding with offerings from the coffee bar, patisserie and boulangerie stalls.
Brunch at the Palace is the perfect choice for families. Kids will be entertained so parents can relax amidst the lush gardens of Emirates Palace in the knowledge that their children are being treated like princes and princesses.
Details: Begins on Friday 26th October, running every week between 12:30 pm – 4:00pm. Prices start at AED 370 for soft beverages, AED 465 for hops and grapes, AED 680 for free-flowing bubbles and AED 780 for free-flowing French bubbles. Children between 6 and 10 years: AED 185. For details, call +971 2 690 7999 or email restaurants@emiratespalace.ae.
Family Friday Brunch, St Regis Abu Dhabi
The St. Regis Abu Dhabi invites you and your little ones to a hearty and colourful brunch at The Terrace on the Corniche every Friday. Indulge in an infinite selection of the freshest seafood, sushi, foie grass, fine grilled cuts pre-paring at a live station to your specifications. Save room for the festive styled dessert and cheese room.
Details: Every Friday from 12:30pm – 4:00pm. Prices start at AED 345 for soft beverages, AED 490 for selected cocktails, grapes and hops, and AED 650 for the bubbly package. To book, please email restaurants.abudhabi@stregis.com, call 02 694 4553 or visit the website.