Recipe: Spaghetti Meatball Cups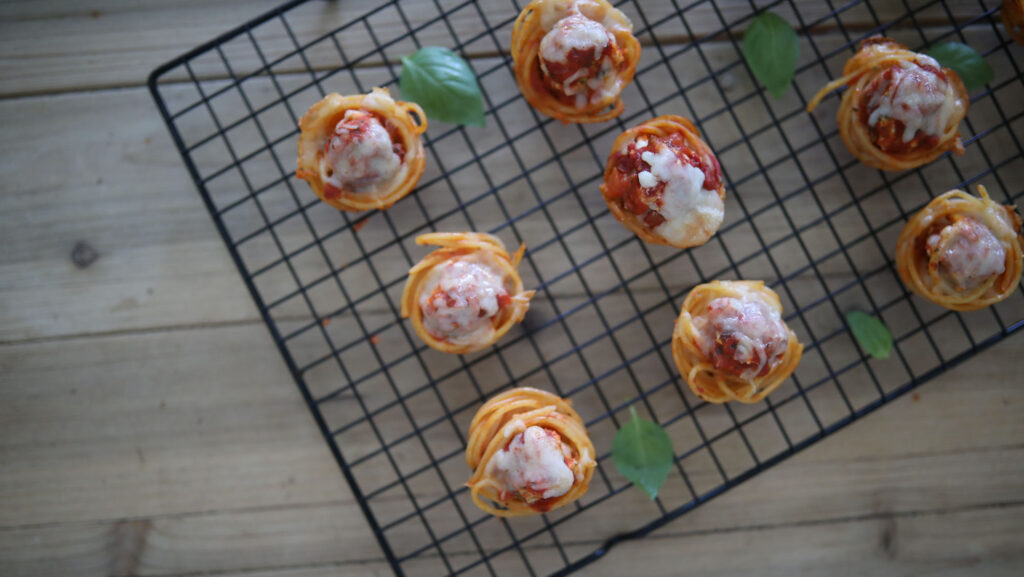 This recipe for Spaghetti Meatball Cups makes 24 portions.
Ingredients:
200g spaghetti
300g can/jar of organic tomato basil sauce
1 egg
Mozzarella cheese
Pepper, to taste
For the meatballs –
200g chicken, minced
Half onion, sliced into small pieces
Handful broccoli, cut into small pieces
Method:
STEP 1: Preheat oven to 180F.
STEP 2: Bring a large pot of lightly salted water to a boil. Cook spaghetti in the boiling water, stirring occasionally. Make sure it's al dente.
STEP 3: Toss spaghetti with egg and basil/tomato sauce.
STEP 4: Divide spaghetti between the muffin cups, arranging noodles in each cup to create "nests" for the meatballs.
STEP 5: To make the meatballs, mix all the ingredients together and shape into small balls.
STEP 6: Bring two cups of water to boil and drop the meat balls in, leave to cook for 10 minutes.
STEP 7: Drain the meatballs and place into a bowl with the tomato sauce and mix gently.
STEP 8: Place one meatball with sauce into each 'nest'.
STEP 8: Pour some more sauce over each and sprinkle the cheese on top.
STEP 9: Bake for 20 mins.
Watch:
With thanks to Jeri Willmott (My Wild Tribe)
Here's another super easy and delicious recipe you might want to try.
Photography and Video: CPI Media Group