Tried & tested: PICO Genesis at EuroMed Clinic Dubai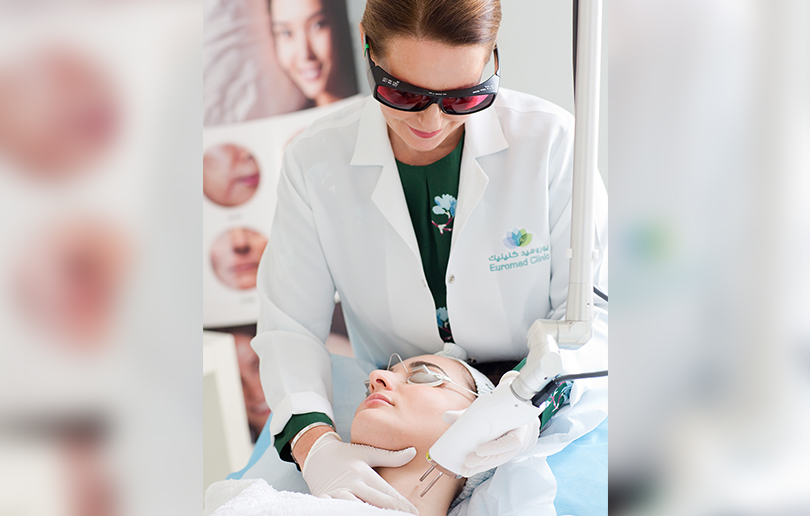 Known as the "20-minute miracle" PICO Genesis is a laser treatment that destroys the pigment in skin, leaving you with an even complexion and instant glow.
Before the non-thermal procedure begins, emla (numbing cream) is applied on to avoid any discomfort during the treatment. Once the skin was numb, I was taken to my aesthetician Rebecca Treston's room – the only expert qualified to carry out this treatment – to lay back on a chair and relax.
Soon after, picosecond pulses went along my face in various directions, to not only remove pigmentation but also rejuvenate deep layers of the skin without causing damage to the tissue. As the ultra-short energy pulses are felt ever-so-slightly on the skin – suitable for those with low pain threshold – Rebecca tells me the procedure is great for anyone who has age spots, melasma, freckles, deep acne marks, hyperpigmentation and sun damage. The laser also helps build collagen, and since there were visually no marks or harsh dots on the skin, I didn't need any downtime after the treatment.
The treatment is similar to a facial in a way, really just remodeling the upper demis to give you radiance and a more uniform complexion. To cool the skin down, a thick rubber-like mask is applied on for 10-15 minutes, letting you snooze for a bit – we know how much you need that power nap, mum.
The actual results were noticeable after two to three days – hyperpigmentation near my eyes had been cleared out by this point, and my skin was free from any brown spots, making it look fresh and clear.
Details: AED 2,500 per session. Visit @rebeccatreston on Instagram for before and after images of the treatment. Contact +971 4 394 5422 for more information.