Al Ain Farms: Supporting families with fresh local milk
Al Ain Farms is the oldest dairy in UAE and has always supported families and mums in making the right choice when it comes to fresh milk. All products are produced daily and reach customers in the UAE in less than 24 hours, keeping the freshness and nutrients as straight as from the source.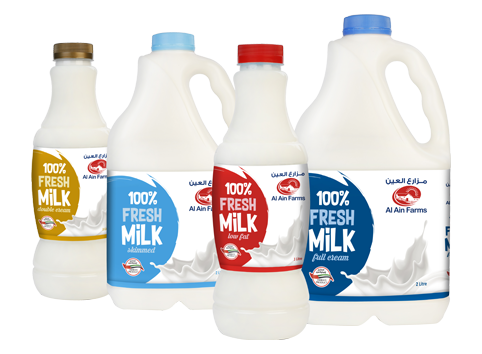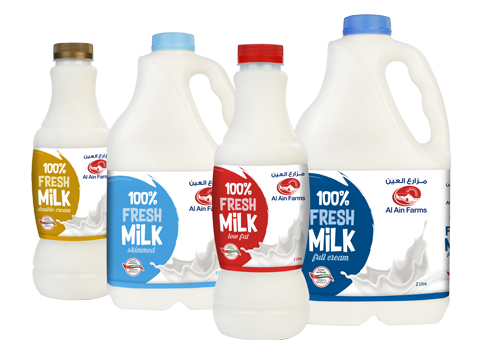 Al Ain Farms also has a big CSR role in supporting local farmers and shareholders, who are comprised of families who live in UAE – thus, giving back to the community in which the company was founded in 1981. It was founded under a vision of the Father of the Nation, the late Sheikh Zayed Bin Sultan Al Nayhan, who wanted the same as every parent does – to take care of families and our people.
The highest standards for you… and our environment
Today, Al Ain Farms is equipped with the best international technology for feeding, milking and processing and is one of the most advanced dairy farms in UAE. The company upholds the highest standards of operational excellence, investing equally into its people and taking care of animal welfare, while constantly working on initiatives to reduce its carbon footprint by recycling all water used on the farms.
Highly-qualified cow handlers and veterinarians work 24/7 at the farm, ensuring our cows receive loving care all the way.
"The happier the cows, the better the milk"
This stress-free, hassle-free lifestyle boosts their milk yield and ensures Al Ain Farms milk is full of nourishing taste, ready to deliver fresh to all consumers in UAE. The happier the cows, the better the milk – that's why the cows are pampered at Al Ain Farms so we can all enjoy fresh milk free from antibiotics, hormones and preservatives. While some other products may have traveled for days to reach the shelves before we can buy them, Al Ain Farms milk and its packaging are all sourced in the UAE –  so it really does not get any fresher than that!  

Al Ain Farms milk flavours and varieties
Our fresh milk is available in many variants and sizes, including Full Fat, Low Fat, Skimmed and Double Cream, all packed with calcium and Vitamin D for growing children who need a lot of energy, and families who prefer a low fat or skimmed version. The natural chefs inside all of us would go for double cream milk for cooking, as we all know sauces and recipes are best made with double cream and nothing replicates those texture and flavours!
Those with a more sweet tooth can choose from five flavours of fresh milk:
Strawberry Flavour milk to get the mornings off to a fruity start

Chocolate Flavour as a pick-me-up in the afternoons

Banana Flavour for something tropical and adventurous

Date Milk when you want to try something new

Cardamom Milk when you need an indulgent refreshment.