What to expect when you're expecting: Rhian Adams
Personal Trainer and Coach of Fitness Professionals, Rhian Adams takes us through her pregnancy month by month.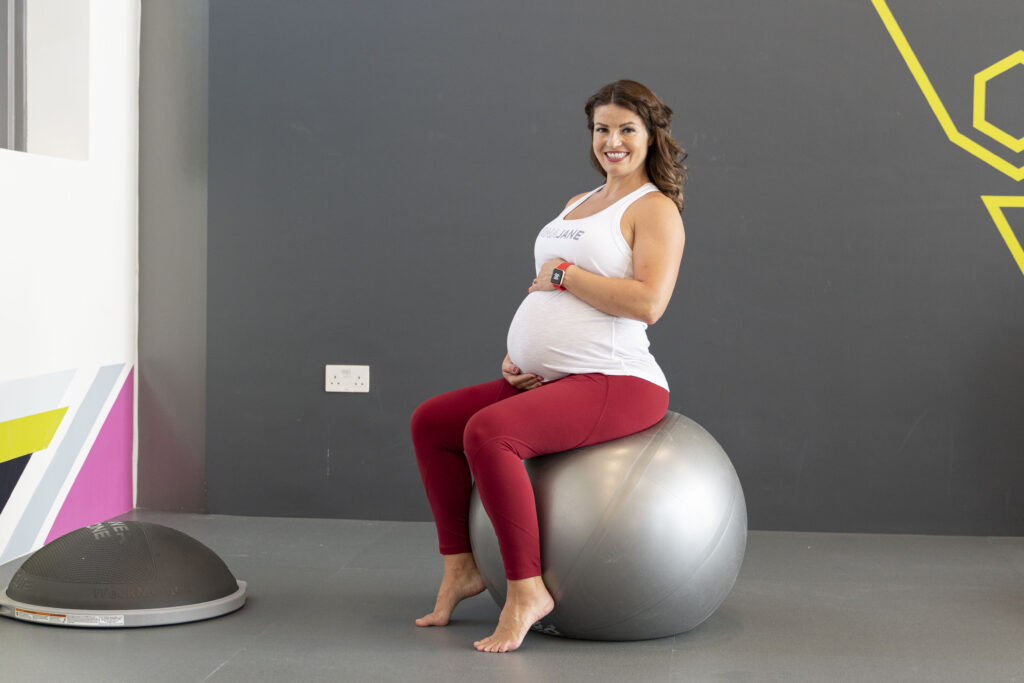 April
I found out I was pregnant! Completely unexpected and a huge shock. We really weren't planning on expanding the family right now, but we knew exactly when conception would have happened. A little anxiety for both me and hubby to say the least, we only just started sleeping through the night again.
May 
First thing on the agenda was to chose a nursery for our little girl, Seren. I fell in love with Children's Oasis nursery even though it was a little further away from us than the others.
June
An unforgettable trip home to Wales to see our family and friends, lots of walks, picnics and barbecues surrounded by beautiful mountains and countryside. Husband and I got to be the bearer of great news to all our friends and family, especially the grandparents and siblings, and witness their excitement as we announced our little baby would be coming soon.
July
Trimester 2 – goodbye fatigue, hello more energy. Continuing to embrace the bodily changes and exercising regularly for all the mum and baby benefits, to keep as fit and strong as I can before the whirlwind of having a newborn.
Feeling my baby kick for the first time is nothing short of amazing and really does make the pregnancy feel so much more real. I'm actually growing a human. We started planning ways to introduce the baby to our toddler Seren. We bought some books on a new baby arriving, and we took her along to one of the scans. The joy of seeing my little girl being able to see the real baby on screen and gasp at the swish, swish, swish of the baby's heartbeat on the Doppler – this feeling is indescribable.
August (half baked!)
My body is changing, my bump and breasts are getting bigger and heavier. I'm continuing to wear my Lorna Jane active wear to accommodate my changing body. The styles and fits will keep me going right through my pregnancy.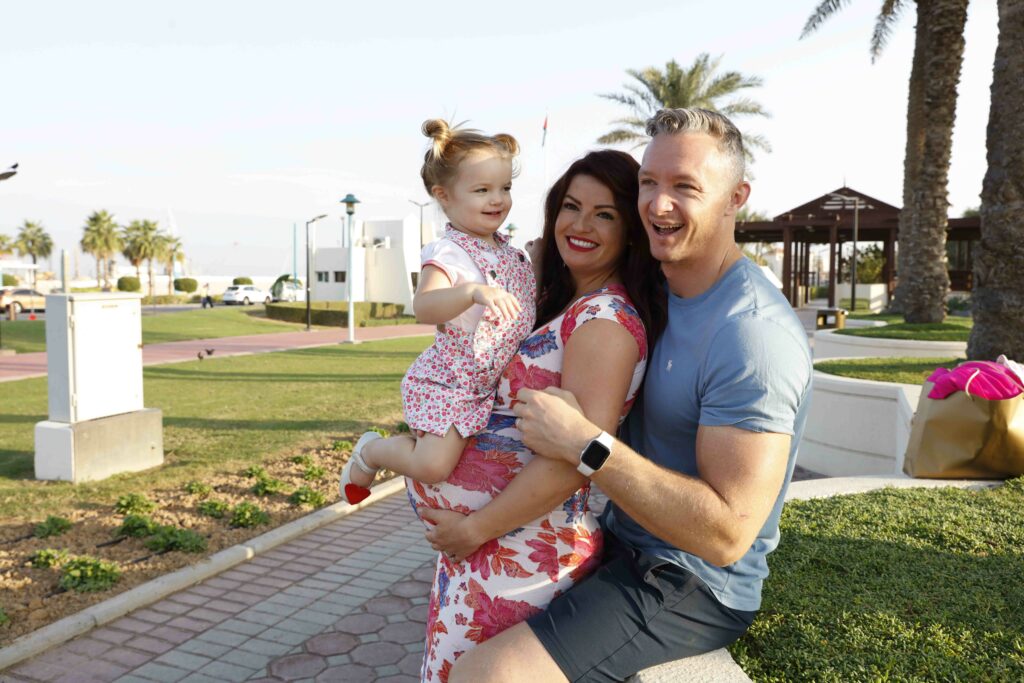 September
We took a big trip to Vegas and visited the Grand Canyon, flew to California to relax on the beautiful beaches and headed to New York to visit the Statue of Liberty. But, the highlight of the trip was when our hotel Newyork midtown Hilton decorated our room to reveal the gender of our baby. It's a BOY! We are sooo happy!
October 
We flew home to Wales for a celebratory few days. A wonderful baby shower with all my favorite ladies, Seren's second birthday party, and because we were sad to not fly home for Christmas this year, a very early family Christmas. Yes, we put our Christmas jumpers on, sang Christmas songs and put together a Christmas brunch. It was such a special time.
November
We went on our last staycation as a family of three, to celebrate our four-year wedding anniversary, and also had a baby shower organized by ladies from my church group. I wore my husband's XL white buttoned shirt to my baby shower, paired with a navy skirt and a red head band. It's an unspoken rule that you can wear whatever feels comfortable or whatever fits during your pregnancy journey.
Starting to tie up loose ends and ready to finish work. I taught my last babyandme and Mums and Tots classes, and tutored my last pre-and post-natal exercise course.
December
This month was all about preparing for our baby's arrival and the amazing anticipation. Thinking of baby boy names, shopping for tiny clothes, nursery furniture, and adorable blue room décor.
I loved the mystery of not knowing who I will bring into this world. Of course, I knew it was a boy, but the excitement of eye colour, hair colour, who he would look like, who he would follow in his little ways. And, how my little girl would be with him. Maternity leave also meant spending time with friends, enjoying coffee and breakfast, and my mum arriving, so lots of café stops for a tea and biscuit.
I was hoping the baby wouldn't come until after I judged the fitness bodybuilding show and after the Fit Awards – I won runner up "Pt of the year." A very healthy baby Samson arrived a few days after, on the December 12th, and it was another beautiful water birth at Park View Mediclinic. My doula Nikki (@thefitmidwife) was by my side all along and I was so grateful, along with my husband, who stood by me again for the second birth.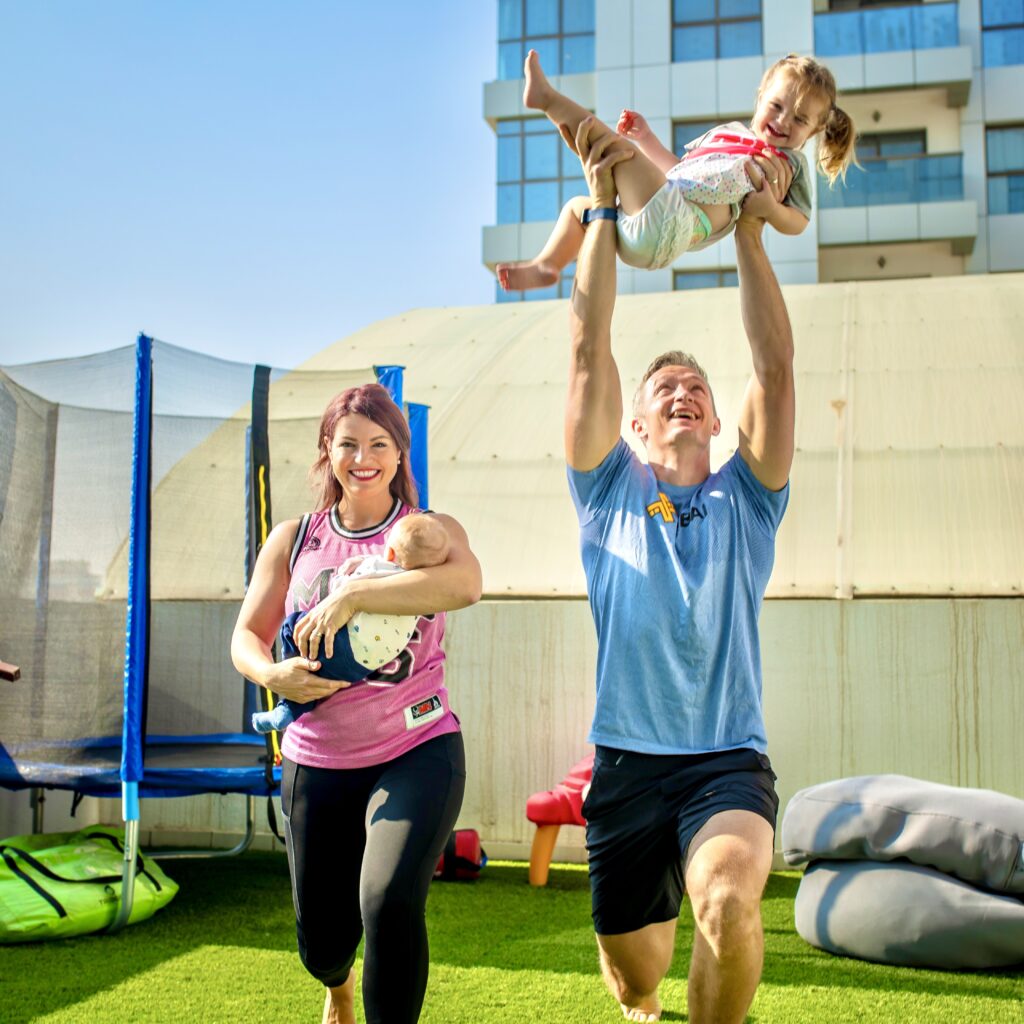 With thanks to Rhian for sharing her pregnancy journey with us, you can follow her on Instagram for more on motherhood and fitness.
If you enjoyed this article, you may also like: Hypnobirthing in Dubai: Jessica Smith's real and raw experience