Spa review: Talise Ottoman Spa, Jumeirah Zabeel Saray
Get ready to be transported out of the UAE, when you visit Talise Ottoman Spa – an expansive haven nestled on The Palm Jumeirah.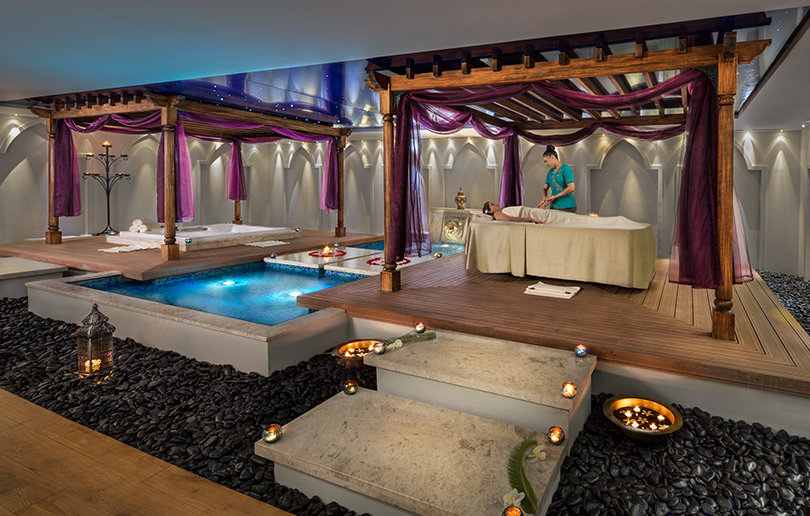 For years, friends and family members have been recommending Talise Ottoman Spa. Not just for its extensive offerings, but for the incredible ambience and hospitality.
The afternoon I arrived, I was given a tour of the spa premises built with marble, dark woods, mosaics and murals, and instantly made a mental note to try each of the facilities, including the stunning indoor salt-water Thallasotherapy swimming pool, adventure showers, heated-marble loungers, and Jacuzzi. I was taken to the changing room soon after and was asked to change into my robe and head to the steam room to let me pores open up for the Turkish Hammam experience that was to follow.
After taking in some steam for ten minutes, I was escorted to the Turkish Hammam area and was lost for words. My eyes first met the jacuzzi sited right in the centre, surrounded by cabanas and lanterns. As I walked through the large wooden doors at the back of the room, I was blown away by the attention to detail. I took off my clothes to lay down on the large marble slab placed at the centre, looking up to the dome decorated with intricate details, really capturing the essence of the Ottoman Empire.
My therapist poured large jugs of warm water all over my body and began scrubbing my skin with medium pressure to slough off dead skin cells. There's a strange gross yet satisfying feeling when you see layers of dirt being cleansed off. After scrubbing my body from head to toe in various motions, I was washed again and felt a float of foam being applied. The soft foam coated my body entirely before she cleaned it with olive oil soap to nourish skin. I was soon taken to the water fountain area, where I was asked to take a seat as warm water was poured over to remove the soap. A minty shampoo was used to cleanse my hair, instantly refreshing my scalp, before a conditioner was applied. All along, all I could think of was 'this is how the royals were bathed back in the day. How incredible!'
Once done, I headed to the cabana outside to relax back with ayran (a laban-style salty drink) and dried fruit, before jumping into my swimmers to use the facilities, starting with the jacuzzi. The heated marble recliner lounge was where I spent most of my time, as the heat helped alleviate back pain. To relax, listen to the sound of nature and breathe in fresh air, I headed for the Thai terrace with a cup of warm herbal tea in hand.
The traditional Turkish hammam experience (45 minutes) is priced at Dhs510. Contact +9714 453 0456