Mum's School Checklist: Order the iron-on labels!
With the advent of the new school term, iron-on labels in your child's clothes are the best way to avoid these situations where your child loses their belongings, accidentally brings home or touches someone else's stuff. But this year is different. Now more than ever, iron-on labels are one of the best pandemic-precautionary measures against other people accidentally handling your child's items, especially since school uniforms are designed to all look alike.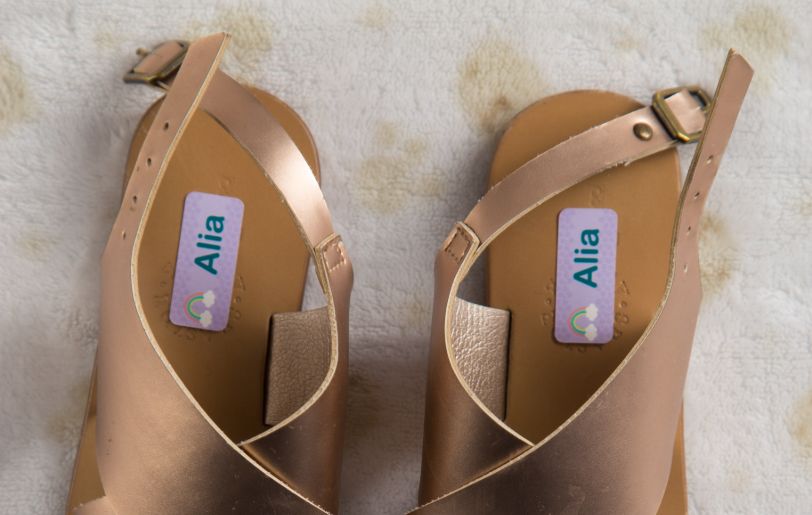 Iron-on labels do exactly as the name implies – you simply place your child's name label into the position you want, then run the iron directly over it. However, not all iron-on tables are made to the same quality and it is important to use iron-tables that are built to last and do their job properly. 
Quality labels are important in the pandemic era
We recommend My Nametags labels, because quality is important. After your child's name labels are ironed on, (the labels adhere in seconds!) the name labels will be 100% safe in the washing machine, they won't budge in the tumble dryer, and are resistant to any amount of wear and tear your child can put their clothes through! 
Aside from the iron-on labels, My Nametags has a range of name stickers for your child to label their stationery, lunch box and other items. (You can read about these below!) Crucially, the labels are manufactured with a child-safe antibacterial coating that makes them safe to use for face masks, lunchboxes, food packs, water bottles, pencil cases, stationery and other items. The My Nametags labels and stickers help your child's teachers to easily identify items that belong to your child, with no confusion or extra handling of the items.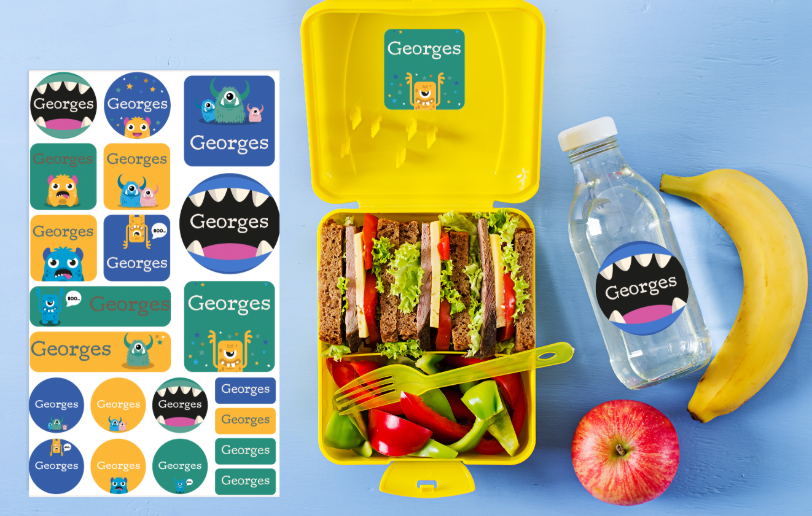 My Nametags is the holder of a Queen's Award for International Trade, meaning that the highest quality is assured to mums in over 130 countries, including this region. 
Get your child to customise their own name label!
You can have fun with your child personalising the labels together from the My Nametags website, where you'll find thousands of design combinations to suit your child's tastes for favourite colours, animals, icons, hobbies, etc. 
What most mums like to do is to ask their child to choose the colours they'd like for their name tags, as a nice way of getting them engaged with the idea of looking after their property and understanding that it is theirs alone to use. Getting your child into the mindset of only touching and using their own things is so important in this climate of virus-spread awareness.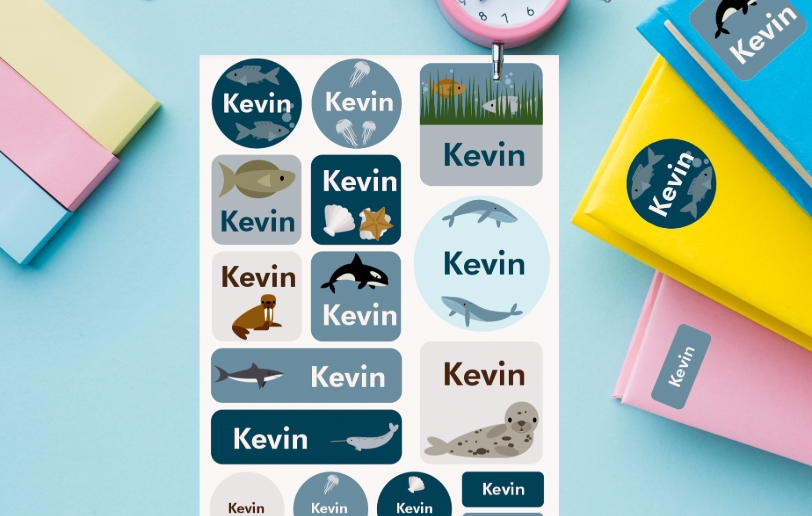 Available in A-Z alphabet and Arabic typography
Already popular in Saudi Arabia and Bahrain, the sustainably-produced children's name labels and stickers from My Nametags are available in Arabic typography, as well as in the A-Z alphabetical format of other languages.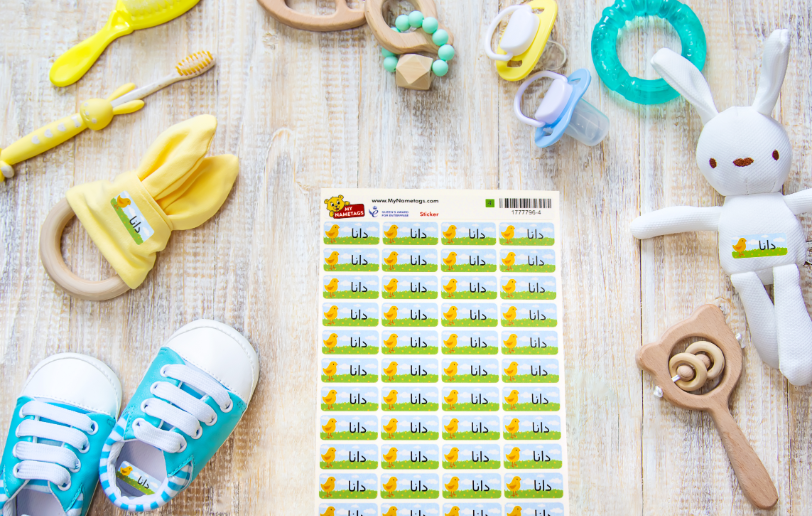 Getting creative with stickers
Who says that the stickers need only have your child's name on them?!  You have the option to design your own sticker with up to 2 lines of text (max 15 characters for each line). 
Included in the 'Design Your Own Label' option is a choice of designs such as stars, unicorns, rainbows, animals…and my personal favourite, a shark! 

Choose your background from an array of colours and textures that make the sticker unique and personal to each child. 

Finally, choose the text colour and style from options that include a handwriting font, typewriter, plain fonts, script – and even child's handwriting!
Mums use these to create their own stickers that read things like: 
Well done! 

You're a star!

Best kid ever!

I love you!

Your child's name & phone number to put on all their property. 
Using stickers to keep school work organised
Some parents like having different colour stickers for each child; or using different coloured stickers to help them keep organised. For example, school materials and paperwork can have a red sticker with 'Maths'; a blue sticker for English; a green sticker for History, etc.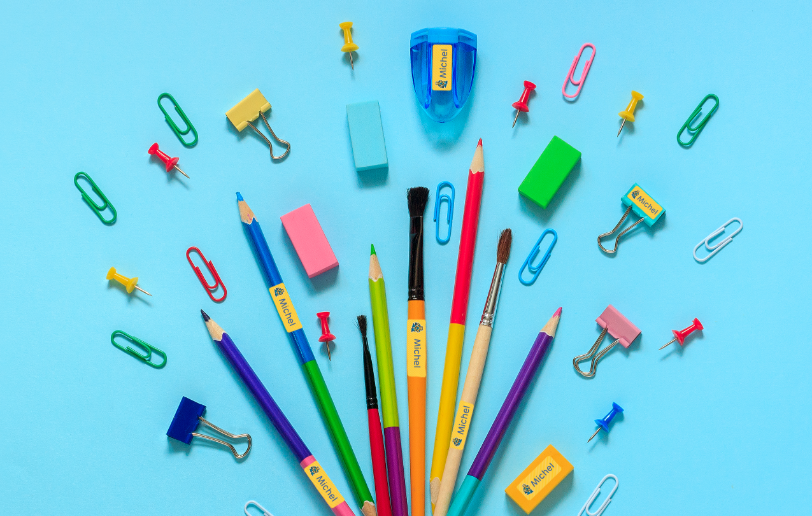 Maxi Stickers
These maxi stickers come in a variety of shapes and sizes and are bigger than the name stickers. They're therefore ideal for labelling your child's lunchboxes, water bottles, books and school bags. Don't forget that children also get a nice sense of pride in themselves seeing their name on the things they use – particularly since they can personalise the maxi stickers themselves with the designs of their choice from a selection of themes.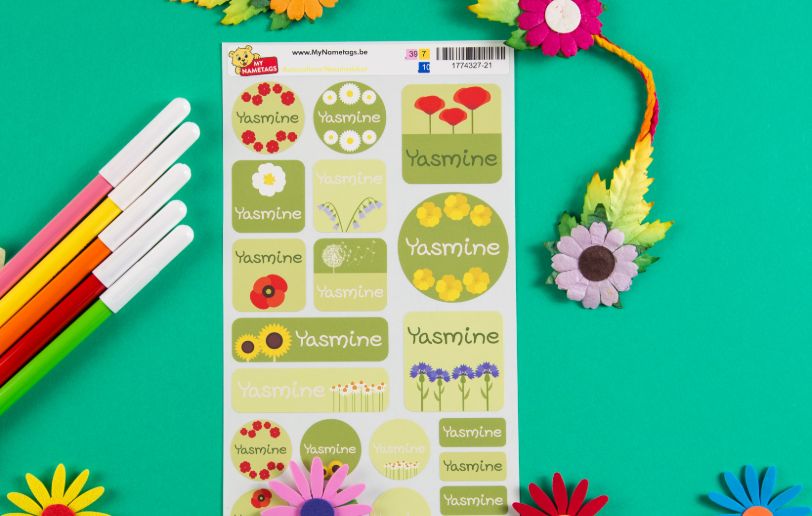 And while children care about their things – toys, stationery, lunchboxes, etc. – they can still be forgetful about them. Labelling their things with their name stickers helps your child to not lose items at school, or at friend's houses.
Wall Stickers
As children are now spending more time than ever before in their rooms, the Wall Stickers are a great way to personalise (and even re-vamp!) their rooms. And don't worry mum – these stickers are also designed with you in mind, as they are Wall Stickers made with a flexible material that can be easily removed in a matter of seconds, without leaving stick marks or damaging the wall surface!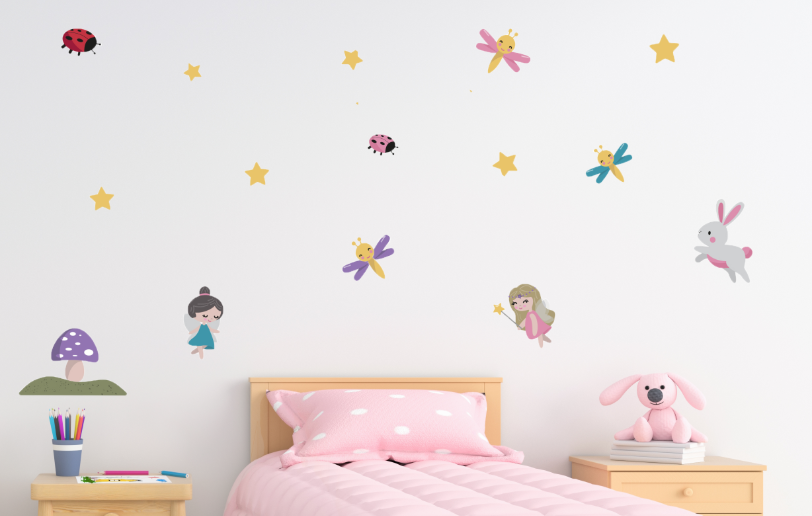 The My Nametags website has some lovely images that show you how stunning effects and transformation can be achieved by using the wall stickers.  Check out the images – it's easy to imagine how excited your child will be with the finished results. Getting a child to choose the theme stickers is also a good way to get your child involved and enthusiastic about creating a space that is their own, and therefore comfortable to be in. 
The wall stickers are an extra special touch if two children are sharing a room, as the stickers allow each one to personalise their own patch and create a lovely, cosy, personal space for a tiny fraction of the cost of redecoration.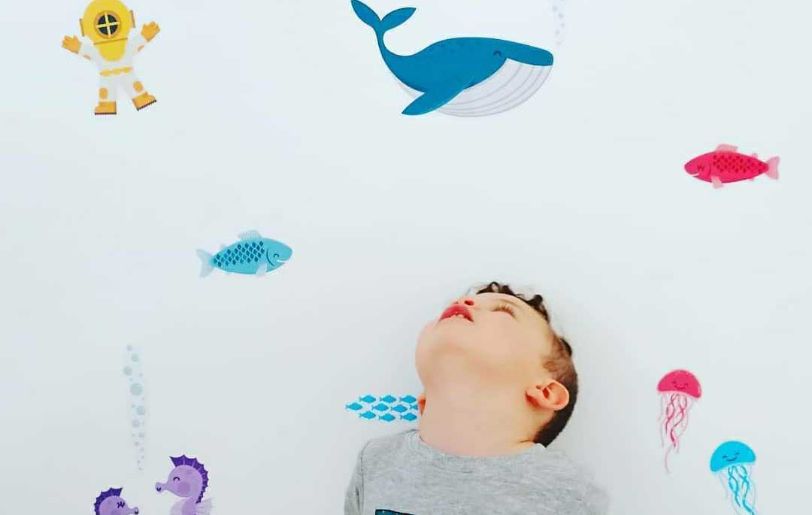 TIP: Get your children to personalise their rooms as a great project for the summer break! CLICK HERE to see the options and styles, or check out the Instagram page for ideas.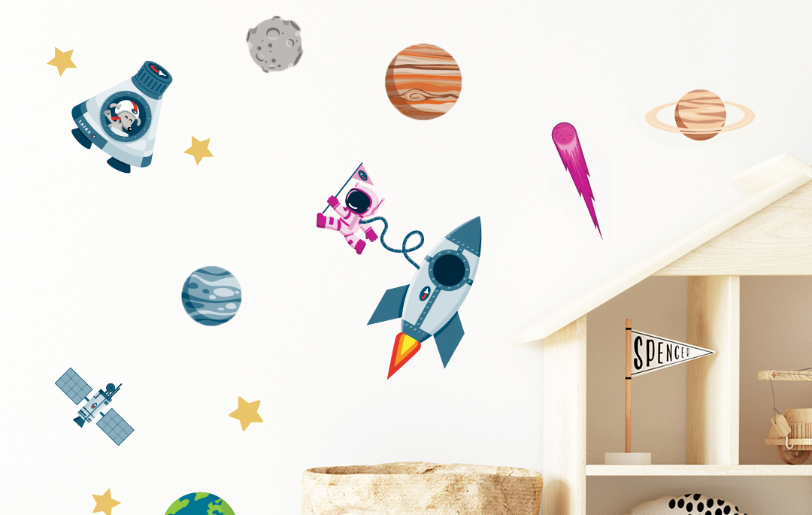 Involving your child is important!
Two weeks' ordering time is optimal to get your child's name tag stickers and iron-on labels, but it's a great idea to involve your child in choosing the colours and types of stickers in advance. All you have to do is:
Get your child to choose the colours and background they like

Type in your child's name… and add it to the basket. 
When the stickers arrive you'll know as a mum when the best time is to help psychologically prepare your child for going back to school by sitting to gather and labelling all their items together. This is a fun way to get them into the mindset of going back to school. 
NOTE: Be sure to allow 2 weeks between the ordering and delivery of your child's name labels!
You'll find lots of information and inspiration on the My Nametags website and also on Instagram. 
FURTHER READING:
Child name stickers helping keep kids virus-safe at school