EVENT REPORT: Pregnancy & Bringing Baby Home
The 3rd part in our regular series of three Mother Baby & Child Pregnancy breakfast events, was held in association with our Community Sponsor Babyshop; and Supporting Partner, Fakeeh University Hospital this week. The event took place in the art deco surroundings of the fabulous Orphic, in the Stella di Mare Hotel in Dubai Marina, on Sunday 31st October.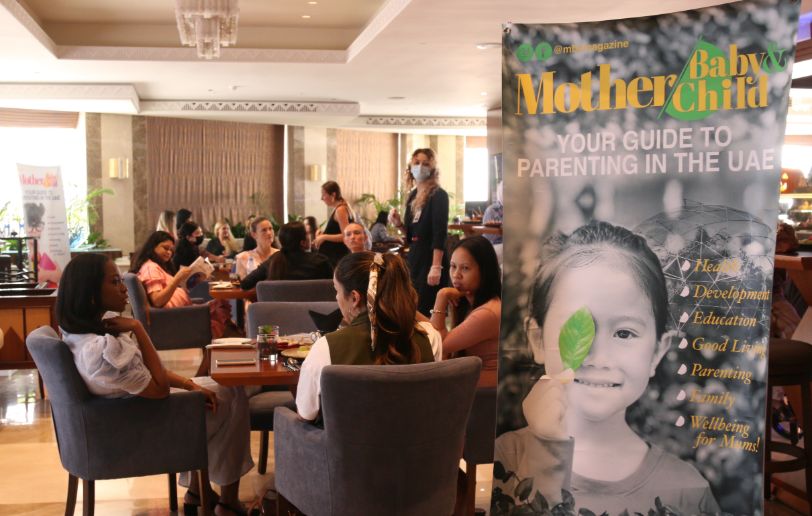 There was something very beautiful about every individual woman who came through the huge wooden doors of Stella di Mare's Orphic lounge and took her place at the event – that miracle-making glow of pregnancy that transforms women into the most gorgeous VIP version of themselves!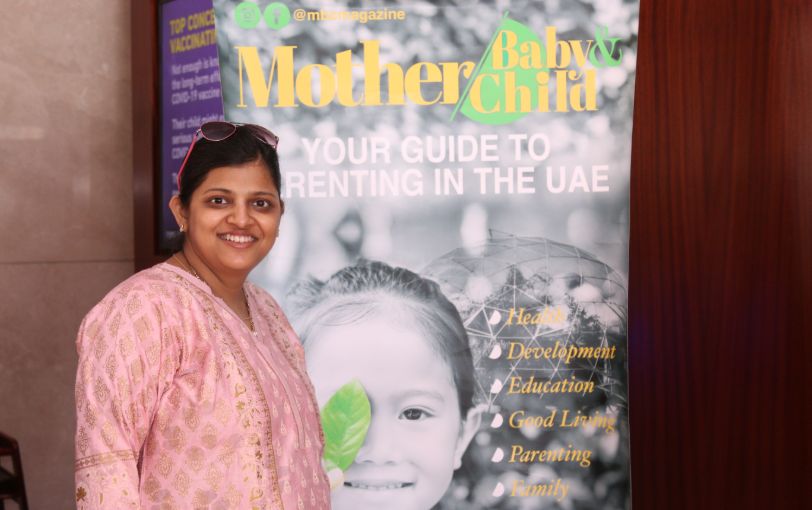 Regardless of how tired, how excited or how much back ache was involved, every lady that attended made the effort to come and find out more about providing the best care for their newborn babies, as well as learn how to be more comfortable in their pregnancy. Amazing ladies!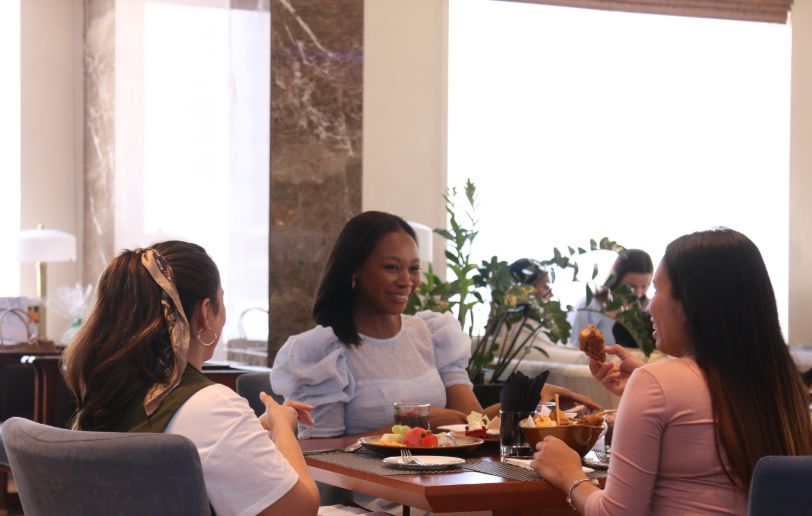 The event started with mothers-to-be taking a seat at one of the cosy tables for four, getting comfortable and enjoying a breakfast canapes, colourful platters of fresh fruit, pastries, juices and delicacies with new friends – the other pregnant mums attending. 
We opened the event with a welcome address from Mother Baby & Child Editor, Kay Marham, followed by an interactive introduction to breathing and relaxation techniques from Fakeeh University Hospital Marketing Manager, Bhawana Sahu, in an 11th hour switch from the original schedule.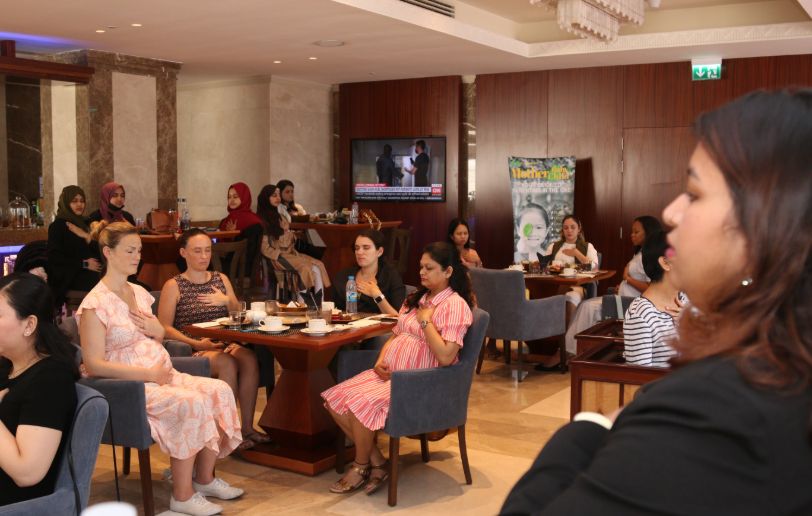 Breathing for Relaxation and Pain Control
Bhawana explained how most people tend to breathe only from the top third of their lungs, thereby depriving themselves of the paradoxically calming and energising benefits of fully oxygenating their bodies and organs. Everyone joined her in a breathing exercise designed to induce relaxation, connect at a deeper level with their growing baby and dull down aches and pains. Bhawana's breathing relaxation techniques paved the way for Dr Bariah Dadari, Head of Department and Consultant Pediatrician at Fakeeh University Hospital (FUH) to take the stage.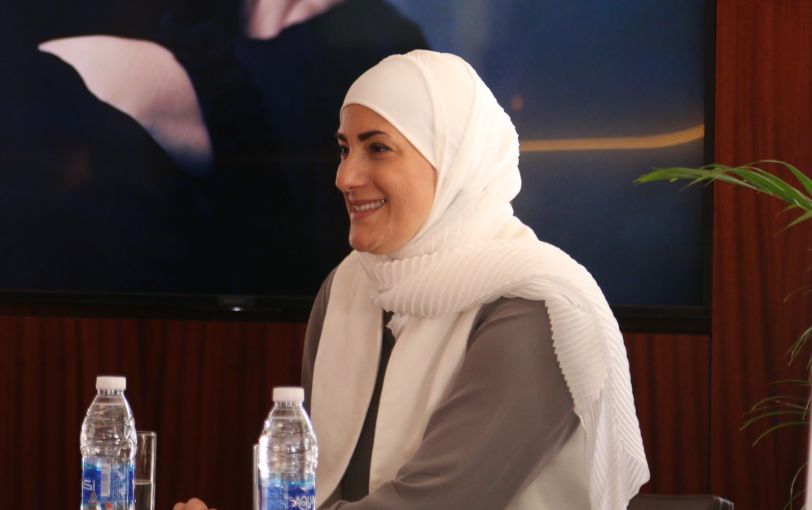 Newborn Baby Care
Dr Bariah is a highly-respected and experienced Consultant Pediatrician and an integral part of the Fakeeh University Hospital senior team that provides an authentically kind and human level of care, comfort and support to pregnant women – from the time of conception to delivery of the baby and beyond. Herself a mother of two girls, her natural warmth and connection to women was obvious as she made sure that our mums-to-be knew that they could avail of free antenatal classes, regardless of which hospital they planned to have their baby, before moving on to discussing newborn care.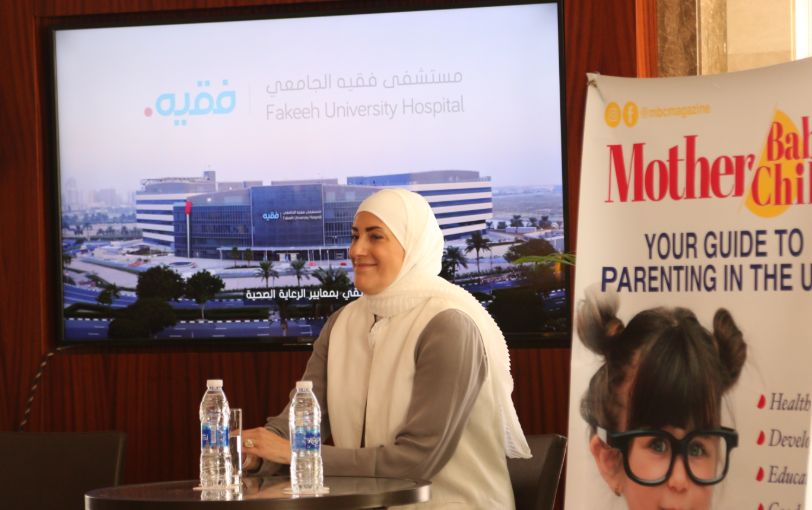 Dr Bariah talked at length about the vital importance of breastfeeding for the utmost wellbeing of newborn babies. She emphasised how unmatched and irreplaceable breastfeeding is in terms of providing the correct consistency, building immunity and nutrition for new babies, as well as lowering the mother's blood pressure and decreasing the risk of diseases such as breast cancer, cardiovascular disease and diabetes, among many other conditions.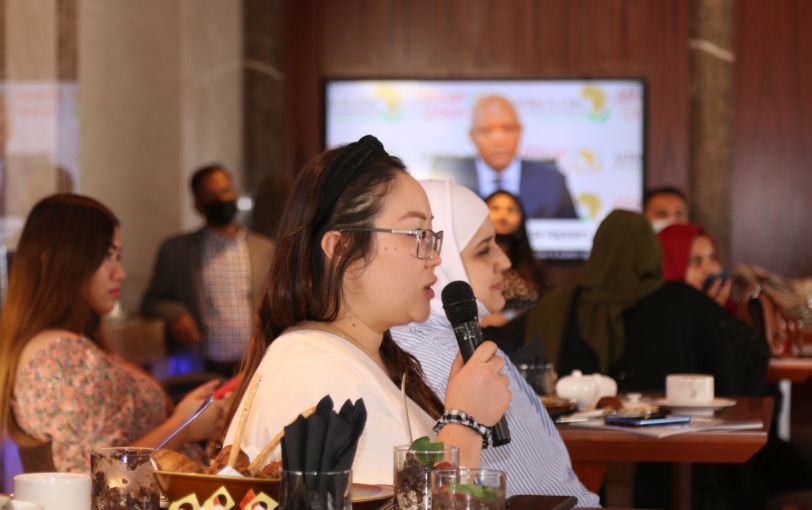 As questions flowed from the ladies in the audience, one first-time pregnant mum expressed her fear and confusion around her hospital advising her to have an "elective caesarian", for reasons she didn't understand. Dr Bariah was emphatic in letting first time mums know that they must feel confident in going ahead and seeking a second opinion, and even a third opinion when their healthcare provider is recommending an "elective caesarian." If the procedure is "elective," the independent second and third opinions will help women to truly make their own informed decision by understanding more and asking questions to a different doctor, without being intimidated by their own doctor.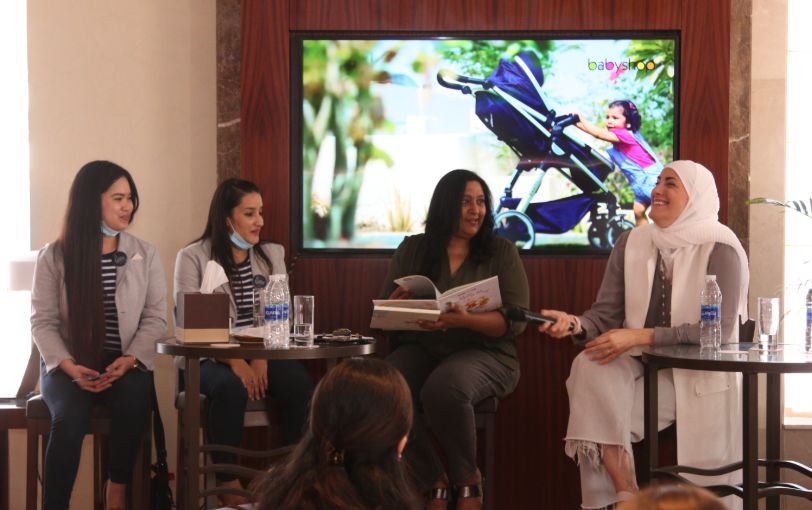 Expert Help for New Mums-to-be in Buying Baby Necessities
While taking questions from the audience, Dr Bariah touched upon the topic of sleeping habits of newborns, at which point we invited to the stage two of Babyshop's personal shopping experts (called 'My Baby Experts'), Pearl and Purnima, to discuss how help is available in each of the Babyshop stores to help parents navigate their way around baby equipment, including baby cribs. One of the audience questions came from a mother-to-be who said she simply did not know what she should be buying to equip herself adequately with everything she needed, and certainly did not know the criteria for which she should choose one crib over another. Pearl reassured her that all mums can collect a checklist in-stores with information conveniently segmented into areas such as Bathing, Feeding, Sleeping, Travelling, etc., specifically designed to help new mums understand how to prepare for the arrival of their new baby.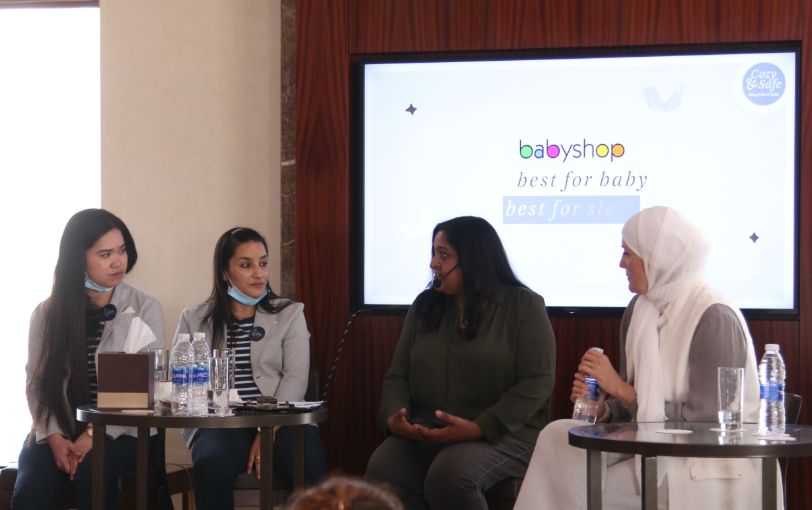 With over a decade of combined experience and knowledge in the area of baby necessities, the Babyshop 'My Baby Experts' pointed out that they can make a free appointment in any store and talk through their needs. Purnima explained to the audience that they never make recommendations without first knowing about the new mum, her needs, environment, space, budget and requirements. Pearl then talked through the value of a dedicated appointment time in the stores for individual new mums, to really understand the options offered by different brands of baby products.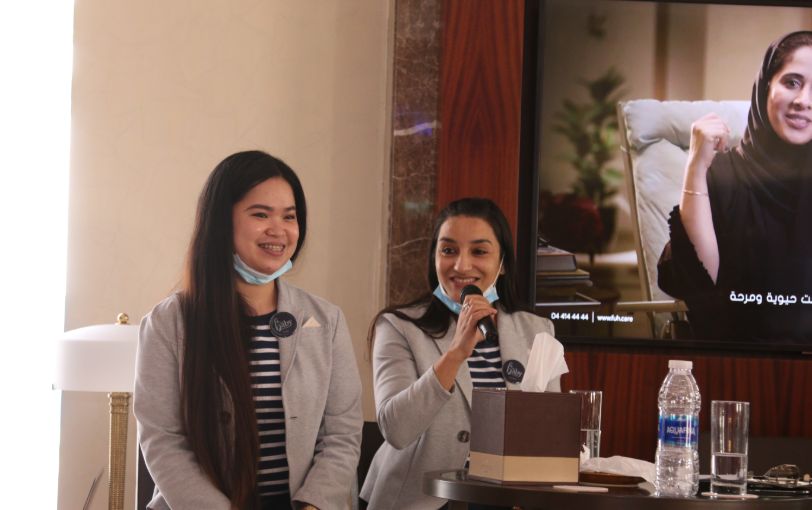 Ending on a Fun Note!
The event ended on a fun note with a random prize draw, with names randomly drawn from the attendee list of ladies at the event! Australian natural skincare brand QV Baby gifted one mum a hamper of QV Baby products; Himalaya Skincare provided a gift basket of Aloe Vera pampering goodies for mums; and Babyshop provided a Medala Swing electric breast pump worth over AED 500 as a prize draw gift for one of the ladies. Ending on a happy high, Babyshop also provided separate gift cards for two of the mums to spend AED 250 in Babyshop.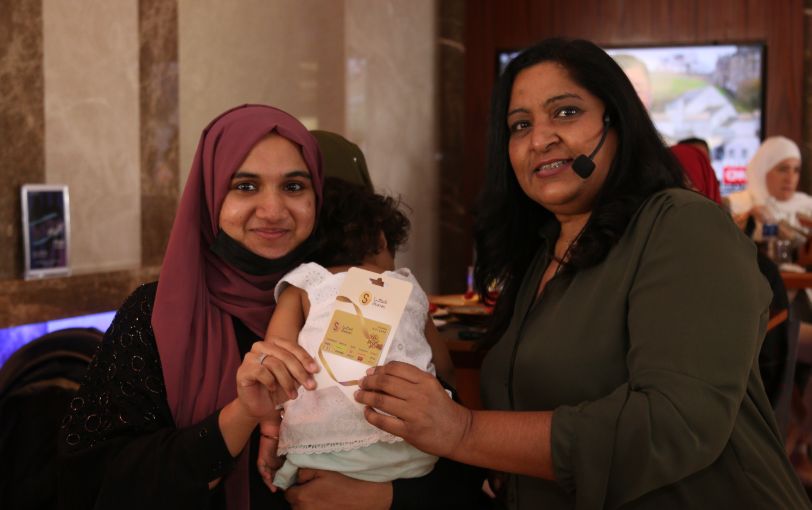 FURTHER READING & INFORMATION:
Need help understanding baby products?!
If you're pregnant and need advice book a free appointment with one of the experienced 'My Baby Experts' in any Babyshop store to help you to navigate your way through your needs. CLICK HERE to find out more or to book your free appointment!
Facilitating a relaxed and comfortable delivery
CLICK HERE for Details of the 'FUH Life – Parenthood Program'
Important Advisory: How to safely buy a baby crib
The fabulous Orphic in Dubai Marina: a place for everyone