The fabulous Orphic in Dubai Marina: a place for everyone
Orphic is a place for everyone! Located in the Stella di Mare Hotel in Dubai Marina, Orphic is a beautiful art deco-styled space that offers breakfast & coffee in the mornings, a gorgeous lunch menu that offers dishes to suit all tastes by day, from light to hearty lunches. From 3pm, Orphic provides the ambience and all the advantages of a chic and comfortable resto-bar, with food and beverage options enjoyed by the residents of Dubai Marina, JBR and surrounding areas.
Orphic is a well kept secret among the locals around Dubai Marina because it's one of the few truly comfortable venues in Dubai Marina that very cleverly suits all people for all things! Here are the options they offer:
Continental, American or Arabic breakfast & Coffee and Pastries
If you work remotely and want a secluded, comfortable corner to set up your laptop and work, Orphic is lovely for this, as the venue manages to offer both privacy and a sense of community belonging too.

If you work solo, Orphic provides a comfortable 'at home' feeling as you treat yourself to your choice of Continental, American or Arabic breakfast, with your preference of coffee. Dubai Marina and JBR local residents love Orphic for a bit of 'me-time' and a catch up with the daily news shown on the screens in the mornings!

Being all things to all people, Orphic is also a stylish venue for a friendly daytime meet with authentic Italian coffee and frivolously indulgent pastries on hand to elevate your catch-up to Carrie Bradshaw levels.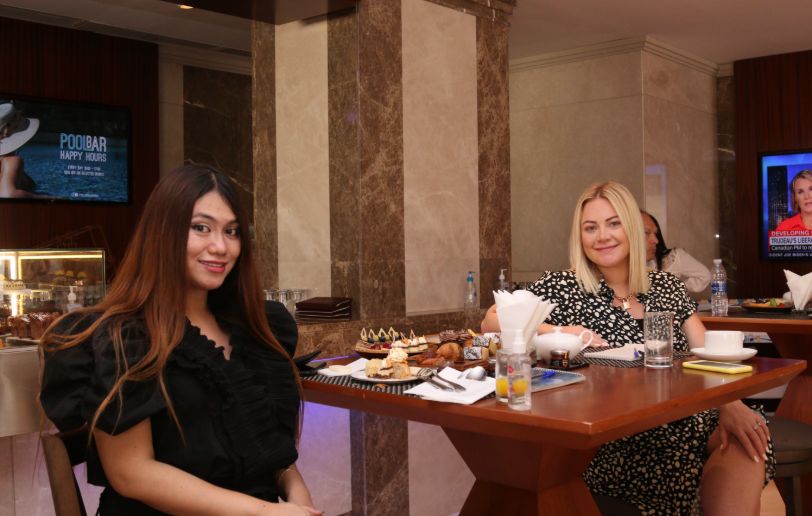 Late lunch, early dinner, date night & happy hour drinks
From 3pm, the Orphic space becomes a lounge-cum-bar with a 'private members club' feel to it, where you can enjoy drinks and some light bites from a menu of gorgeous bites made from quality ingredients. These include hot finger food, intelligently crafted salads; tortilla wraps; pastrami on focaccia sandwiches; smoked salmon bagels mini sliders and a variety of well crafted burgers. 
Orphic is the Marina go-to place for people in the know who want a high quality steak for dinner, without paying exorbitant prices. The main course steaks include: Angus beef tenderloin, Rb Eye, Slow Cooked Short Ribs 
A sophisticated ladies' night: 
Every Tuesday from 6pm to 11pm, Ladies' Night is a regular feature of Orphic and a popular venue for ladies to take a mid-week break and meet friends in the stylish art-deco inspired space. Friends and neighbours from Dubai Marina, JBR, JLT and the local surrounds find Orphic an ideal mix of local to home, cosy and civilised for catching up and having a little me-time. Orphic provides two free drinks to enjoy while you choose from the menu to complete your evening with a range of delicious bites! The DJ helps you to relax and enjoy an evening out with your friends in a sophisticated ladies night environment. No cooking for you this evening!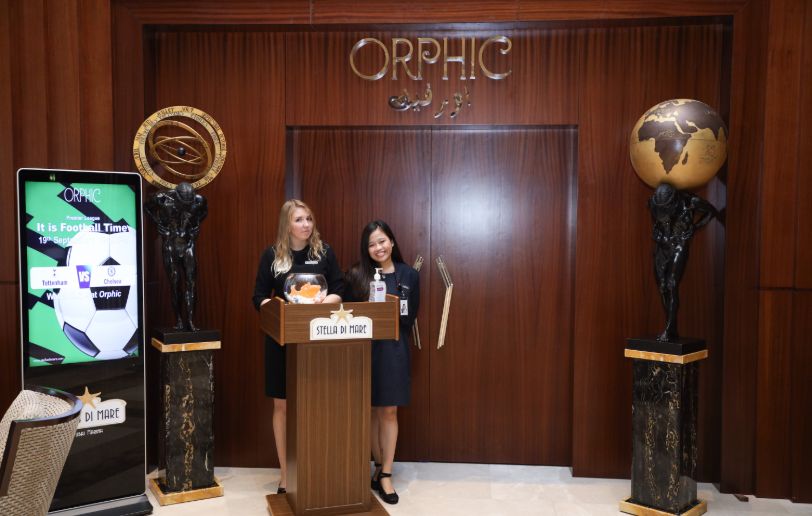 A perfect place for a relaxed family lunch watching a sports match
Orphic has multiple TV screens discreetly positioned so they can be seen from every comfy sofa. If your family enjoys a weekend sports match, come for lunch, settle into your own cosy corner and enjoy an exciting sports match in an atmosphere the whole family will love! Book ahead to book your favourite couches or table and relax as you enjoy the excitement of Premier League, La Liga, Champions League matches.