Important Advisory: How to safely buy a baby crib
Sleep is crucial to your child's health and well-being, so when you buy a baby crib, it is therefore an important decision. Here, we take guidance from the Expert Personal Shoppers at Babyshop, who are trained in product and safety specifications to ensure parents get the right crib for their needs. Following this important advice will get you a safer crib and help save you money.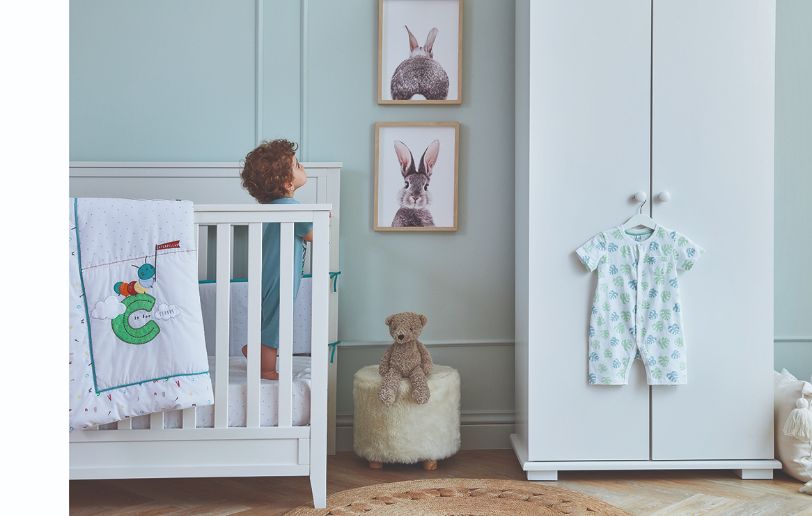 Good sleep habits start from when your baby is born. Your baby is going to spend a huge amount of time of the first two to three years of their life in a crib, so it's appropriate to see it as an important investment in your baby's wellbeing. Aside from quality of sleep, one of the most important factors for choosing a crib is safety.  
"SAFETY FIRST, ALL OTHER CONSIDERATIONS LATER"
Buying a crib can be confusing for parents expecting a baby for the first time – there are lots of styles and prices to choose from. However, safety needs to be the number one priority in choosing a crib. 'Safety first, all other considerations later', says Babyshop, echoing its 'best for baby' ethos. But why such a heavy statement? What could possibly go wrong when a baby is sleeping in a crib?
CRIB-RELATED ACCIDENTS
According to an ACB News article from early 2011, looking at a study into the incidence of crib-related accidents in just the US, "between 1990 and 2008, more than 180,000 children under the age of 2 were treated in hospital Emergency Rooms for injuries related to cribs, bassinets or playpens. Of these injuries, 83% involved cribs, and almost half involved injuries to the baby's head and neck, including concussions."
At the time of the study, one of the lead authors of the study, who was also a director at the US Center for Injury Research and Policy at the time, said the numbers quoted in the research "underestimated the issue" because there was no way to ascertain how many additional children were seen by their family doctor's or received other kinds of care for crib-related injuries that didn't warrant an emergency hospital visit. 
Change in safety standards for cribs
The ACB News article was published just weeks after the law was changed in the US regarding the sale of baby cribs, with stringent new safety regulations and certifications put in place. For this reason, it is important to buy a crib only when you can be certain that it is certified as conforming to the most rigorous of safety standards. 
Areas where parents unwittingly put their child at risk include choosing a crib with poor design (for example, the slats too far apart), the wrong kind of bedding (babies can't regulate their own body temperature) bedding, incorrect setup of the crib and the use of outdated cribs all continue to pose a serious risk to babies and toddlers.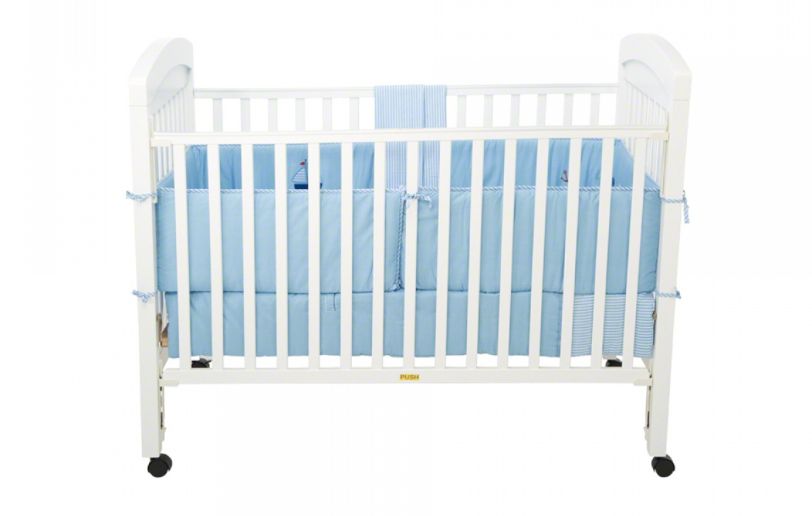 HOW TO CHECK CRIB SAFETY & QUALITY YOURSELF
We're in an era where online ordering has become the norm. While many online sellers are legitimate, unfortunately, the online selling environment also makes it easy for scammers to use the anonymous nature of the internet to pass off fake or substandard goods to unsuspecting shoppers. NBC News published an article in May of this year reporting that Amazon had blocked more than 10 billion suspected counterfeit product listings since 2019, which is 67% more fake listings than the previous year.
While it is tempting to go online in an attempt to get a good deal, in the case of a baby crib, this is one item you really need to physically see in a store, according to Consumer Reports, an independent, nonprofit organisation that works on behalf of consumers for transparency and fairness in the marketplace. They also advise:
Ask the store about the safety certification
Be satisfied that the safety certifications are authentic. Lean in and smell the paint that your baby will be sleeping next to and ask questions about it. The crib needs to be certified as having non-toxic paint as part of its safety certification. Talk to the store expert about the safety features, the correct kind of mattress and bedding to ensure your baby's safety.
When you buy a baby crib, check the base – here's how…
When you're in the store, look at the base of the crib. You should see one or more stabiliser bars (the metal rods attached to the end boards under the crib). These are used in the manufacture to help to make the frame more rigid. To test this in-store, shake the crib a little to see if the frame seems loose. Without applying too much pressure, try rotating each slat to see if it's properly secured to the railings. What you're looking for is no loose slats or spindles on the crib, or any sign that they are cracked, in the case of wooden slats or parts.
If you are shopping online, the Babyshop online store is a valuable parenting resource, as it only offers cribs that conform to either the European or American safety standards, so the safety checking is already verified for you.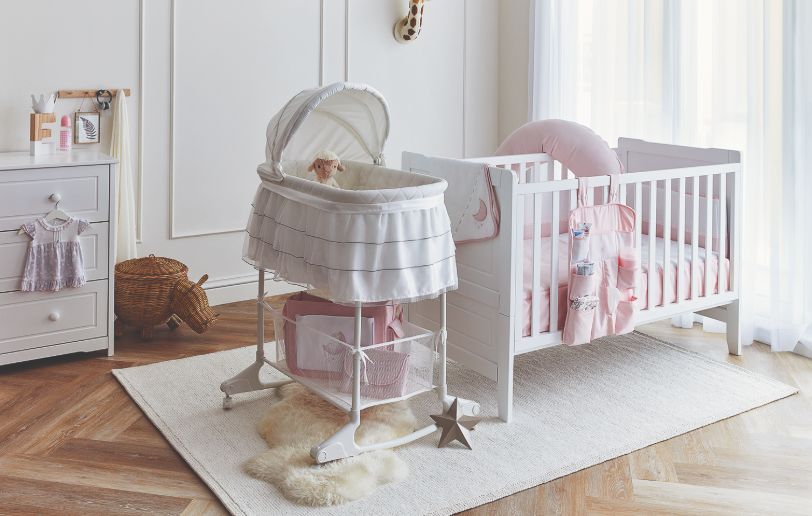 Check for safety hazards – bring a ruler with you!
When you're going to visit a store to look at or buy a new crib, bring a ruler with you to the shop to check the spaces between the slats and other places on the crib. If the slats are greater than 6 centimeters (2 3/8 inches) wide, they're too far apart for safety. 
Also check for any sharp edges and protruding screws, nuts, corner posts, decorative knobs, and other pieces that could catch your baby's clothing at the neck. Buying a new crib could protect your baby from such hidden dangers as drop sides, slats, or hardware that might have been weakened by rough use, as well as loose hardware or glue joints caused by changes in humidity during storage.
The above represents the checking measures every parent should do when buying a crib they don't know. However, we asked Babyshop for their expert contribution to this article because 100% of the range they stock – both in-store and online – is already certified as safe,  meaning that the due diligence has already been done for you. 
BUY FROM A TRUSTED BRAND FOR CRIB SAFETY & QUALITY 
All Babyshop cribs, including those available online at Babyshop, conform to the highest of either American ASTM (American Society for Testing and Materials) safety standards, or the European equivalent certification. This means that rigorous safety testing and quality checking is done on your behalf and you'll only find cribs that are certified as safe in stores. SO maybe you don't need the ruler after all!
On a practical level this means that with the cribs you'll find in Babyshop: 
The spacing of the slats is optimum, as well as being strengthened to prevent breakage

The paints used are not toxic and safe for your baby to breathe safely

The mattress supports are durable
All Babyshop cribs have undergone rigorous safety testing
BABYSHOP'S CRIB BUYING TIPS 
Basic is best: 
The safest cribs have simple lines and no decorative features or knobs. Infants can be harmed if their clothing gets caught in this kind of detail work.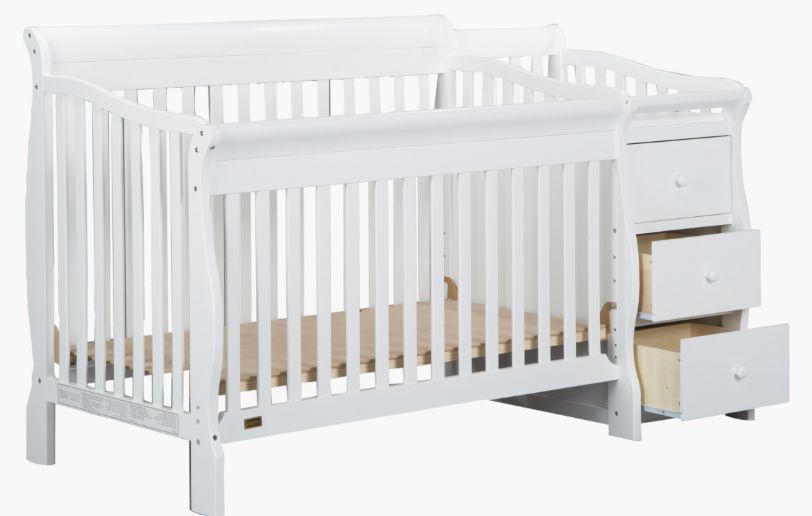 Buy the mattress and correct-fitting sheets at the same time
Pair the mattress and crib you plan to buy while you're in the shop, to make sure they're a good fit. (Mattresses are usually sold separately.) When buying a mattress, make sure you also buy crib sheets designed to fit tightly. If a sheet isn't the correct fit, your baby might pull it up and become entangled. Mattress thickness is a safety issue, so make use of Babyshop's free Expert Personal Shopper staff – they are specifically trained in all the areas surrounding crib safety and will advise you.