Burger Fest at Orphic, Dubai Marina: a burger for every taste!
It's usual for everyone in the family to have different preferences, but for every taste, you have a Burger Fest at Orphic, Dubai Marina! Many of our families will be familiar with the fabulous Orphic lounge in Dubai Marina's Stella di Mare Hotel – the gorgeous art deco setting of many of our Mother Baby & Child breakfast events. If you've been to one of our events, you'll already know that one of the signatures of Orphic is that it's designed to have lots of cosy corners with comfy chairs and sofas – each one with giving you the sense of privacy and comfort. You'll know from our events that they serve exquisite food, so it's great news that Orphic has now introduced its Burger Fest Menu. The Burger Fest menu is unapologetic in its celebration of the fact that everybody loves a burger, and there is a perfect burger for everyone!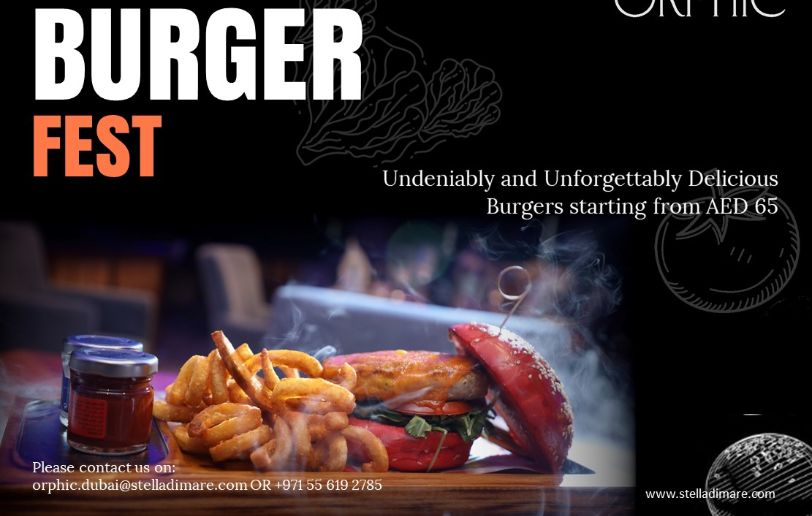 The Burger Fest menu is already a popular spot for families around the Dubai Marina, JBR and JLT areas, who enjoy convenient valet parking for a burger fest that's available every day from 11am – 3pm.
Here's a taste of what you can choose from:
The Works:

Beef patty, sunny side up eggs, cheese, onion jam with squid ink burger bun

Moroccan Lamb Kofta Burger:

Grilled lamb kofta patty served with beetroot hummus and garlic sauce and zataar

Sloppy BBQ Beef Burger:

Slow cooked pulled beef short ribs with brioche burger bun

Spicy Chicken Strips Burger:

Breaded fried chicken breast served with a pink sesame burger bun

Surf and Turf Burger:

Grilled beef patty and grilled shrimps served with brioche burger bun

Aloo Tikki Burger:

Masala potato patty served with onion and turmeric burger buns
All the Orphic Burger Fest burgers served with a crispy fresh Side Salad and French Fries, just as nature intended! And here's something else…this is a perfect lunch whether you want to take a lunch break on your own and catch up with the news, or your emails; or whether you're with colleagues, friends or family close to the Dubai Marina area. Orphic is full of cosy corners mean you can not only take your pick on how you like your burger, but also how you like to enjoy your burger! Prices for the Burger Fest menu are between AED 65-85, making it a great choice to pop in for a happy family lunch anytime!
For bookings email: Orphic.Dubai@stellaDiMare.com or Phone 055 619 2785