Desert glamping with children
Desert glamping with children gives them a fantastic adventure, a new way to spend time outdoors and have fun with the family.
What is 'desert glamping'?
The word 'glamping' comes from a mix of the word 'glamorous' and 'camping', and is usually referred to as a posh version of traditional camping that has comfortable resort-style facilities available to campers. With desert glamping, you get to do this in a beautiful environment.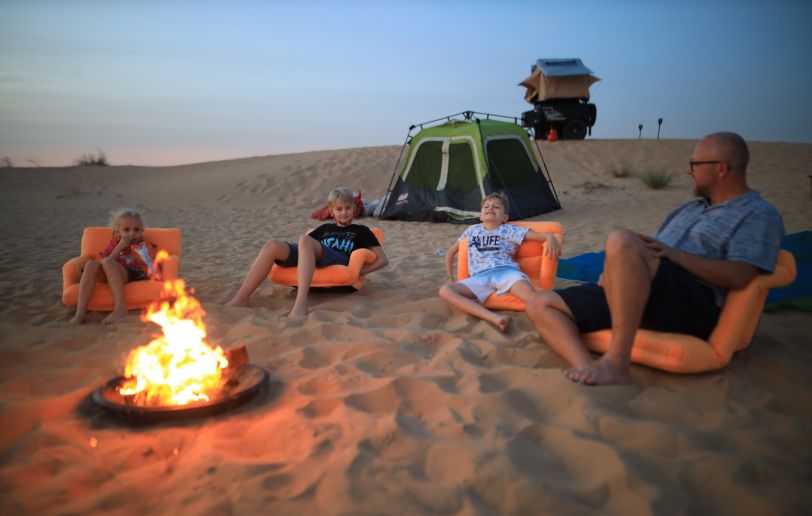 Going camping with children is an amazing experience for them, as they can explore and learn about the outdoors…as well as better appreciate their indoors once they get home! Camping gives children a wider perspective than they get just from their home life, and helps them to learn new skills, such as making food; and how nature shapes our world. And in the UAE, we're lucky enough to have beautiful deserts and sandy terrain to learn these things. 
Here are a few pointers from bnb Glamping to maximise the value of your experience.
Find the best desert location for your child
If you've never been glamping in the UAE deserts, please don't be guided by your imagination! You can choose to book options such as luxury tents and the traditional 'ground tents' that you might remember from your own childhood. Look carefully through the amenity guide offered and you'll be able to choose a trip that has such bonfires, barbecues, telescopes, crockery, linens and many other facilities.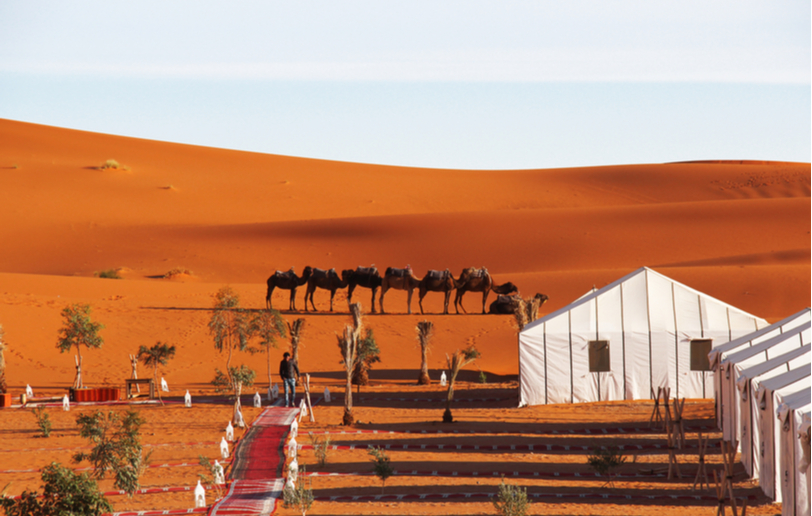 Remember to wrap up warm, as the nights cool down
Temperatures of deserts in the UAE can easily fall to below 5°C, so be sure to take extra layers of warm clothing to stay cosy in the evenings. Regardless of whether you book somewhere with beds, bring warm fleecy blankets and extra pillows. 
Live in the moment, not in the screen!
Tablets, laptops, gaming consoles and all the other devices that keep your children glued to screens for hours have no place on a desert glamping trip! Part of the value of this kind of break is getting them learning about other things, skills and ways of doing things. The entertainment is the sound of family laughter as you tell stories of your own childhood, play games together, spot wildlife and enjoy one of the best bonding experiences possible. Desert glamping is a beautiful opportunity to book a telescope to do some stargazing. Check out the constellations, the Moon, Venus and the stars. Have a debate about aliens and enjoy a thrilling mini adventure together!
Spotting wildlife on your desert glamping trip
Look out for deer, Arabian oryx, falcons, sand gazelles and camels. Make sure you stay alert, as some wildlife can still be a potential threat. Always take a first-aid kit with you and enquire with the booking company whether this is provided.
Explore the surroundings and become one with the nature.  Let them fall in love with the great outdoors and their environment – it will better help them to be more environmentally conscious and responsible when they understand why they should refrain from throwing thrash and polluting the natural world. 
Start researching your desert glamping options!
If you don't research and plan properly, you risk missing out on so many fun activities for the kids, such as camel riding; sand-boarding; archery; volleyball; fire shows; dancing; barbecues and so much more. Cook simple dishes together in the homely wilderness. The most beautiful moments occur in the littlest of things – take plenty of marshmallows and hot cocoa for cosy bonfire nights and you'll soon see for yourself!
Check out the bnb glamping website to find out more about the options.