Easter Fun and Fare at Palace Downtown
The Easter Fun and Fare at Palace Downtown embrace the spirit of Easter this year with delicious savoury bites and sweet treats at Al Bayt's 'Almost Spring Afternoon Tea'.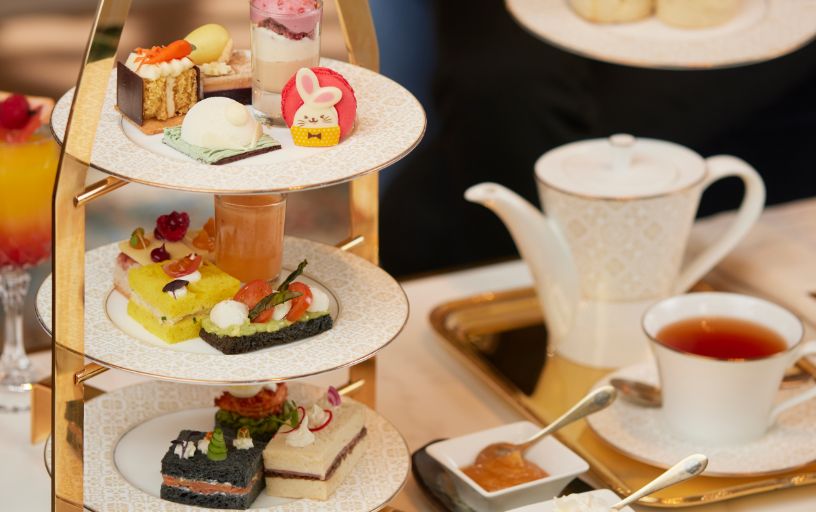 Available from 1st until 12th April 2021, between 3pm to 6pm, you and the family can enjoy an idyllic afternoon set menu at Al Bayt, Palace Downtown's Arabesque lobby lounge. The set menu, priced at AED 170 per person, includes more than 3 courses of delectable sweet and savoury pastries, light fare, premium beverages and the finest afternoon tea selections.
Here's a little taster of the menu…!
First Layer
Emmental & Mix Berry Marmalade on Focaccia (G, D)
Beef Pastrami & Caramelized Onion (G)
Chicken & Chive on Multigrain bread with Garlic Mayonnaise (G, E)
Wild Mushroom &Grana Padano Crostini (G, D)
Second Layer
Cherry Mozzarella & Fresh Tomato Charcoal Bread (G, D)
Prawn Cocktail & Avocado Salsa on Baguette (S, G)
Smoked Salmon Lemon Cream cheese Cucumber (D, S, G)
Cantaloupe & Togarashi Shooter (SS)
Third Layer – the sweet one!
Honey Cake
Dark Chocolate and Blackcurrant Cake
Peanuts Power
Carrot Cake with Cream Cheese Frost
Caramel & Vanilla Choux
Passion and Mango Praline
Selection of Scones
Plain Scones (D,G,E)
Orange & Cinnamon Scones (D, G, E)
Double Chocolate Scones (D, G, E)
Selection of Homemade Jams and Clotted Cream
For reservations, email DineAtPalaceDowntown@addresshotels.com or call +971 4 428 7961