Taste the best of summer at Café Gray
This all-day British brasserie invites you on a delightful culinary journey, showcasing the finest locally sourced ingredients and featuring an exquisite blend of classic British dishes and contemporary creations.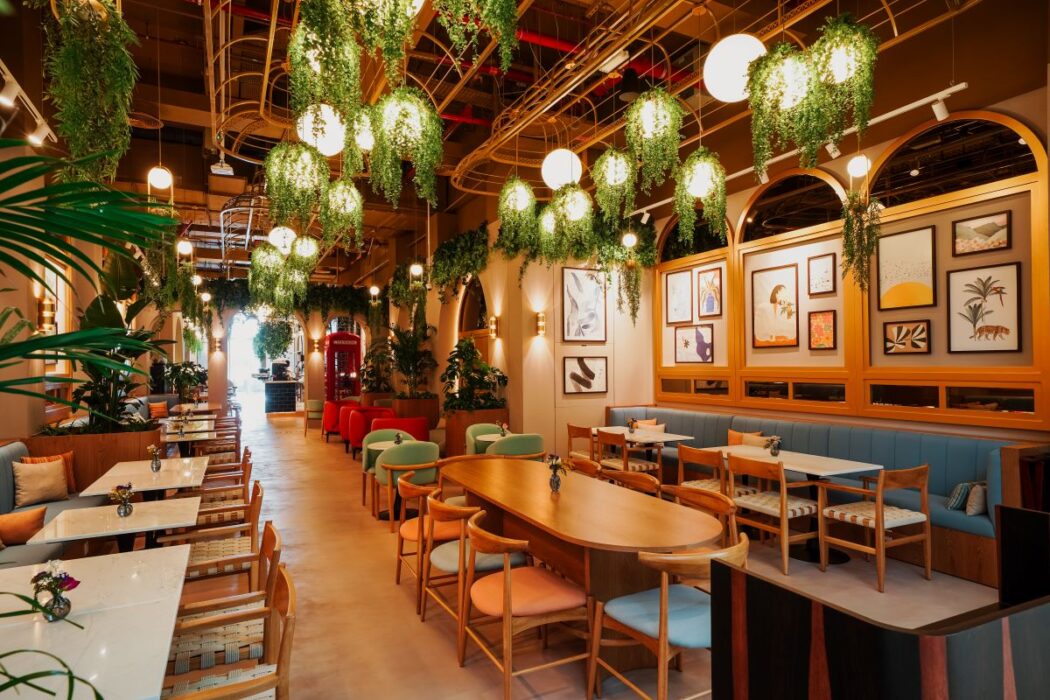 Located on the ground floor of Dubai Hills Mall, Café Gray is part of the British luxury brand Campbell Gray Hotels that has become known for its focus on design, high-end dining, and personalised service.
Embodying its British heritage, the brasserie not only showcases its culinary identity through the menu, but also boasts enchanting interiors reminiscent of the London Underground tunnels and arches. The Café Gray team has meticulously crafted a warm and inviting ambiance, where no visible sides add an air of mystery and intrigue to every guest's dining journey.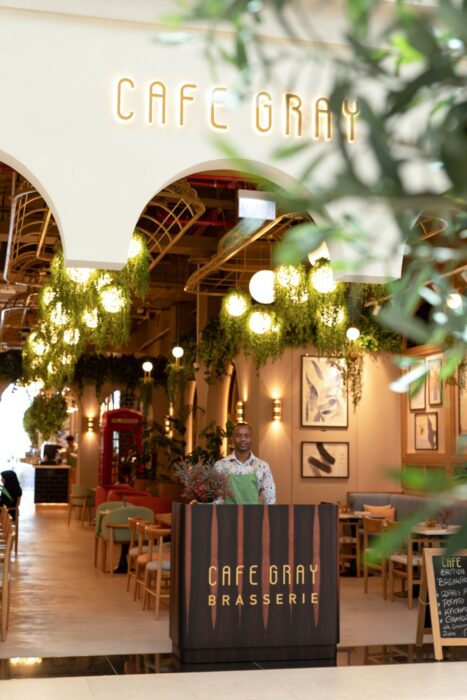 The team's culinary mastery takes centre stage in the menu, offering a delightful array of dishes to suit every dining occasion. From breakfast to dinner, and even afternoon tea, Café Gray presents a collection of nostalgic favourites and European classics, ensuring an unforgettable gastronomic experience.
As we take our seats at the table, my dining partner and I are presented with an extensive menu that instantly awakens our cravings for classic British cuisine, having both lived in London. Eager to indulge, we opt for a delightful combination of starters: baked Camembert cheese bites with apricot jam, and a tempting dips trio featuring mushroom, Kalamata olive & white bean hummus, all served with freshly baked sourdough bread.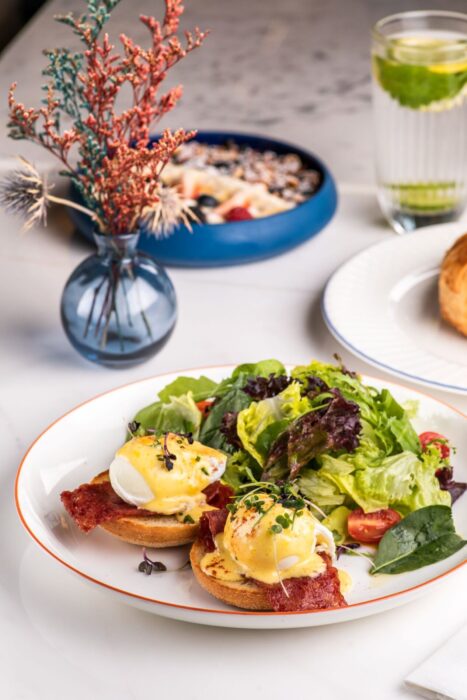 For our main course, we decide to share and savour the rich flavours of classic British pies. The traditional Shepherd's minced lamb with mashed potato, carrots, peas, and a hint of mint, along with the Tarragon chicken & leek pie filled with shredded chicken, leeks, mushrooms, and aromatic tarragon, both prove to be delicate, tender, and incredibly flavourful. While both pies impress, I find myself particularly enamoured with the Tarragon chicken.
After a brief pause to make room for the grand finale, we delight in sharing two delectable desserts. The chocolate mud pie with its luscious, whipped cream & chocolate sauce, and the sumptuous French Toast, featuring a thick slice of brioche served with tantalizing caramel sauce and accompanied by velvety vanilla ice cream.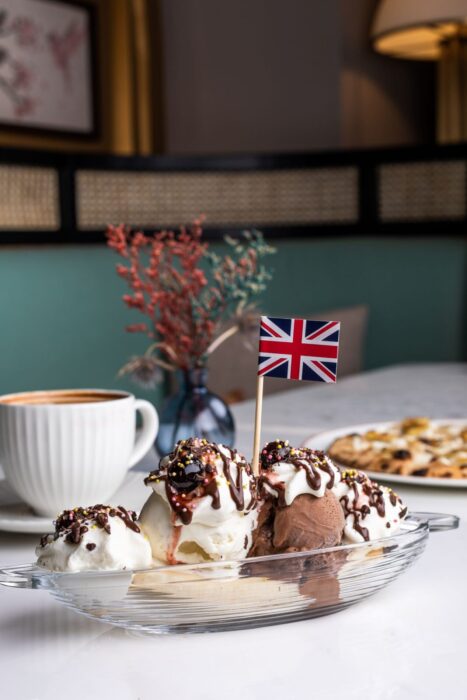 Café Gray's culinary wonders do not end there, as they have launched an exquisite new summer menu. A delightful array of dishes awaits, including the refreshing summer salad, the indulgent mushroom truffle risotto, and the innovative summer burger featuring a vegan patty paired with grilled pineapple.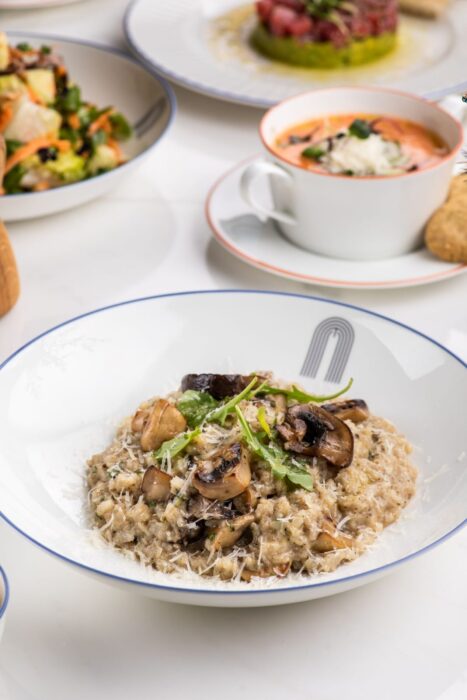 In addition to their enticing new offerings, the brasserie has thoughtfully introduced a weekend roast to the menu, available every Saturday and Sunday from 12 pm onwards. Guests can relish a choice between succulent beef or tender chicken, served with traditional accompaniments like Yorkshire pudding, roasted potatoes, sautéed veggies, mashed potatoes, and savoury gravy.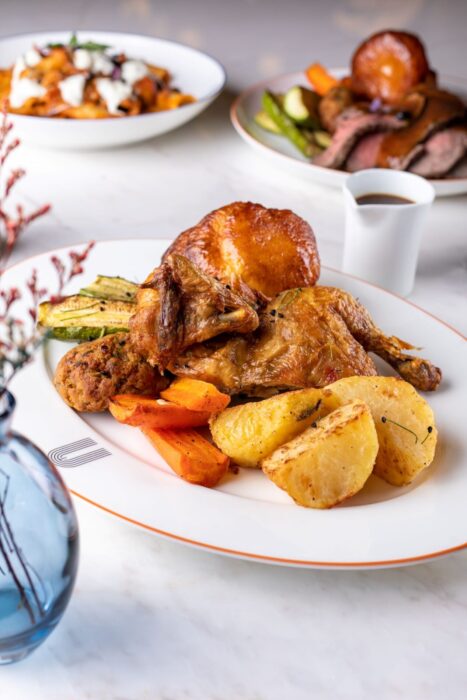 Café Gray's culinary journey is a true feast for the senses, celebrating the essence of British cuisine while delighting guests with new and innovative flavours.
Open daily from 10-12am. Call +971 509 8697 and visit the website or Instagram