Review: Amelia
Beirut export Amelia, who has a reputation for providing top-notch service, has expanded its wings in the centre of Downtown Dubai at the iconic Address Sky View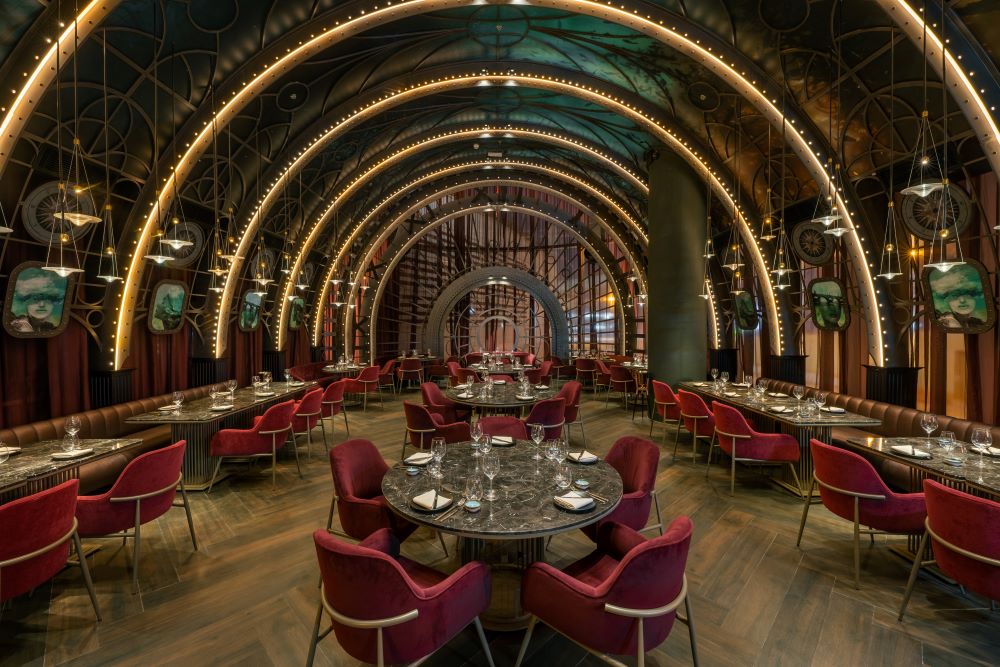 Amelia's extravagant design and lavish décor defy the conventions of fine dining and honour the revolutionary 'Moderne' Art Deco period, which captured the daring spirit of the 1930s and created an immersive and aesthetically striking experience.
Deeply engrossed in the retro-futuristic steampunk atmosphere, Amelia invites you to embark on a culinary adventure created by a masterfully crafted fusion of Nikkei cuisine and Mediterranean undertones. Amelia's world class kitchen exceeds expectations with its imaginative menu full of well curated and delectable dishes.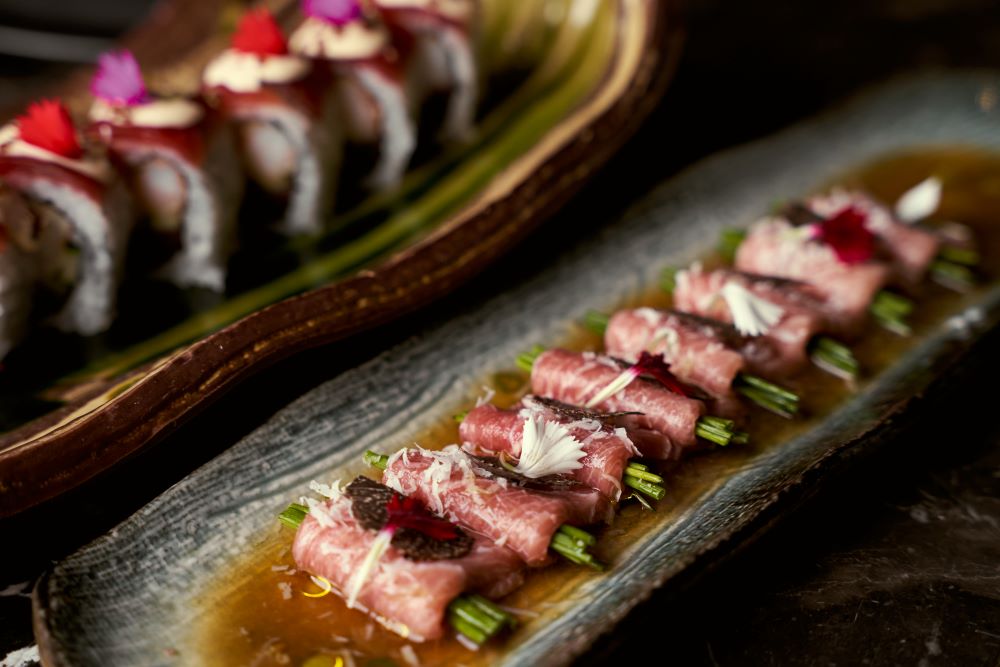 Amelia is spread out over a two-floor space in a dedicated building on the grounds of Address Sky View. A stunning bar area with high tables and botanical decorations can be found on the ground floor. Additionally, there is a dining area with two rows of booths going up to the DJ booth, and an extravagant full-height archway that really takes your breath away as soon as you come into the venue.
The menu features an outstanding selection of Nikkei cuisine that also incorporates Mediterranean flavours. Everything is combined with really creative and innovative beverages that are served in elegant ice cups brimming with fruit and edible flowers.
For starters, I chose lubina ceviche, with wild sea bass, chulpe, red onion, sweet potato, coriander and aji limo, which was a perfect mix of textures and flavours and my dining partner tried octopus tiratdito with botija olives and soy which was utterly delicious.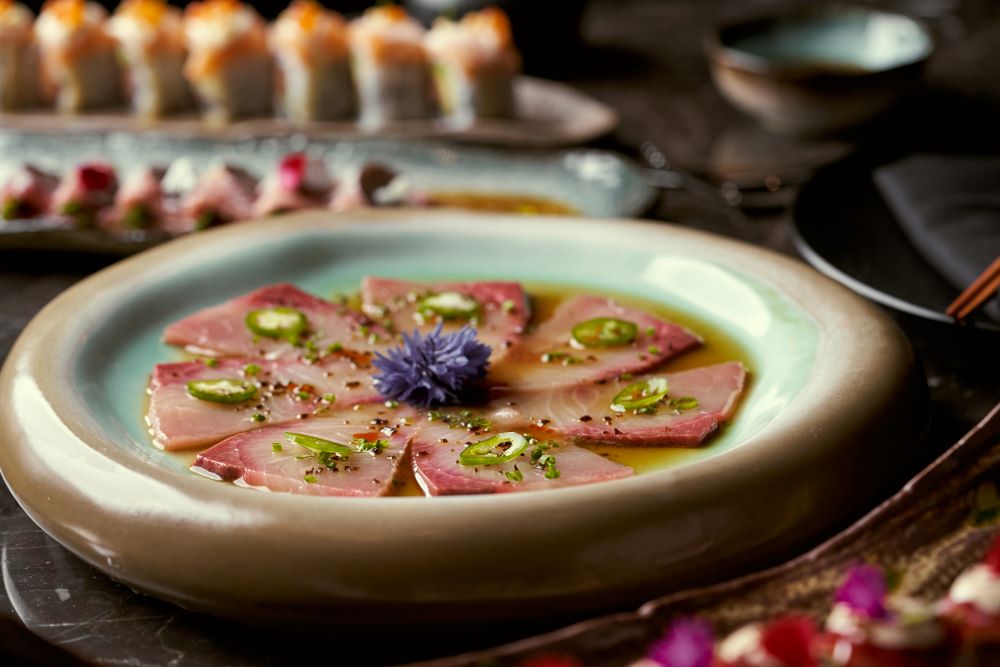 Our gastronomic adventure continued with 'rollo de camarones', tiger prawns with halloumi, avocado, kimchi, togarashi and truffle cream, which were crunchy but very juicy too and 'flammkuchen a la trufa', a dough with mozzarella, Emmental, Parmesan, Paris mushrooms, baby rocca and fresh truffles, which was delicately balanced, full of flavour and downright luscious.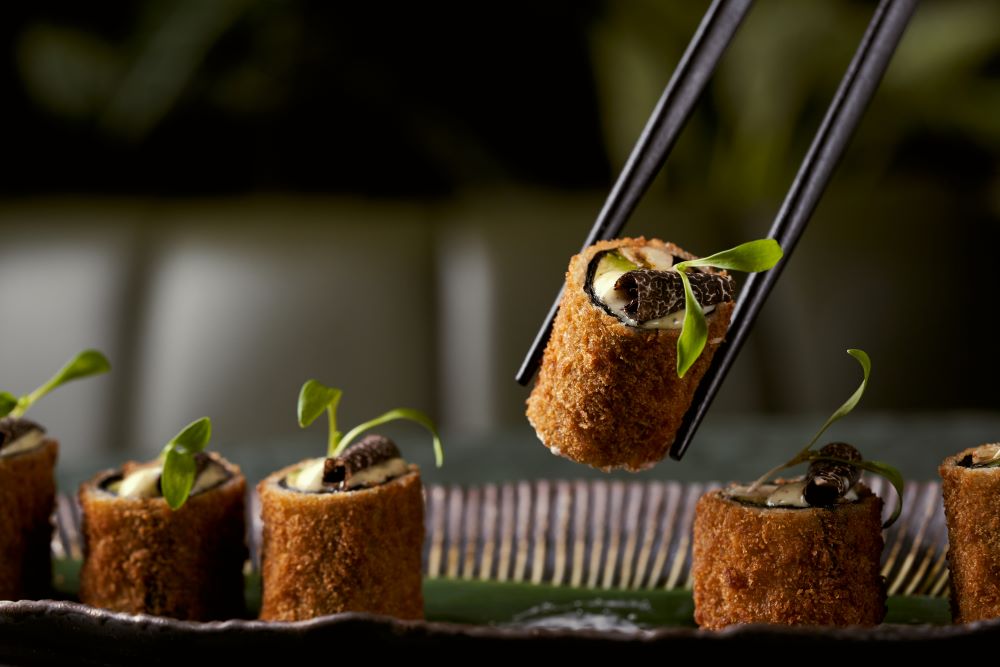 For mains, we decided to share one of Amelia's signature dishes, risotto nero, served in an iron pot with ink squid, parmesan, shitake, shimeji, cepes and truffle cream. I was afraid it might be too heavy, but to my surprise, it was rich but didn't make you feel too full and it was an authentic culinary feast for the senses.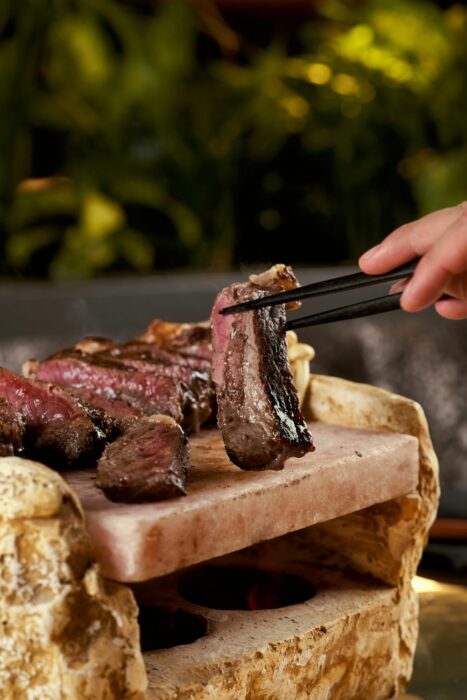 We managed to make space for dessert and tried 'pelota de chocolate' with matcha and vanilla ice cream, which was rich, velvety and lush.
Amelia Dubai offers a profound and unforgettable experience by pushing the limits of mixology with an almost scientific accuracy and upgrading the client experience to an undoubtedly epic standard. Not to be missed.
Daily from 7pm-3am. Call +9714 328 2805 and visit the website or Instagram