Elevate your weekend with Reef & Beef's sensational brunch experience
Indulge in a sumptuous journey for the senses at Reef & Beef, the newly opened fine dining haven. Every Saturday, savour a delightful sharing-style brunch amid rustic elegance, offering an array of exquisite starters, mouthwatering mains, and divine desserts, all served with artistic flair.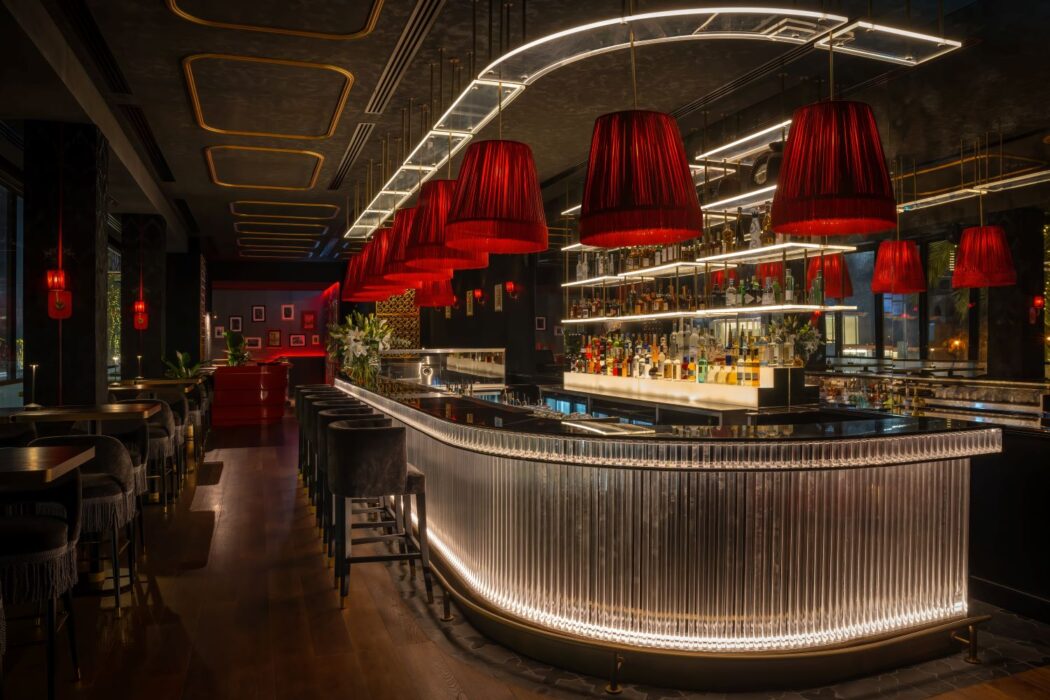 Reef & Beef, born out of a passion for steak and seafood, embarked on its culinary journey in 2008 in Düsseldorf, Germany, following years of rigorous training and dedication. The restaurant quickly captured the hearts of connoisseurs, gaining widespread recognition and a devoted following within just six months. This resounding success paved the way for expansion, with the second establishment gracing Cologne, Germany, in 2016.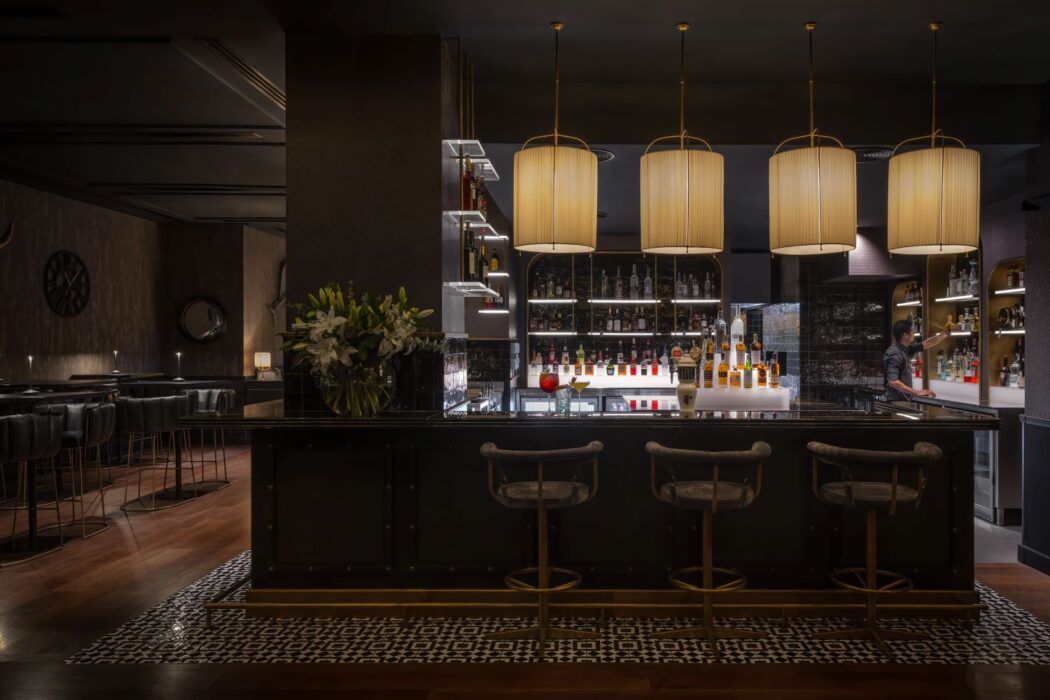 With each passing year, Reef & Beef's reputation continued to soar, and this year, it marked a significant milestone by inaugurating its third thriving branch in Dubai. Nestled within the prestigious Al Manzil Hotel in the heart of Downtown Dubai, its strategic location offers an unparalleled dining experience amidst the dynamic energy of Downtown Boulevard and the iconic Dubai Mall.
The moment my dining partner and I step into the restaurant, I'm immediately struck by the sheer elegance of the interiors. The grand chandeliers, exuding bespoke lighting, and the antique adornments, reflecting the restaurant's German heritage, create an impressive and captivating ambiance.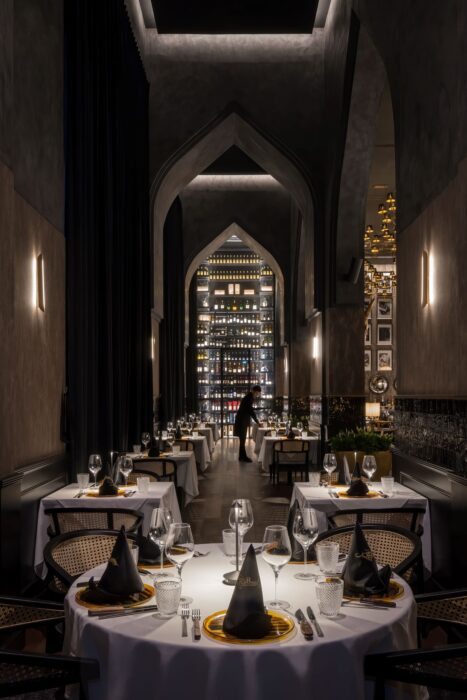 As we're gracefully escorted to our table, a warm and friendly waiter welcomes us with a glass of refreshing bubbly. With precision and enthusiasm, he elaborates on the sharing-style menu, leaving no detail unexplained. Soon, a delightful serving of warm focaccia bread accompanied by butter, so exquisitely creamy that it practically melts in our mouths, graces our table.
Our culinary journey commences with the Dibba Bay oysters, a spectacular presentation involving liquid nitrogen that cloaks our table in a dramatic fog, setting the stage for an extraordinary dining experience. Since my dining partner isn't a fan of oysters, I savour them with delight, relishing the briny, oceanic flavours that I adore.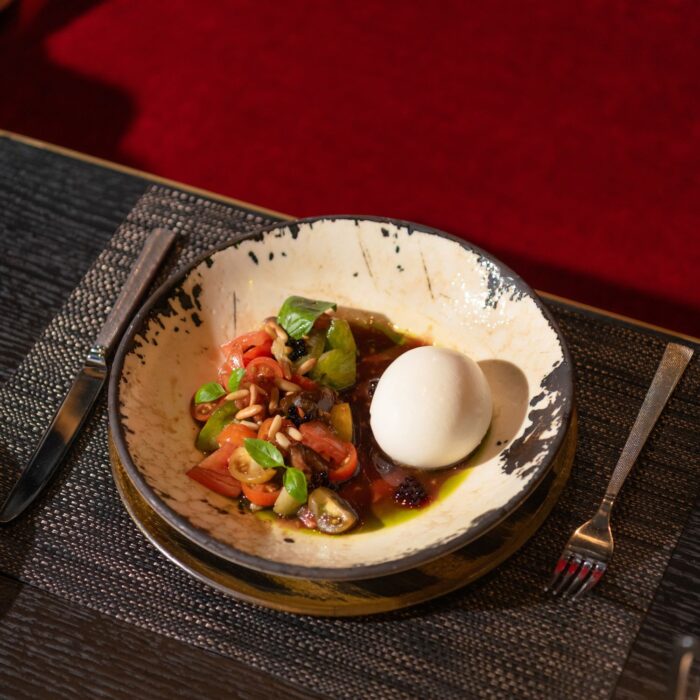 Moving forward, we delve into a luscious burrata adorned with heirloom tomatoes and pine nuts, a delicacy that tantalizes the palate with its softness and finesse. The steak tartare, enhanced with seasonal truffle and served with sourdough, proves to be a revelation of succulence, while the USDA meatballs, luxuriating in an Apache-spiced tomato and paprika sauce, burst with richness and complexity of flavour. To complement this array of starters, we partake in the classic Caesar salad, boasting anchovies, romaine lettuce, and Parmesan, an evergreen favourite that rounds out our culinary adventure.
Following a short break, we transition to the main courses. Our first encounter is with three dainty medallions of Australian tenderloin, a culinary masterpiece cooked to absolute perfection and full of flavour.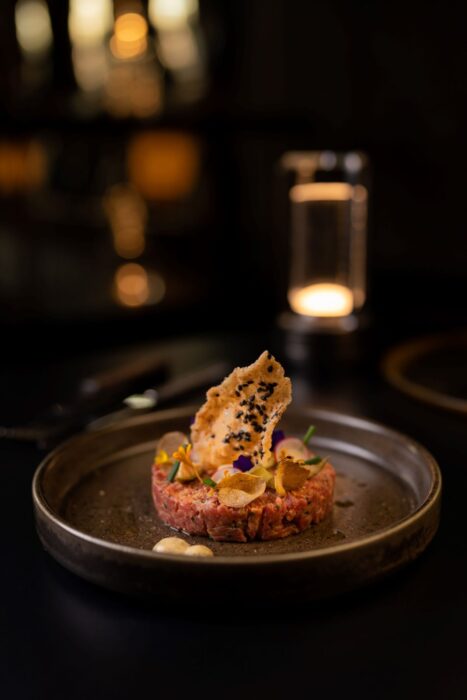 For aficionados of seafood, the chargrilled sea bream, adorned with a virgin sauce and accompanied by a grilled lemon, proves to be an unmissable delight. Meanwhile, the grilled whole baby chicken, graced with chimichurri and accompanied by roasted tomatoes, emerges as a testament to tenderness and an exquisite treat for the senses.
As the brunch approaches its conclusion, our anticipation soars with the arrival of a dessert platter, a decadent assembly featuring an array of fruits, including pineapple, refreshing watermelon, grapes and a medley of luscious berries. Alongside these fruity delights, we savour a Pecan cake, its fudgy texture punctuated by delightful nutty undertones, and a mango mousse, a velvety indulgence that caresses the palate with its smoothness and tropical allure.
Every Saturday from 1-4pm. From AED295 per person. Call or WhatsApp: +9714 835 816 / +9715 2233 8473, or email reservations@reefandbeef.ae. Visit the website or Instagram