Indulge in afternoon tea bliss at Caesars Palace Dubai
Immerse yourself in the refined indulgence of afternoon tea at The Lounge, Caesars Palace Dubai. With panoramic sea views, curated teas, and French patisserie, experience a symphony of flavours and elegance by the ocean.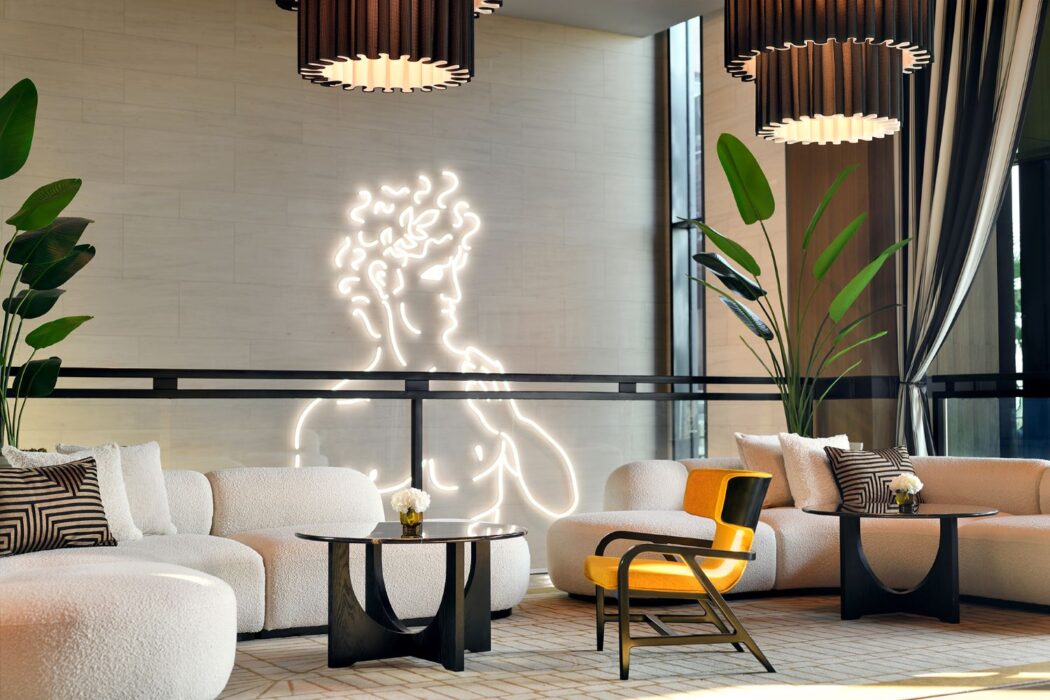 Having undergone recent renovations, The Lounge at the renowned Forbes 5-Star-rated Caesars Palace Dubai has been transformed into a haven of refinement. Expect truly personalised service, the allure of signature Avantcha teas and an array of exquisite pastries. Whether you opt for indoor relaxation or choose to unwind on the inviting terraces, these refined surroundings cater to a tranquil retreat during the day and seamlessly transition into a more vibrant ambiance as the evening unfolds.
From 2pm to 5pm daily, The Lounge hosts an enchanting afternoon tea ritual. As soon as my dining  partner and I arrive, we are warmly welcomed with a delightful organic rooibos tea mocktail and the waiter explains with detail the afternoon tea menu, which offers a curated selection of premium tea blends, each tailored exclusively for the resort, such as Caesars Bergamotto Verde, a green tea infused with the essence of renowned Italian bergamot, and Caesars Silk Road – a blend of pu erh, oolong, and black tea elevated with Oriental ingredients like ginger and vanilla.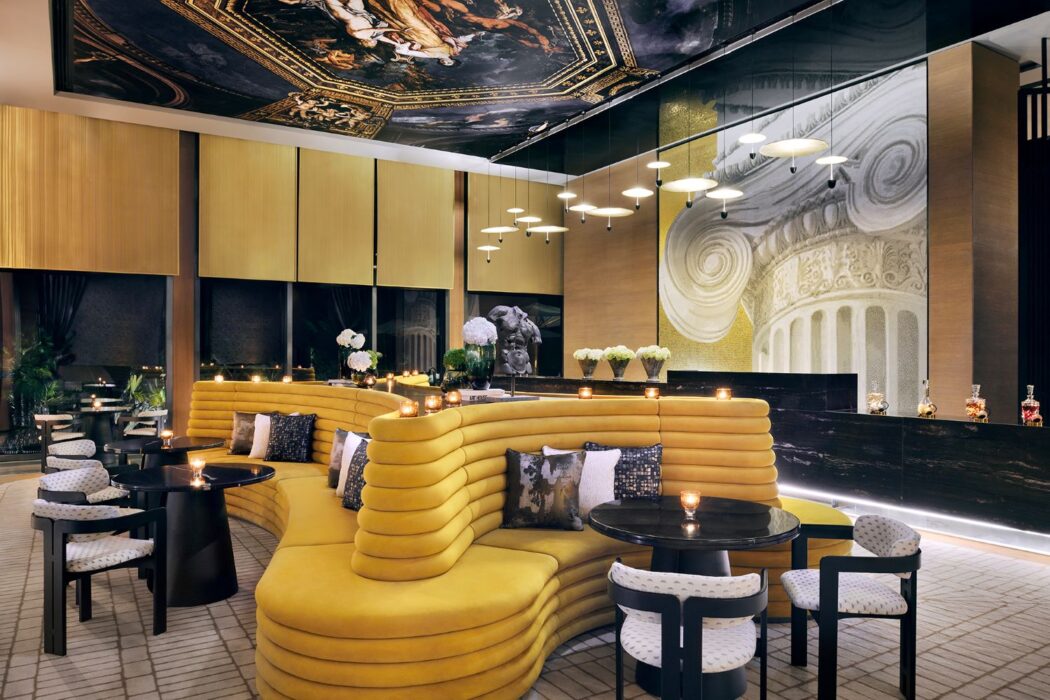 For a truly regal experience, you can opt for Nina's Marie Antoinette teas, crafted from an original 1788 formula cherished by Marie Antoinette herself. Served in an opulent golden tea set, this selection features the original Marie-Antoinette Tea – a black Ceylon tea adorned with rose petals and apples sourced from the King's Kitchen Gardens. Explore further with The Hepburn, an enticing blend of Black Ceylon fruit intertwined with zesty orange and creamy chocolate. Additionally, embark on a journey with Magicienne, an exotic fruit green tea infusion crafted with the tropical allure of pineapple and coconut.
The afternoon tea also includes a glass of bubbly which we enjoy alongside freshly made savoury delights such as the harmonious blend of smoked salmon paired with dill cream cheese, the rich flavours of roasted beef accompanied by bearnaise, onion confit, and mustard, and the exquisite combination of coronation chicken layered with mango chutney and chives. A tiger prawn tartlet adorned with iceberg lettuce and dill leaves, along with cucumber and organic egg mini sandwiches, complete this delectable selection.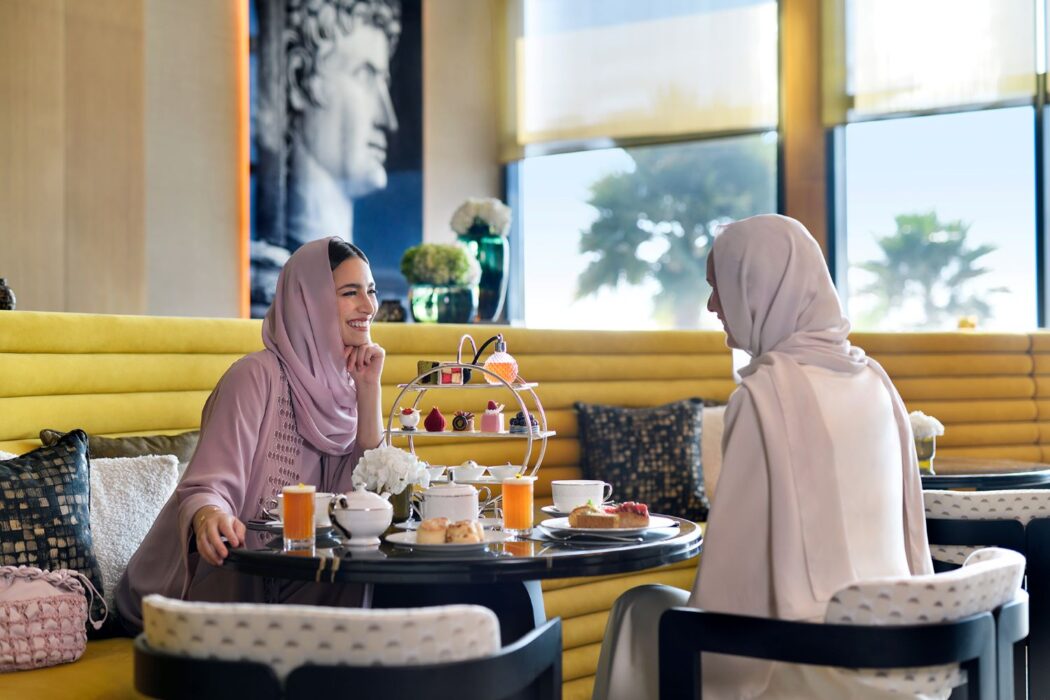 Following this savoury journey, we prepare for a delightful transition with an assortment of plain and raisin scones and their signature homemade jams – from the floral allure of raspberry and rose petal, to the zesty embrace of orange and lemon marmalade, all accompanied by the indulgent richness of velvety Cornish clotted cream.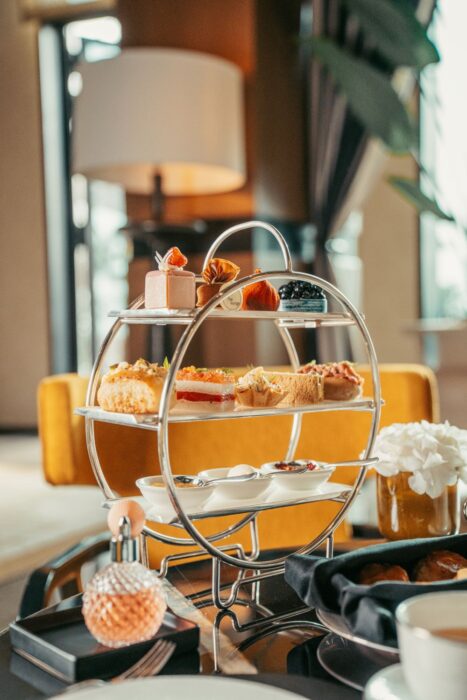 Additionally, there is also an enticing French patisserie offering, such as the blueberry tart, adorned with fresh blueberries, tangy lemon marmalade, and a delicate almond shell and the chocolate pencil, a harmonious blend of luscious chocolate ganache, pain d'épice, and caramel chocolate shavings. We also indulge in the teardrop cherry, showcasing cocoa nib mousseux and raspberry mousse, elegantly presented with jasmine jelly and a vanilla biscuit.
If your heart is set on an afternoon of relaxation, disconnection, and savouring delectable treats, look no further.
Daily from 2-5pm. AED300 per person including a glass of bubbly. Call +9714 556 6466 or email dine@caesarsdubai.ae. Visit the website or Instagram