Where to celebrate Easter in the UAE
Easter is falling on April 9 this year. If you are looking for exciting activities to celebrate it in style with your family and loved ones, here are our top picks.
Address Beach Resort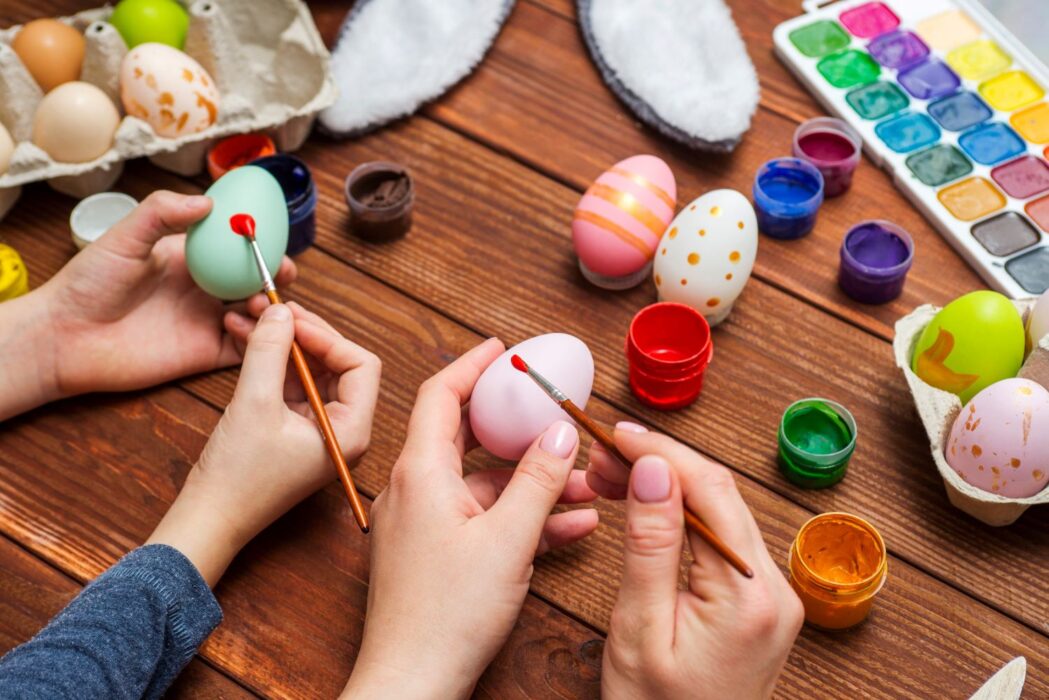 Calling all Michelangelos, da Vincis, and Picassos! If you're searching for a fun activity to do with your kids during Easter, head off to this stunning resort for Easter egg painting where children can express their creativity by creating their own masterpieces. Parents are also being looked after as they can enjoy happy hour on The Restaurant.
April 8 from 1-5pm. AED150 per Easter Egg painting set. Happy hour available for parents in The Restaurant terrace from 1-5pm with menu items starting at AED29. Visit the website or Instagram
The Roast by Bubbalicious at Mina's Kitchen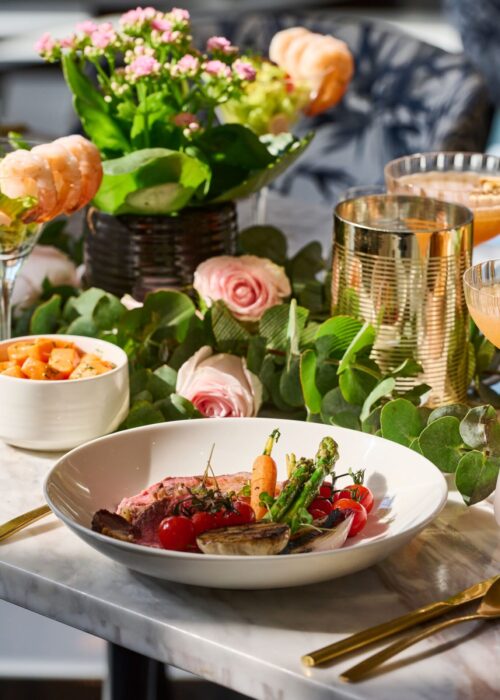 Celebrate Easter in style with friends and family at this opulent restaurant that will have an Alice in Wonderland theme to honour the special occasion.
Easter Sunday will be made even more magical by Mina's Kitchen's sp-egg-tacular Easter search, which offers magnificent prizes such as a weekend staycation for two adults and two children at The Westin Mina Seyahi Beach Resort & Marina, a day pass to Jungle Bay Waterpark for a family of four at Le Meridien Mina Seyahi Beach Resort & Waterpark, a brunch for four at Saturday's Bubbalicious Brunch at Mina's Kitchen and a beach and pool pass for a family of four at The Westin Mina Seyahi Beach Resort & Marina.
April 9 from 1-4pm. From AED340 per person. Visit the website or Instagram
Hampstead Bakery and Café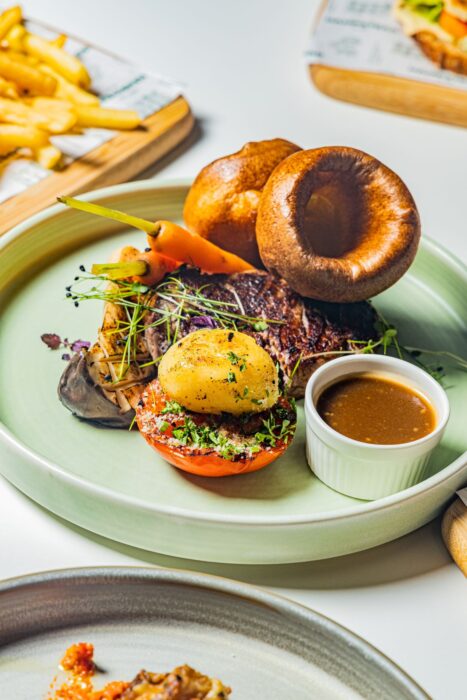 This iconic West London-inspired café is offering Easter celebration packages for the whole family. Adults can splurge on a three-course meal, which includes any salad or soup, a main course, a dessert and a beverage. The littles ones can also enjoy child friendly menu and choose a starter, main, dessert and beverage.
The main highlights from the menu are Signature Roast (beef tenderloin, king oyster mushroom, confit potato and baby carrots), Seared Salmon, Fish & Chips, Shepherd's Pie and Pull-Me The Incredible Carrot (carrot sponge, British cream cheese frosting, topped with granola and Valrhona milk chocolate).
April 9 from 12-11pm. AED149 per adult AED109 per child. Visit the website or Instagram
Dubai Parks™ and Resorts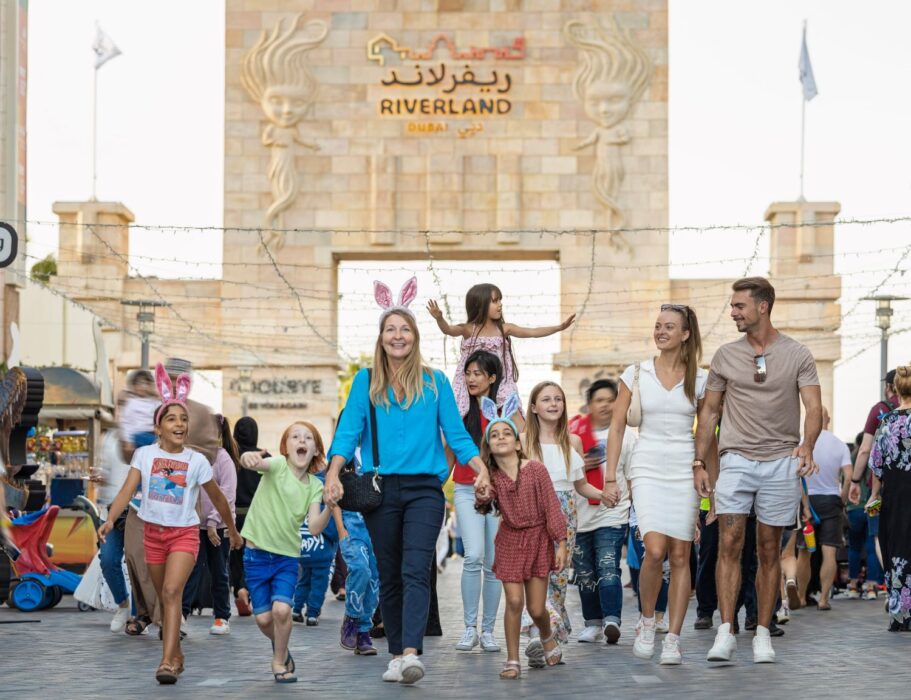 This popular theme park is hosting the biggest Easter egg hunt in the region with over 100,000 colourful eggs holding cracking prizes worth AED 200,000 hidden across the destination. You can win exciting prizes such tickets to any of the parks located in Dubai Parks™ and Resorts, an overnight stay at LAPITA™ hotel and LEGOLAND® Hotel, movie tickets to Roxy Cinemas, tickets to JumpX, meal vouchers and ice creams.
April 8 from 8:30am. Visit the website or Instagram
Address Fountain Views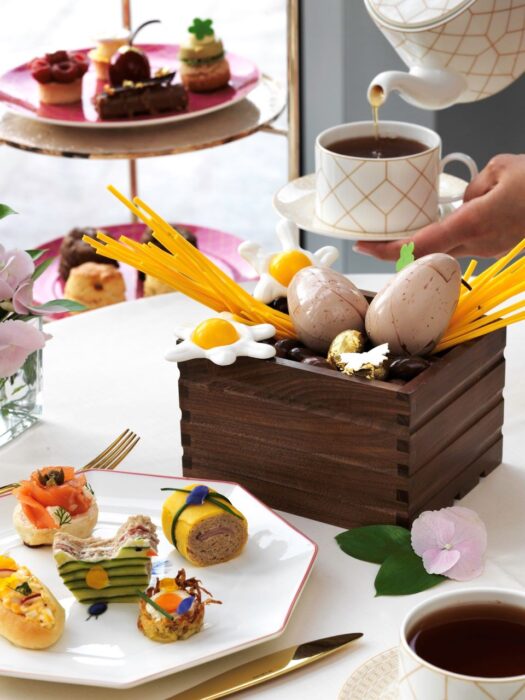 This chic hotel is hosting a lavish afternoon tea where you can savour a mouth-watering Easter-inspired menu that has been carefully created by culinary specialists. Expect tantalising delights such as Truffle Quail Egg Tartine, Soft Brioche, Caviar, Salty Bigne' Smoked Salmon Tartar, Ikura pearls, Saffron Bread Bresaola, Goat Cheese Crumble, Lemon Meringue Clutter, Marzipan Orange Blossom, Strawberry Compote Rosemary infused Vanilla Mousse, Milk Chocolate Mousse and Sesame Marshmallow.
April 6 to 12 from 3-7pm. AED195 per person. Visit the website or Instagram
VERO Restaurant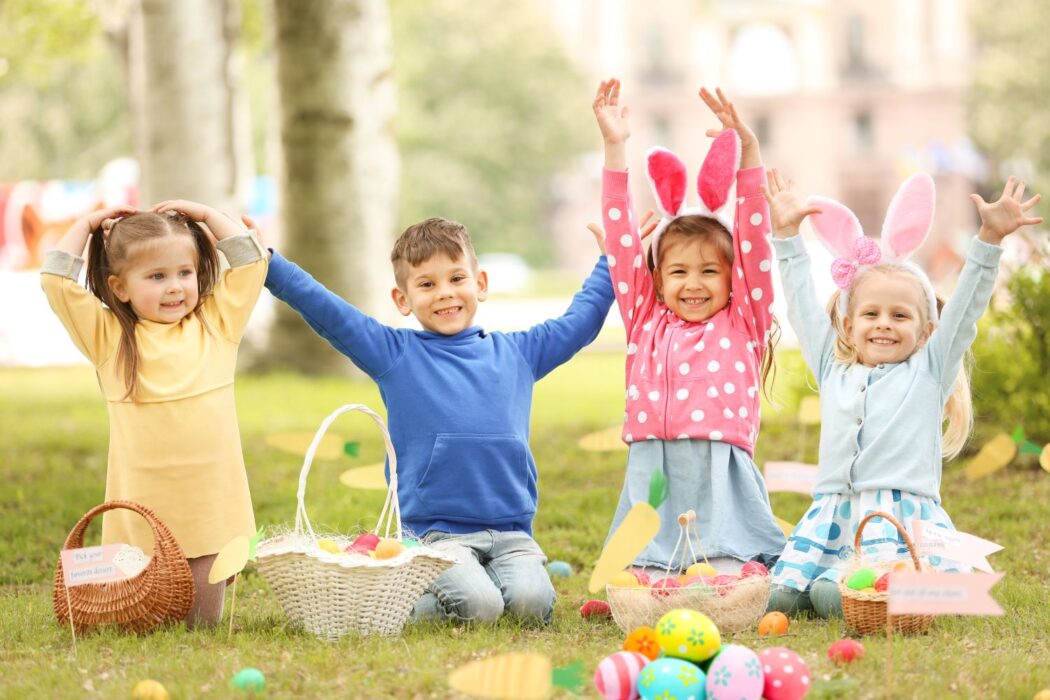 A fantastic Easter lunch with a delectable A La Carte menu and loads of entertaining children's activities such as face painting, a bounce house and an egg-citing Easter egg hunt will be held at this lively restaurant located in Hilton JBR.
April 9 from 1-4pm. Visit the website or Instagram
Lo+Cale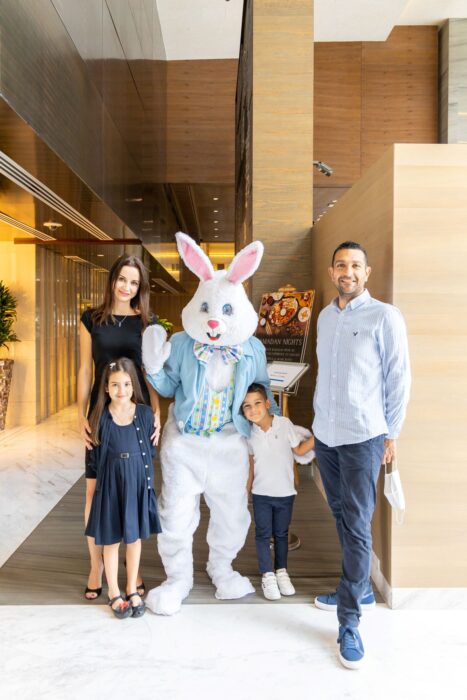 Experience the ultimate Easter celebration at Lo+Cale, which is located in Crowne Plaza® Dubai Marina. Families are invited to savour an international buffet with late breakfast options and roast meal components, while kids can delight in endless kids' activities like egg painting, face painting, egg hunts and pizza-making classes.
April 9from 1-4pm. From AED169 per adult. AED85 per child (4 – 11 years). Free for children of 3 years and below. Visit the website or Instagram
Bungalo34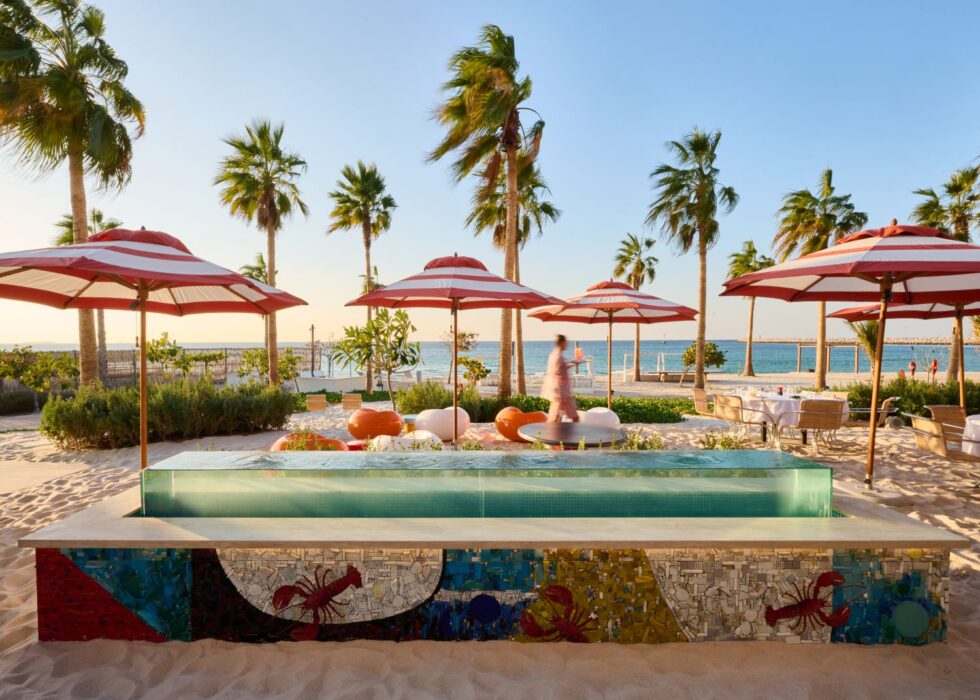 On Easter Sunday, Bungalo34 will offer a special Easter event for friends and family with a wide variety of enjoyable activities at the beachside restaurant during breakfast and lunch. Kids can participate in an exciting egg hunt where they can look for colourful eggs that are packed with little surprises. Everyone who participates in the activity will be given a paper bag to conveniently gather their eggs.
Together with the Egg Hunt, a balloon artist will roam the area making various amusing balloon animals that kids can take home. Kids will also receive delectable egg biscuits and chocolate eggs in addition to the Mediterranean-inspired breakfast and lunch.
April 9. Visit the website or Instagram
LPM Restaurant & Bar – Dubai/Abu Dhabi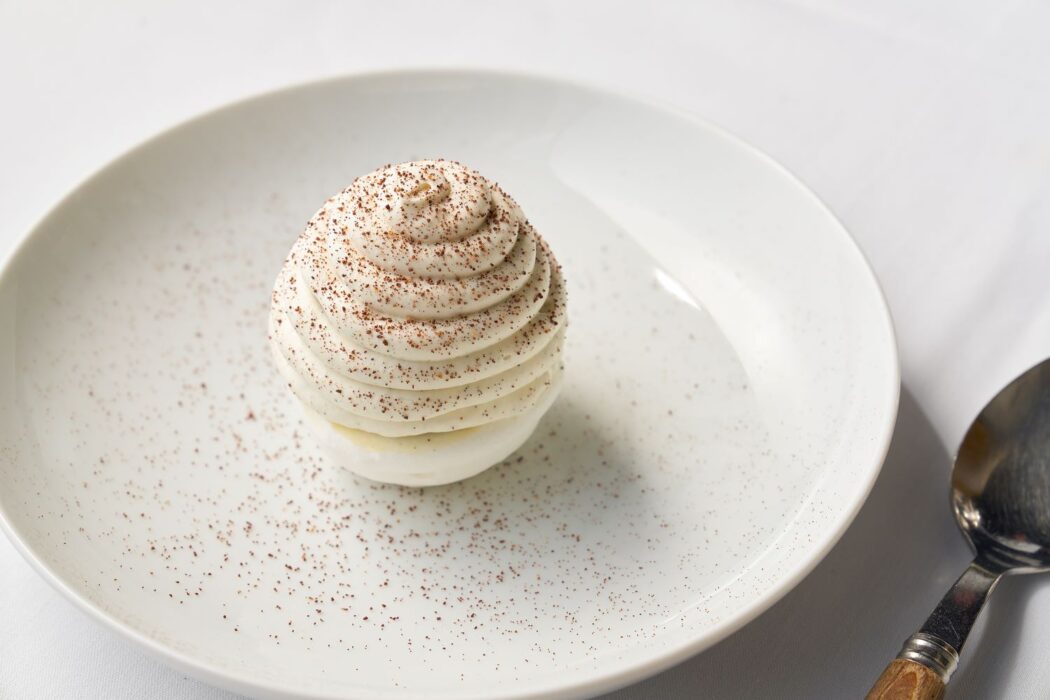 In honour of Easter, LPM Restaurant & Bar Dubai and Abu Dhabi, which serves renowned French Mediterranean cuisine, invites you to spend the afternoon savouring the restaurant's specially selected lunch specials. The Easter specialties feature two appetizers, including tender grilled octopus with sweet pepper ragu and asparagus with goat cheese. The restaurant's main courses include a rich Rack of Lamb and a light Pan Seared Halibut with Cauliflower Puree. Each guest can also indulge in The Egg, a chocolate easter egg made by LPM, to commemorate the festivities.
In addition, Easter baskets filled with chocolate eggs will be hung up and decorated all over the venue and a chocolate-making and egg-painting class for children will be held on the terrace.
April 8 and 9. Visit the website or Instagram
Sugargram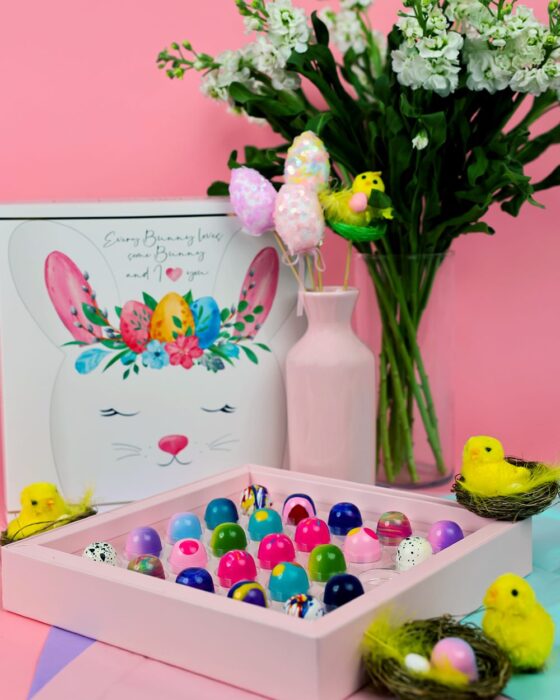 From bite-sized cupcakes to handcrafted gummies and more, Dubai's in-house luxury dessert gifting brand has something for everyone this Easter. Expect delectable treats such as artisanal chocolate bonbons in flavours like Meghan Markle's pop rocks, Leonardo Da cookie's cookies and cream, Candy Warhol's cotton candies, Peanut Pollock's peanut butter cups, Caramel Electra's sea salt caramel, Lotus Vuitton's lotus, Glens Hot Coco's hot chocolate, Almondor Dali's almonds, Mila Coconuts' coconuts, and Yuzu Ono's (yuzu).
AED160. Available on Deliveroo and Chatfood. Visit the website or Instagram
Wavehouse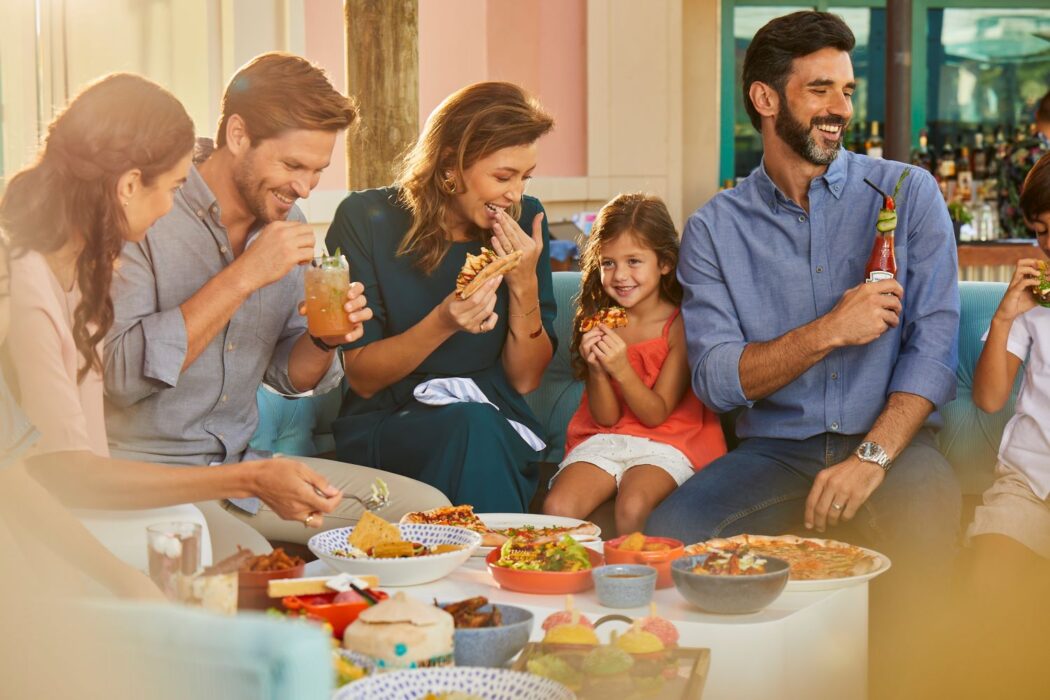 Gather your loved ones for an egg-cellent celebration and join Wavehouse for an unforgettable Easter experience featuring a specially crafted menu, including Easter Roast Lamb and Yellow Fin Tuna Tartare. From an exciting Easter egg hunt and egg decorating to delightful face painting and stilt walkers dressed as bunnies, there's something for the whole family to enjoy.
April 8 and 9 from 12-11pm. Visit the website or Instagram
Bread Street Kitchen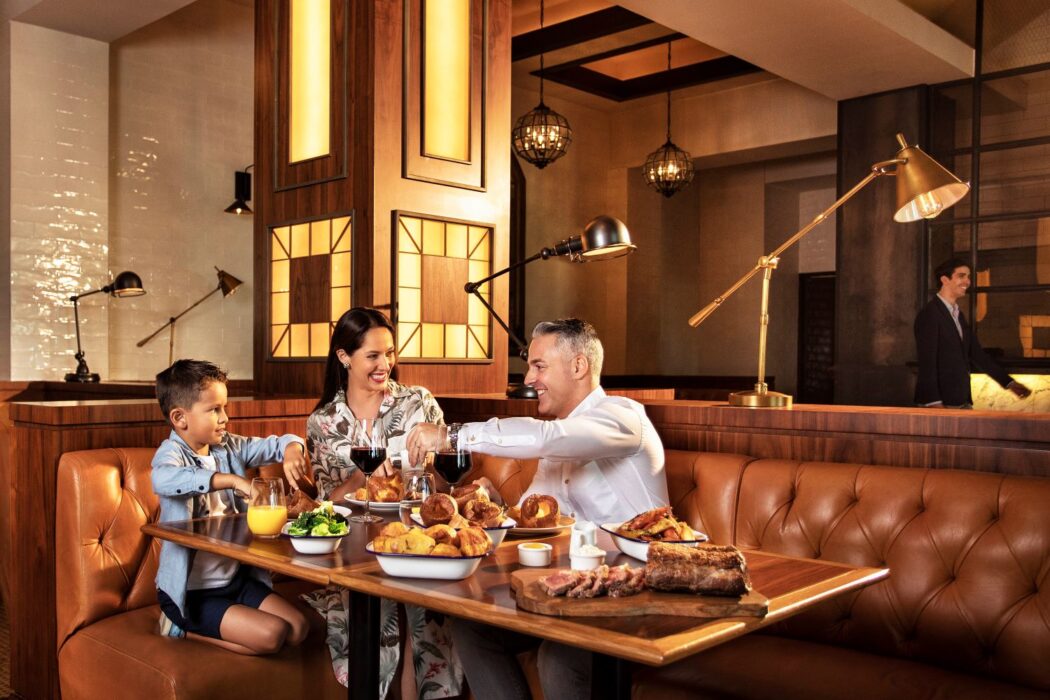 Gordon Ramsay's renowned restaurant will be offering the ultimate Easter-themed quintessentially British roast. Served with a choice of roast beef, chicken or lamb, along with all the trimmings including duck fat roasted potatoes, savoy cabbage, roasted carrots, and parsnips, and a traditional Yorkshire pudding – guests will also be treated to a complimentary homemade trifle.
April 9 from 12-5pm. AED195 per adult and AED97.50 for children. Visit the website or Instagram 
Kaleidoscope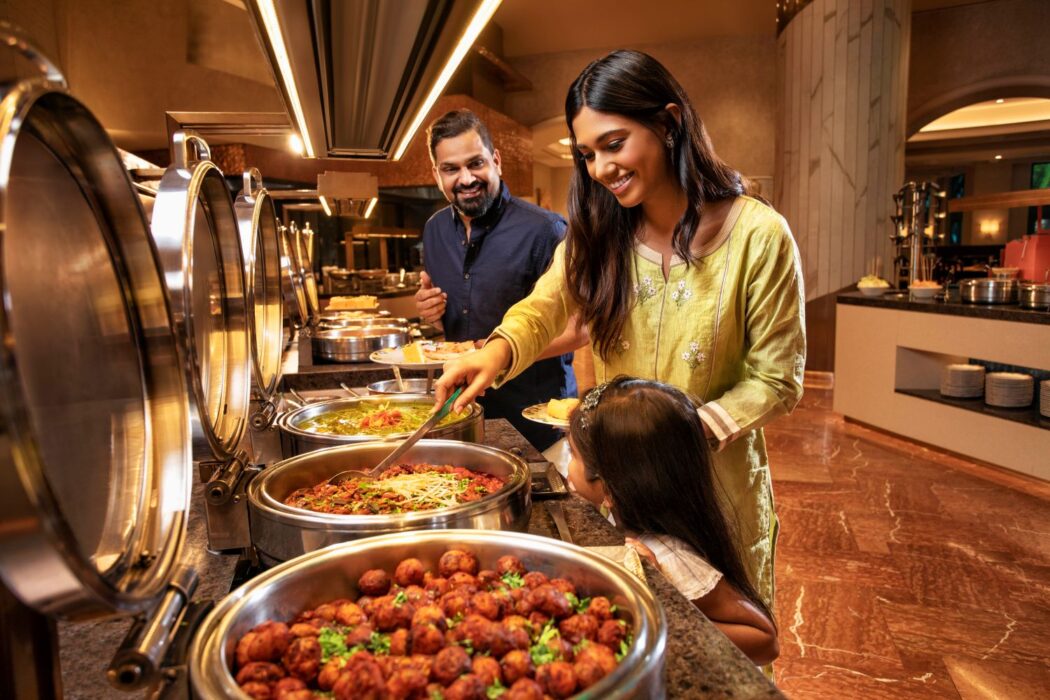 Atlantis, The Palm's international buffet restaurant is offering families a delightful Easter lunch experience with a specially themed menu. Available throughout the Easter weekend, guests can relish a delectable roast, indulge in a wide-ranging buffet, witness live cooking stations, and enjoy an array of Easter-inspired pastries and sweet delicacies. Additionally, kids can participate in a plethora of fun-filled activities, such as face painting, egg painting, and a magic show.
April 8 and 9 from 1-4pm. AED325 per adult and AED160 for children aged 4-11. Children under 3 go free. Visit the website or Instagram