Dining in the city: Carine at Emirates Golf Club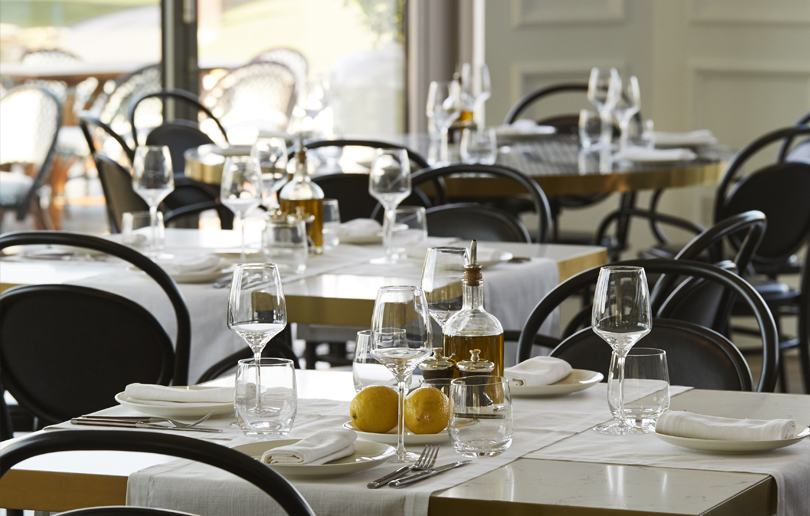 Chef Izu Ani's latest addition to the scene is Carine at Emirates Golf Club. It's the kind of spot you can while away with a book and coffee, take the children for an after-school meal, or catch-up with friends over the weekend for a sumptuous breakfast that crawls into lunchtime.
The restaurant is oozing with sophistication.Bread baskets are placed on shelfing unitsacross the wall, while simple furnishing, retro-green leather couch seating, and plates of cherry tomatoes or lemons add apop of colour. The dining area is floodedwith natural sunlight by day, whereas in the evening, the venue turns into an intimate spot with ambience. The Friday afternoon we arrived, we sat near a group of golfers still in their ensemble, and a couple of families with toddlers, giving the restaurant a friendly vibe while still being quiet enough to chat with your dining partner. Our lunch began with a quinoa salad with confit duck leg – beautifully presented with each ingredient really coming through on flavour. This was accompanied by grilled harissa prawns cooked to perfection, incredibly flavour-packed and juicy. For entrees, we couldn't resist gnocchi Sorrentina – soft tiny pieces of gnocchi were submerged in stewed tomatoes, topped with basil and feta, and lamb marinated in yoghurt and herbs. The sliced lamb was succulent, served with a crisp arugula, apple and almond salad that complemented the dish with a hint of sweetness, while adding texture. For desserts, we kind of went all out, but you would too, once you see the menu.
We aren't fans of cheesecake as they are quite heavy, but the passion fruit cheesecake here is one of the best we've tried in town – absolutely light and creamy. The second dessert, molton brownie marshmallow with crème anglaise was decadent, pure comfort-food, and one we'd head back for repeatedly. Melted chocolate is fused with chunky pieces of brownie, afluff of marshmallow sits atop and cream ispoured all over – it's just divine. Go ahead and order an espresso once you're done, you will need it, just like we did.
Need to know: Contact +9714 417 9885