Recipe: Chicken Quinoa Bowl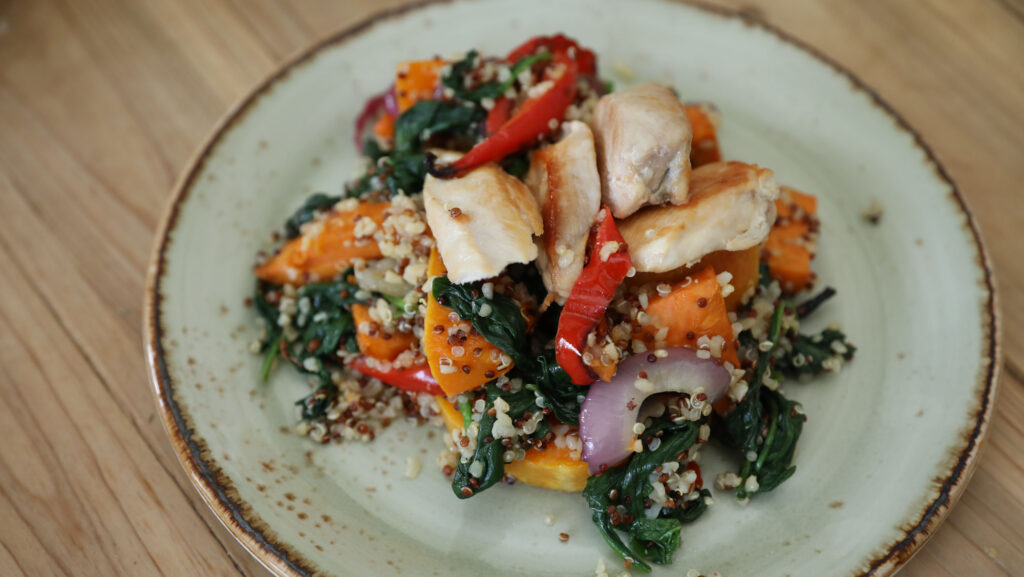 This recipe makes 2 portions.
Ingredients:
1 cup quinoa
Half of 1 butternut squash
2 medium sweet potato
1 bell pepper
1 onion
2 cups of spinach
2 Chicken breasts
Olive Oil, or any oil you like to cook with
Method:
STEP 1: Preheat oven 180C.
STEP 2: Cut butternut squash, sweet potato, bell pepper lengthwise and onion into rings.
STEP 3: Place on a baking tray and drizzle with oil.
STEP 4:  Bake for 20 mins and remove when the vegetables are cooked through.
STEP 5: Cut the chicken into strips or chunks, whichever you prefer.
STEP 6: Heat oil over medium heat for 3minutes. Add the chicken to the hot pan and cook for 5 to 7 minutes. Making sure it's cooked through.
STEP 7: In a separate pan, sauté spinach for 2 mins.
STEP 8: In a bowl, mix the baked vegetables, quinoa and spinach together.
STEP 9: Transfer to plate and top with chicken
Watch:
With thanks to Jeri Willmott (My Wild Tribe)
Here's another super easy and delicious recipe you might want to try.
Photography and Video: CPI Media Group