Recipe: Halloween Brownie Bites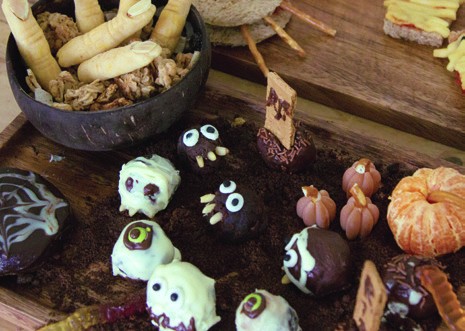 Ingredients:
Store bought gluten-free brownie mix
Butter
Egg
To decorate
White baking chocolate
Dark baking chocolate
Coconut oil
Graham crackers
Method:
STEP 1: Preheat the oven to 180C. Pour brownie mix into a mixing bowl. Add eggs and melted butter. Mix well.
STEP 2: Pour batter into a baking pan and spread evenly with a spatula.
STEP 3:  Bake until toothpick inserted comes out mostly clean – about 25 min. Let it cool completely before cutting into squares.
STEP 4: While waiting for the brownie to cool, melt white and dark chocolate in separate bowls adding 1 tbsp of coconut oil to each bowl, setting some aside to put in a piping bag for decoration.
STEP 5: Once the brownie has cooled down, scoop brownies and shape into a ball.
STEP 6: Coat the brownie balls in melted chocolate.
STEP 7: Refrigerate for minimum 1 hour to let the chocolate set.
STEP 8: To decorate, use cake pop sticks.
STEP 9: Make a hole big enough to place sliced crackers for a tombstone and write RIP in it using the melted chocolate in a piping bag or squeeze bottle.
STEP 10: Add the stick googly eyes and place sliced pine nuts resembling monster teeth.
STEP 11: Make a mummy by adding googly eyes and wrap it around using the melted chocolate.
STEP 12: To make the one-eyed monster, add chocolate dots then a green chocolate candy on top of
the brownie ball.
STEP 13: You can also make a hole big enough to place a candy worm
Watch:
With thanks to Jeri Willmott (My Wild Tribe)
Here's another super easy and delicious recipe you might want to try
Photography and Video: CPI Media Group