Recipe: Mini Fruit Tarts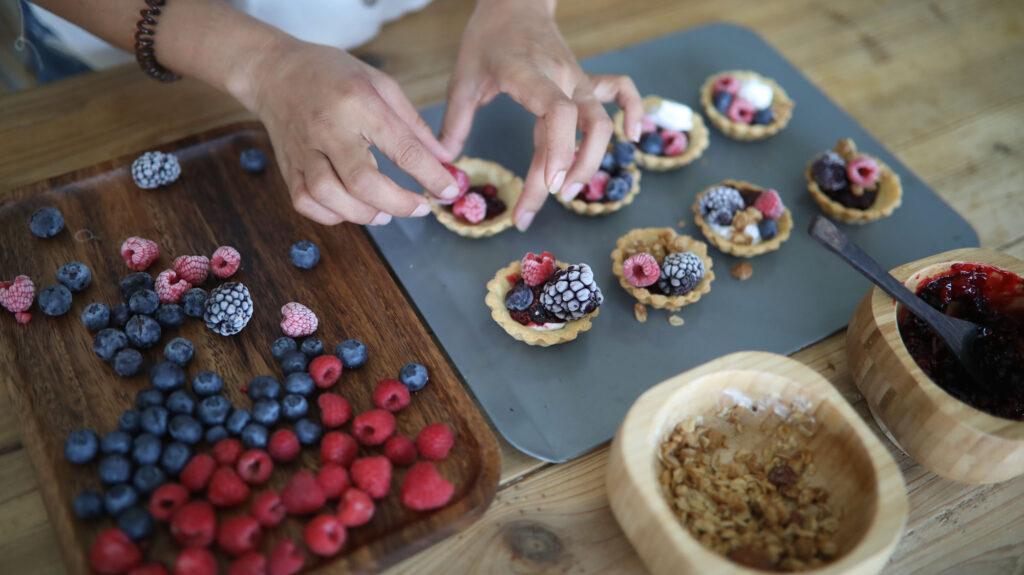 This Mini Fruit Tart recipe makes 10 tarts.
Ingredients:
100g butter, softened
20g caster sugar
1 egg
200 flour
For the filling
200g berries
2 tbsp agave syrup
10g corn flour
Method:
STEP 1: Preheat oven to 180 C.
STEP 2: Combine flour and sugar in a large bowl and rub the butter into the flour and sugar mix.
STEP 3: Make a well and add the egg to soften the dough.
STEP 4: Chill the dough for at least 10 mins and then roll it out and line into tart moulds.
STEP 5: Dock the tart crust with a fork (This allows the steam to escape so that the pie crust doesn't puff up in the oven).
STEP 6: Bake for about 12 – 15 mins.
STEP 7: To make the syrup, heat together berries and agave syrup and cook without mashing the berries.
STEP 8: Dilute corn flour with cold water and add to the fruit and syrup mixture, little by little.
STEP 9: Leave compote to cool, then place in the tart shells and top with fresh berries.
Watch:
With thanks to Jeri Willmott (My Wild Tribe)
Here's another super easy and delicious recipe you might want to try
Photography and Video: CPI Media Group