Predicting your Baby's Gender? Old myths & facts!
Ahead of our free Pregnancy Event on Monday 18th October (where we'll be conducting a live interview with the entire team of a top hospital specialising in pregnancy care) let's have a little fun by looking at some of the methods that were used generations ago to determine whether a pregnant mother was carrying a boy or a girl.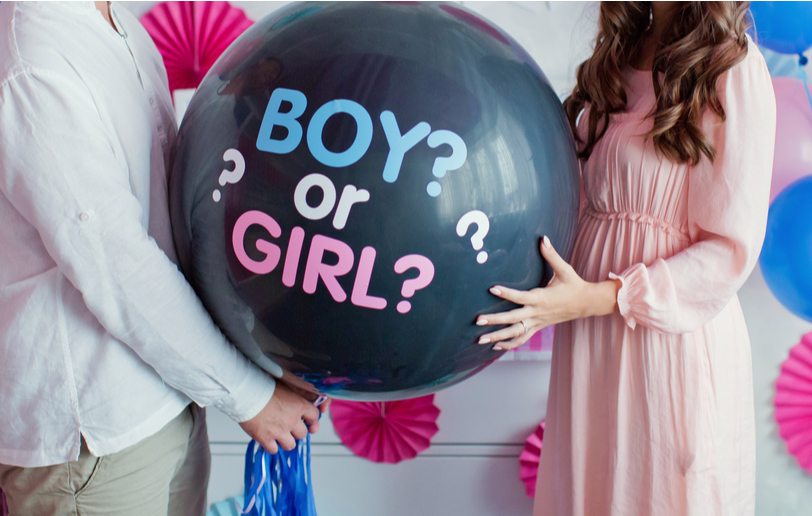 In the old days, women relied on a diverse array of old wives tales to tell them their baby's gender before birth. Because they were 50% right on guessing the gender, amazingly, some of these myths still persist today. Let's have a look at a few!
YOUR BABY BUMP IS LOW SLUNG
MYTH
If your baby bump is 'slung low', even before your baby 'drops' into position in your 3rd trimester before labour, then you may be pregnant with a boy.
FACT
While carrying low can help you avoid some pregnancy indigestion symptoms, it doesn't necessarily mean your baby is a boy. The appearance of your abdomen largely depends on the position of the baby and the number of children you've had before. 
YOU GAIN WEIGHT ONLY AROUND YOUR BELLY
MYTH
According to the myth, if people can't tell you're pregnant when looking at you from behind, and all your weight is around your belly area, then you may be pregnant with a boy. And if your weight is gained around your hips, waist and behind, then this signifies you're having a girl.
FACT
Not true! The distribution of the weight you gain when pregnant just depends on your own natural size and shape, not the gender of the child you're carrying.  
YOUR SKIN IS CLEAR & GLOWING
MYTH
The old wives tale says that 'a girl will steal your beauty', leaving you with problem skin – usually in the form of pregnancy acne. But if your skin has a healthy glow, it's a sign you're having a boy.
FACT
Maybe and maybe not! A healthy glow to your skin is usually related to an increase in blood flow and volume, which is common to all pregnancies. 
YOU ONLY HAVE MINIMAL MORNING SICKNESS
MYTH
The first trimester of pregnancy can be an uncomfortable physical adjustment for you, regardless of whether or not you have morning sickness. Some amount of nausea is normal during the early weeks, but if your morning sickness is easily manageable for you, it indicates you're having a boy.
FACT
Afraid not! Research shows that up to 80% of women will contend with some level of queasiness and nausea while carrying their child, regardless of their baby's gender.
YOUR URINE COLOUR TELLS THE BABY'S GENDER
MYTH
This old wives tale is downright silly, but here goes… Some say that all you need to do to determine whether you're having a girl or a boy is to monitor the colour of your urine. They say that a bright yellow colour indicates a girl, but a dull, duster shade represents a male baby.  
FACT
No, no, no!  The colour of your urine during your pregnancy will depend on your diet and levels of hydration – all of which can vary during the day and has nothing to do with whether you will have a boy or a girl!
YOUR BABY'S HEART RATE REVEALS THE GENDER 
MYTH
You'll probably hear that amazing beating sound sometime around 8-10 weeks at one of your first doctor's appointments. Some people used to believe that you could tell the baby's gender based on listening to the baby's heartbeat at around 10 weeks. This came from the belief that male fetuses supposedly have a heart rate that's 140 beats per minute or less, whereas a baby girls' hearts beat a little faster.
FACT
As you can imagine, this has been studied and the conclusion that this is 100% false!
YOU HAVE A CRAVING FOR SWEET THINGS
MYTH
The old adage goes that 'little girls are made of sugar and spice and all things nice' and if your pregnancy cravings are for these things, the chances are you're carrying a girl. This was followed up by the assertion that cravings for salty or savoury foods signifies that you'll deliver a boy.  
FACT
Um…no again. The old saying may have its origins in cultures that view little girls as 'sweeter' than boys, but craving either sweet or savoury foods has no bearing on whether you're carrying a little miss, or a little mister!
THE GENDER REVEAL…
Somewhere between 18-21 into your pregnancy, your doctor should schedule an ultrasound where you'll finally find out! It's an exciting time regardless of whether you keep it a secret for your own gender reveal, or shout it from the rooftops!
EVENT INVITATION: PREPARING FOR BIRTH (
Monday 18th October)
On Monday 18th October (10.00 am to 12.00 midday), Mother Baby & Child is holding a very special free event for Pregnant mothers. We're taking you to a top teaching hospital in Dubai to watch a live interview with an entire team of pregnancy health professionals. 
During your pregnancy, you would normally only see one healthcare professional at a time during your pregnancy appointments, but this event gives you a very rare opportunity to see Mother Baby & Child Editor, Kay Marham, interview a top hospital team together. This will give you a great feel for how a hospital team works together on all aspects of every individual woman's pregnancy journey, regardless of where you have planned to give birth.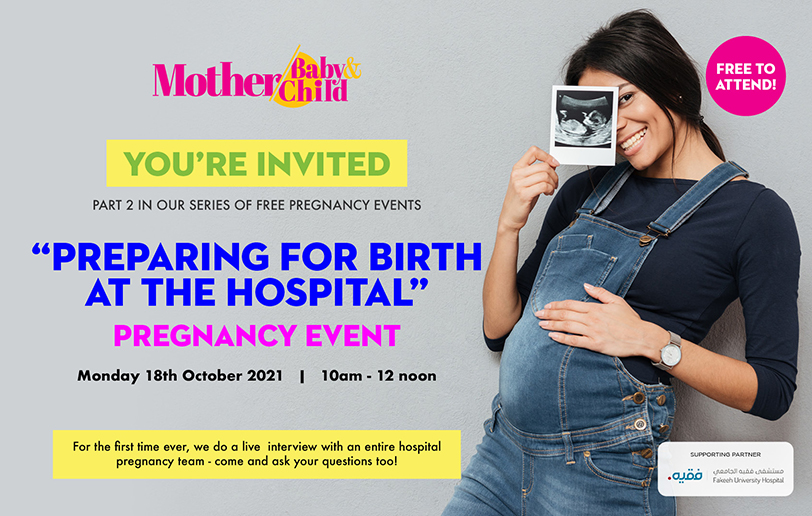 FURTHER READING: 
INVITATION: 'Preparing for Birth' Pregnancy Event, Mon. 18th Oct
Meet the Obstetrician! Interview with Dr. Jayacy Jayankar
Getting Comfortable Being Pregnant