Review: Avatara
Break through the perception that vegetarian food has many limitations and discover the endless possibilities this type of food can offer at Avatara, Dubai's first and only all-vegetarian fine dining experience
Simple seasonal ingredients that are healthy, pure, and natural are the inspiration for the innovative menu created by Chef Rahul Rana, a culinary master with a background in patisserie and vegetarian concepts. The dishes on the menu are a contemporary interpretation of the methods, theories and narrative of soulful Indian cuisine.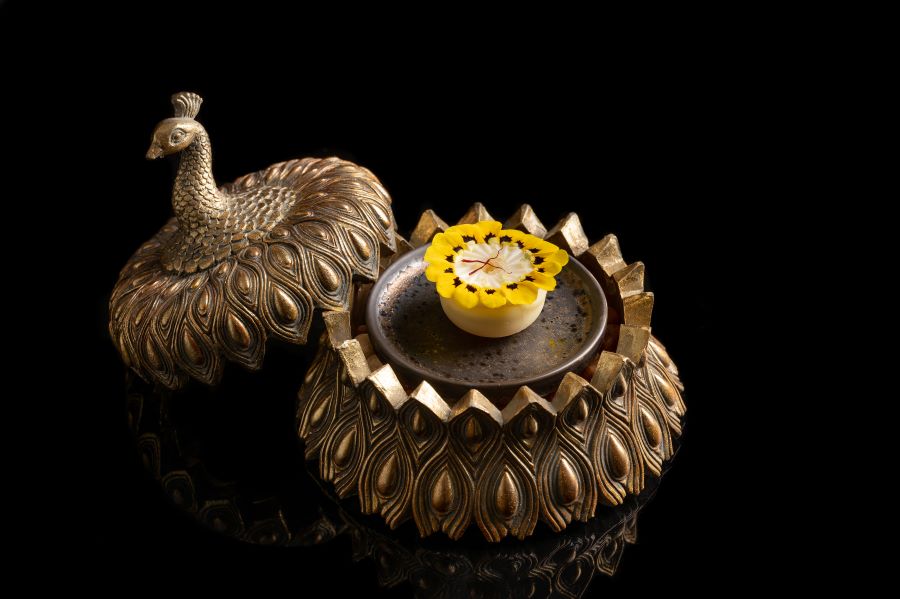 Chef Rahul, who is from Rishikesh in northern India, was raised in the Himalayan foothills and grew up in a largely vegetarian neighbourhood, which exposed his interest in food, exploring all its potential to create powerful emotions with every bite.
Located at Voco Dubai, the space formerly occupied by Tresind Studio, which has now moved to Nakheel Mall, Avatara showcases a 15-course degustation that is feast for all senses.
The venue can only seat 24 guests per night, and each carefully created meal is followed with a description of the dish's ingredients and history, giving the experience a very unique and memorable touch.
I am not a vegetarian and neither my dining partner, but we are both very conscious about where the food we eat is coming from, so were really curious to try this purely vegetarian concept.
The degustation menu is offered in the private dining room, where you can also have a look at Chef Rahul working his magic, and begins with Naivedhya with makhan malai, popping mishri and panchamrita, which is the type of food offered to a deity with prayers during rituals.
This is followed by the aperitif Uddipaka with cucumber granita, beetroot sorbet and buttermilk, which is very flavourful and refreshing, Raktphalam (tomato) with tamataar chaat, sev cookie and shorba that has a sweet note and Jadon with roots chips, tempered chana mash and pomegranate chutney, that are really crunchy and the sauces are the perfect mixture of sweet and spicy.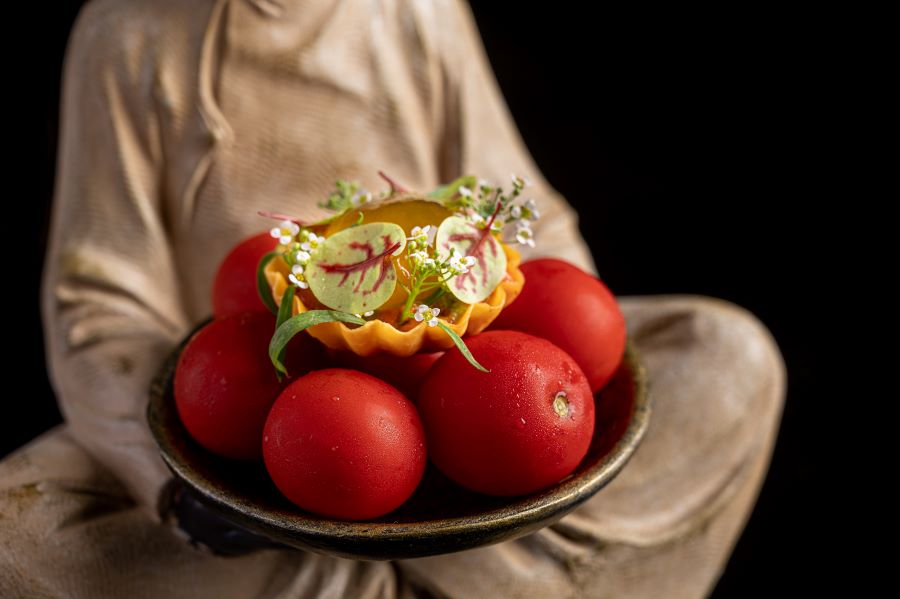 The attention to detail in the presentation of dishes is truly exceptional and each dish literally looks like an art masterpiece.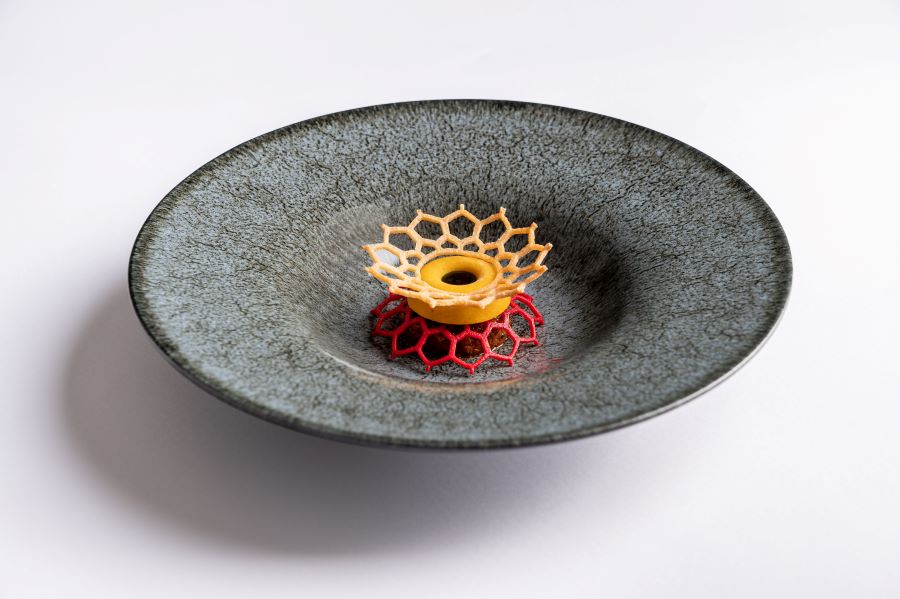 The culinary feast continues with Badak (vada) with carrot kanji and lack lemon pickle. The deep fried fritters are made with lentils, but they don't taste like them at all and are served with fermented carrot and mustard water which give a very particular taste to the dish.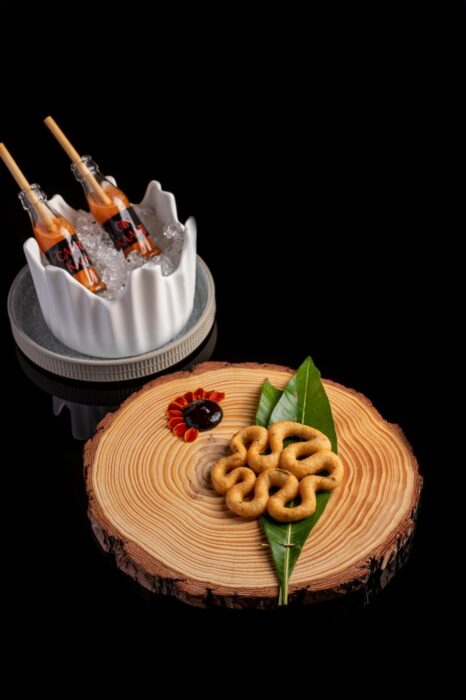 The next dishes are the delightful Alabu with lauki bharta, papadum waffle and pickled pumpkin, Karuvelvilas (bitter gourd) with ghee roast karela, mango sambhar ice cream and dosai crisp. The vegetable in this dish is considered beneficial for your health as it's a blood purifier and regulates the metabolism of sugar.
After a short break, we tried Sandhita (pickle) with achari broccolini, tomato relish and crispy kale. I am not a big fan of kale as I usually find it too dry, but the tomato sauce gave it a softer taste and I thoroughly enjoyed it.
Despite having already tried eight dishes, we weren't feeling full at all and were excited about what was coming next. I was very impressed with panasa (jackfruit) with sea buckthorn thukpa and black rice crip and Krishna phal (passion fruit) with passion fruit, guava and strawberry bhel.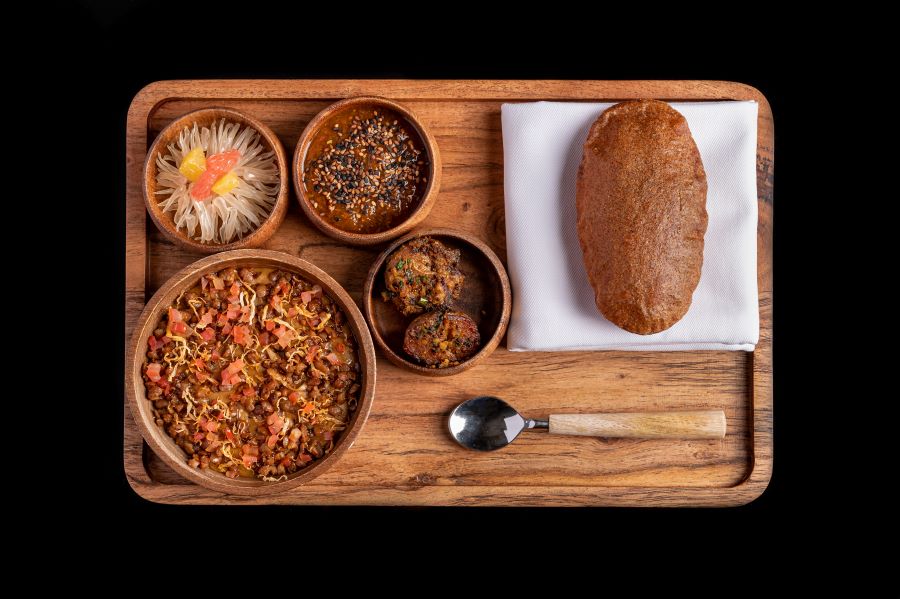 For mains, the menu features Grinjanah (turnip) steak with berry pulao and chili churry and the succulent Dalika (lentils) with horse gram curry, ragi bhatura and jakhiya aloo, which truly tasted as if you were eating meat.
Interestingly, our waiter also mentioned they don't use onion or garlic in any of their dishes, as they tend to overpower everything else and they want the flavours of the vegetables to really shine through.
For desserts, the menu features the divine Ksheer pudding with coconut kheer, appam and aam ras, the theatrical Madhuram with bal mithai, chocolate rosette and wild java plum sorbet and Paan (betel leaf), which is a really good digestive.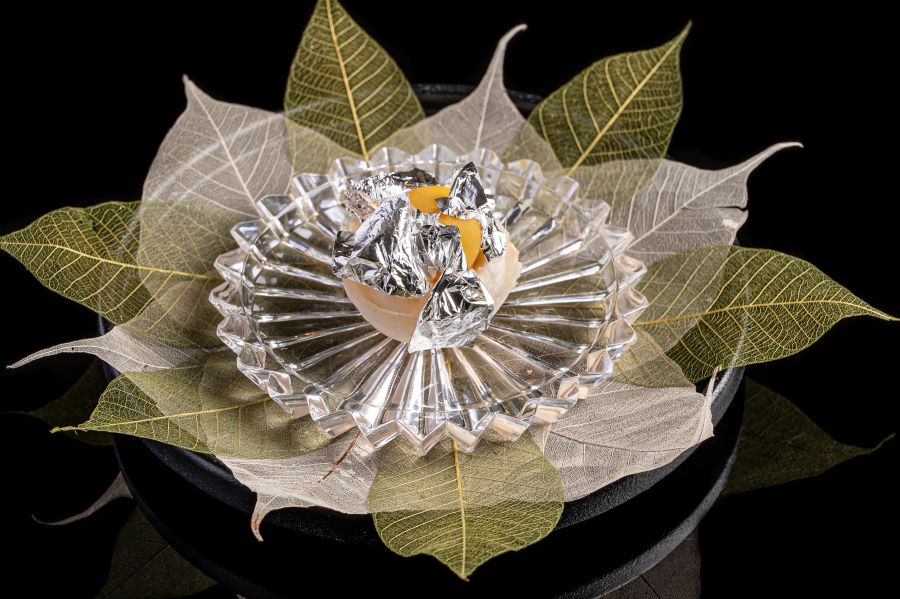 We end this unforgettable culinary journey with jasmine & lychee tea, which is beautifully presented with a red rose.
Will I become a vegetarian after this extraordinary experience? Probably not, but it definitely has changed my perception of vegetarian food and I would absolutely recommend this restaurant to anyone who wants to try vegetarian fine dining at its best. Perfect for special occasions, intimate dinners and maybe even to convert meat lovers.
Voco Hotel. Tuesday to Saturday from 6:30-11:30pm. Sundays 1:30-3pm & 6:30-11:30pm. Call +9715 8143 2867 and visit the website or Instagram