Embracing Sustainable Beauty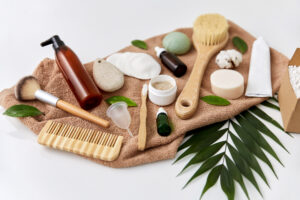 Layla Al Hajjaj, owner of Boho Salon, tells us about the unique challenges faced by mothers in maintaining their hair and beauty routines while striving for a sustainable lifestyle.
A sustainable, clean beauty routine transcends appearances and dives deep into personal wellbeing and environmental responsibility. It's about choosing products and practices that nourish our bodies and the planet we call home. Here are a few reasons why sustainable clean beauty matters:
Healthier choices
Conventional beauty products often harbour harmful chemicals that can seep into your skin and affect your overall health. By opting for clean and natural products, you're making a conscious choice to protect your body from potential harm.
Ethical consumption
As mothers, our choices resonate with our children. Embracing sustainable practices educates the next generation about responsible consumerism and the importance of preserving our planet.
Eco-friendly approach
From plastic waste to water consumption, the beauty industry has an environmental footprint. A sustainable beauty routine involves choosing brands that prioritise eco-friendly packaging and ethical sourcing.
Sustainable beauty tips for mothers
Here Layla shares her top advice for mums who want to become more sustainable with their beauty regimen.
Minimalism
During the summer, less is often more. Opt for lighter makeup looks and simplified hairstyles that require fewer products and less heat styling. Boho Salon offers consultations on chic, low-maintenance haircuts that are perfect for summer.
Water usage
In a region where water is precious, being mindful of water consumption is crucial. Use dry shampoos in between washes to maintain fresh hair while saving on water use. It's best to avoid conventional dry shampoos as those contain harmful or even cancer-causing chemicals. Our top pick at the salon is Refresh Dry Shampoo from Innersense Organic Beauty.
Shop locally
Leverage the power of local small businesses that sell handmade products with natural ingredients. This way you are making healthier choices and supporting a small business with ethical values.
Eco-friendly products
Buy from brands that prioritise sustainable packaging and offset their carbon emission. Our salon proudly carries products from brands that align with sustainable values, like Davines and Innersense Organic Beauty.
Sun protection
With the relentless summer sun, protection is essential – not only for your skin but also for your hair. Choose hair products with UV protection to shield your hair from damage.
Educate and empower
Involve your family in your sustainable journey. Teach your children about the importance of ethical choices and how small steps can make a big impact.
Prioritise self-care
Amidst busy schedules, don't neglect self-care. Pamper yourself with holistic beauty treatments that not only rejuvenate your skin but also leave you feeling refreshed and aligned with your sustainability goals.
In UAE, a country where innovation meets tradition, embracing a sustainable, clean hair and beauty routine is more than just a trend – it's a lifestyle choice that aligns with the UAE's vision for a harmonious future. As the owner of Boho Salon, I'm committed to providing mothers with exceptional beauty experiences and also the knowledge and tools to embrace sustainability with open arms. Together, we can make the worlds' landscape cleaner, greener and more beautiful than ever.