Post-event report: mother's wellbeing coffee and breakfast morning
Last month, we invited mums to join us at the Stella di Mare Hotel, Dubai Marina for our interactive 'wellbeing' themed coffee and breakfast morning, kindly supported by Babyshop, Clevamama and Al Ain Milk.
The event started with an introduction from Kay Marham, but rather than define 'wellbeing' for the audience, she went straight to members of the audience of mums to ask what 'wellbeing' meant to them.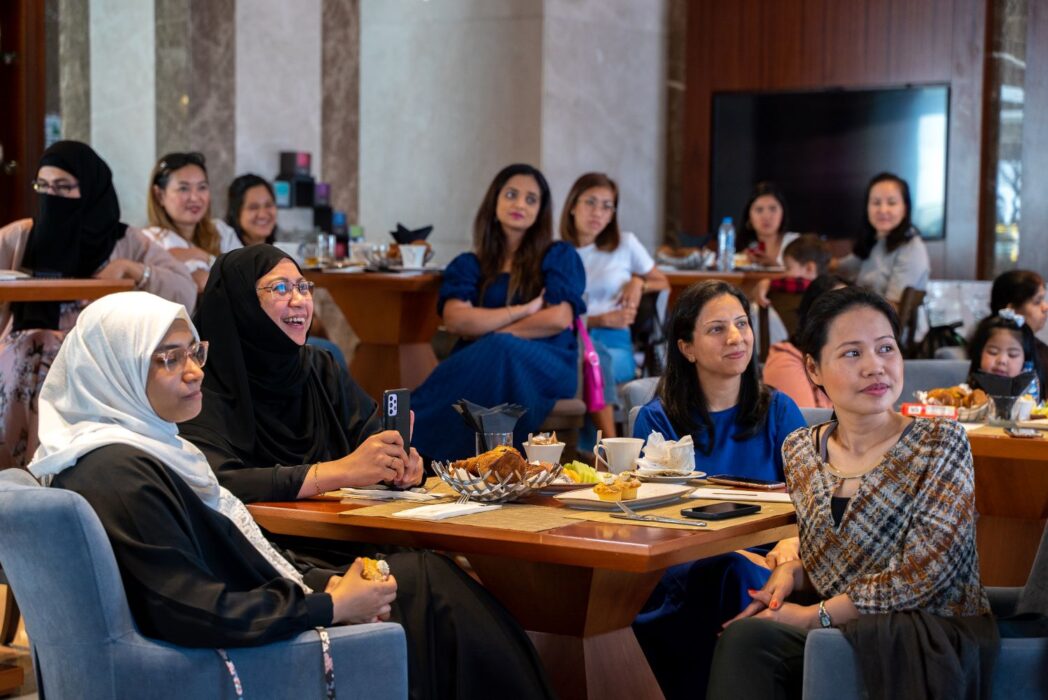 WHAT DOES 'WELLBEING' MEAN TO MOTHERS?
Interestingly, the most common comments from mothers was that "wellbeing means taking care of themselves, so they can better look after their families." This is a great sum-up of a mother's priorities – ultimately giving their children their best.
During the coffee morning we invited expert guests to give their perspectives and advice on how to achieve greater wellbeing – and the information that came out may surprise you!
ACHIEVING WELLBEING EVERY DAY
Aniqha Deen is a co-founder of the Honey Pot womens' waxing salon, the Skin Candy brand of skincare and the Fusion 14 brand of batik clothing in Sri Lanka. Despite her standing as a womens' grooming expert, Aniqha's advice on how mothers can achieve wellness through beauty was a surprising and warmly welcome twist on their expectations!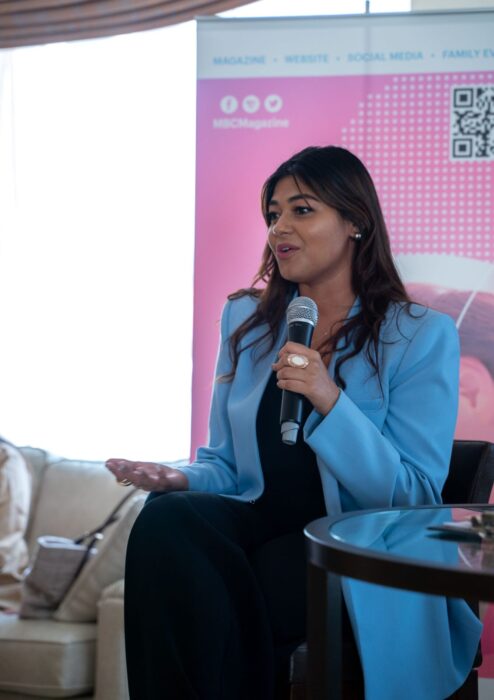 Smile!
Aniqha highlighted research into non-verbal communication and body language that says that if you smile at someone, there is a reflexive human instinct to smile back. Therefore, looking in someone's eyes and smiling at them as often as you can every day means that you will be collecting warm smiles from people all day. These can include smiling at your children, colleagues, neighbours, etc.
Ask for help and offer support
Aniqha went on to point out that wellbeing is created by offering help to other mothers and giving them the opportunity to support you too. True beauty, she said, is the connections we make with each other, especially when we recognise that someone else is stressed and in need of a kind word or show of support. The purest kind of beauty is who you are on the inside, seeing others for how they are and allowing others to understand and support you.
THE WELLBEING IMPLICATIONS OF POOR SLEEP
Mother to three incredible, beautiful adult children, Julie Mallon is a well-known expert, both here and abroad, in the field of 'sleep health.'
Julie started her session by emphasising the importance of sleep. She explained that part of the reason for the importance of getting children into healthy sleeping habits is because it is during sleeping hours that the brain will store knowledge and commit information to memory. This obviously has huge implications for school-age children who are studying.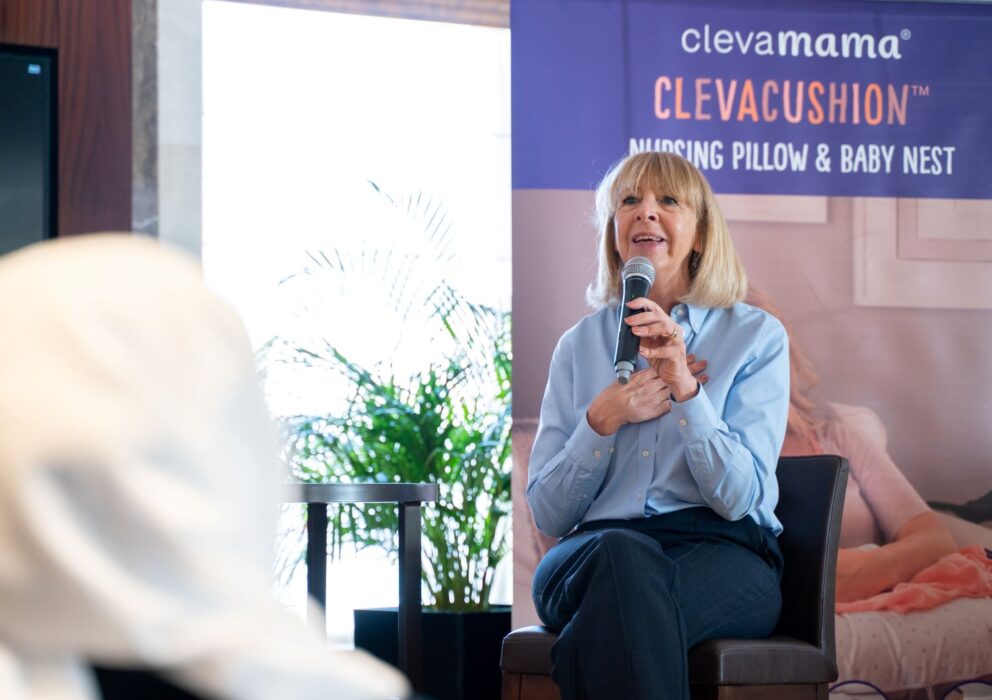 The more sleep we get, the more we support healthy brain function – and that holds true for both mothers and their children. She pointed out that napping is also a crucial opportunity to help memory and as little as six minutes of nap time is beneficial. She added that napping after 4pm can, however, have a negative effect on night time sleep, so napping between 1-4pm is optimal.
Julie went on to say that more and more studies indicate that when we're sleep deprived, it impacts our mood and often mental health – and for this reason, sleep should not be viewed as a luxury, but a necessity.
Newborn sleep and the link between sleep and colic
Julie talked to the audience about how a newborn's sleep cycle is very different to that of a baby at six months – they are not neurologically set up to sleep for a long time, as babies are born without any of the sleep hormone, melatonin, which sends signals to the brain that they are prepared for sleep. Melatonin also has a direct effect on colic – it works on the smooth muscle of the gut and stops the muscle going into spasm, which is why colic usually diminishes after 12 weeks. With a very gentle organic routine, your child can learn to anticipate sleep and feeding cycles.
If any mother is experiencing difficulty in getting their baby or child to sleep, or is feeling despair or desperation over sleep problems, please understand that the help to fix this really is there for you. You can contact Julie Mallon through her website www.nurture2sleep.com to book a consultation. You can also check out her Instagram page @nurture2sleep for tips and advice.
CLEVAMAMA PRODUCTS FOR BABIES
Claire O'Neill is a product expert with Clevamama, who provide a range of science-backed products that support both pregnant mothers and babies to sleep more optimally. Claire explained the technology behind Clevamama's ClevaPure Salt Lamp and Humidifier and their certified asthma and allergy friendly range of pillows – baby Sleep Pods.
The range was researched and developed in collaboration with world-renowned university, Trinity College in Dublin, where their ClevaFoam technology is engineered, designed and manufactured specifically to promote optimal baby sleep.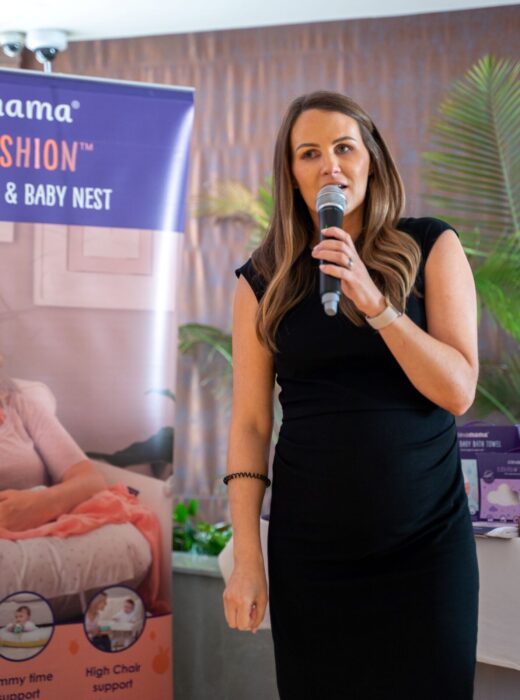 Claire detailed how the use of ClevaFoam in their brand's products supports your baby's rapidly growing body and developing joints, as well as protecting the round shape of a baby's soft head, to help prevent a common condition known as Flat Head Syndrome (Plagiocephaly).
This is the only product scientifically proven to reduce pressure on the back of a baby's head by 50% and to increase support by 80%, as well as being hypoallergenic, pH balanced and toxin free.
BABYSHOP PERSONAL SHOPPING EXPERTS
Motherhood is a journey that requires mums to be reliant on expert advice, guidance and education in so many ways. One of the important areas we need advice on is to understand the confusing range of baby equipment, such as strollers, feeding equipment and the optimum ways to equip yourself with everything your baby needs when you're outside of the home.
For these reasons, we have come to rely on Babyshop's Personal Shopping Experts to give us the latest updates on the products that are most popular with mothers this month. The highlight was a lightweight stroller that safely folds and compacts itself at a touch of a button – ideal!
Babyshop finished the event by providing a range of goody bags for the prize draw giveaway, which we like to do at the end of each of our events!