Recipe: Christmas Oreo Treats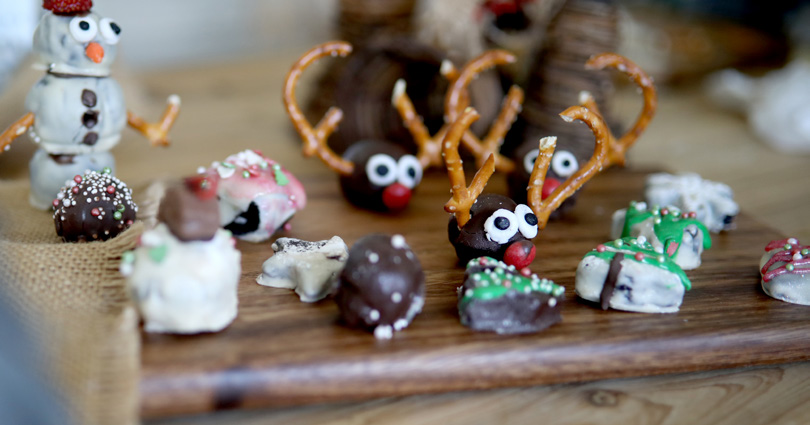 Ingredients:
Oreo cookies (original pack of 16)
200g cream cheese
White candy, melted
Brown candy, melted
Green icing
Edible silver dust
Rainbow-coloured candy balls
Googley eyes
Red M&Ms
Pretzels
Method:
STEP 1: Remove the oreo filling and process it until they become fine crumbs.
STEP 2:  Add cream cheese. Mix well or blend.
STEP 3: Shape some into balls and set some aside to shape into the Christmas tree, reindeers, snowflakes or gingerbread men – using cookie cutters.
STEP 4:  In two separate bowls, melt both white and brown candy melts, adding 1 tbsp of coconut oil to each bowl.
STEP 5: Dip the balls into the melted chocolate with a toothpick or fork and place it aside to set.
STEP 6:  Decorate the treats to your liking. To make Reindeers cut pretzels into half using it as the reindeer's ears, add googley eyes,
STEP 7: To decorate the tree, use green icing and sprinkle with rainbow-coloured candy balls.
STEP 8:  For snowflakes, decorate the dough with white icing and top it with silver dust.
Watch:
With thanks to Jeri Willmott (My Wild Tribe)
Here's another super easy and delicious recipe you might want to try
Photography and Video: CPI Media Group