Discover Camilla's resort chic Spring/Summer 2023 Collection
Experience the allure of Camilla's latest collection at Hamac Beach Boutique. From luxurious fabrics to captivating prints, embrace timeless elegance in swimwear and resort wear.
Renowned for their stylish and sophisticated swimwear and resort attire, Camilla is a favoured choice among trendsetting beach enthusiasts and globetrotters. If you're seeking to enhance your beachwear collection, make your way to Hamac Beach Boutique to explore the captivating collection that seamlessly merges comfort and style.
Dive into Colour with Camilla's Panel Dress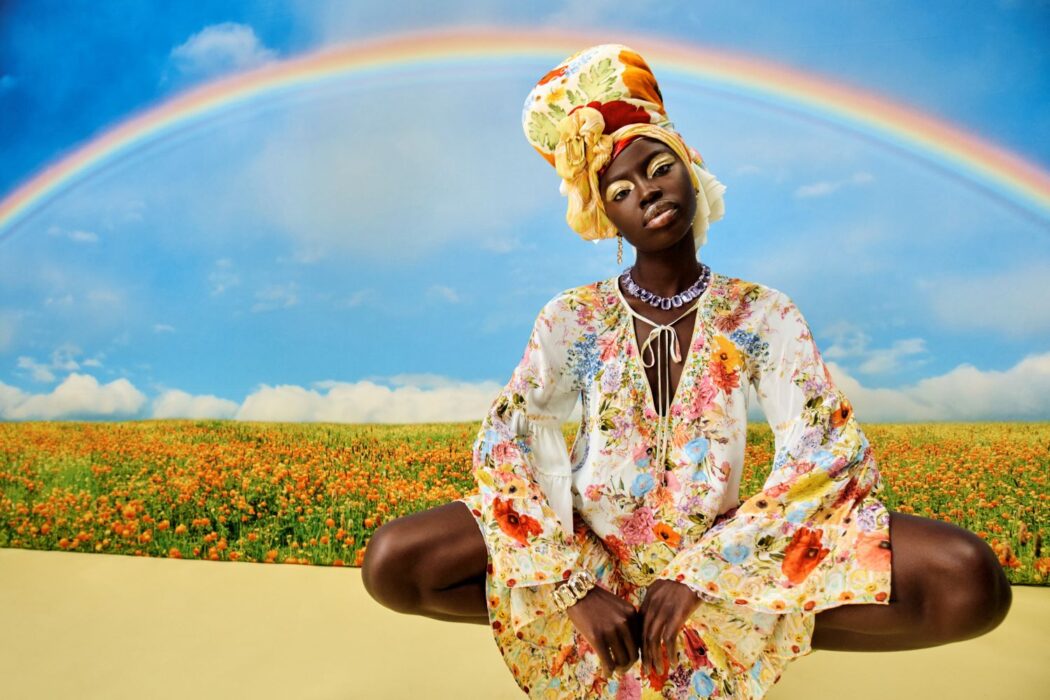 The Sunlight Symphony A-Line Gathered Panel Dress stands as a true masterpiece of fashion artistry. Crafted to bring your fantasies to life, it captures the very essence of a world where elegance and enchantment reign supreme. When you slip into this ethereal creation, it feels as if you're walking on air, with broad statement sleeves resembling billowing wings and a relaxed drop waist elegantly flaring into a flirtatious mini hemline.
The dreamlike dress features a soft pink hue reminiscent of cotton candy clouds, adorned with a whimsical dance of poppies in gentle blues, blushing carnations, and delicate leafy vines swaying with each step you take. Adding a touch of brilliance, hand-placed crystals make you shine like a star! It's the perfect choice for a summer look that radiates charm and grace.
Cinch Your Waist with Camilla's Kimono With Tie Belt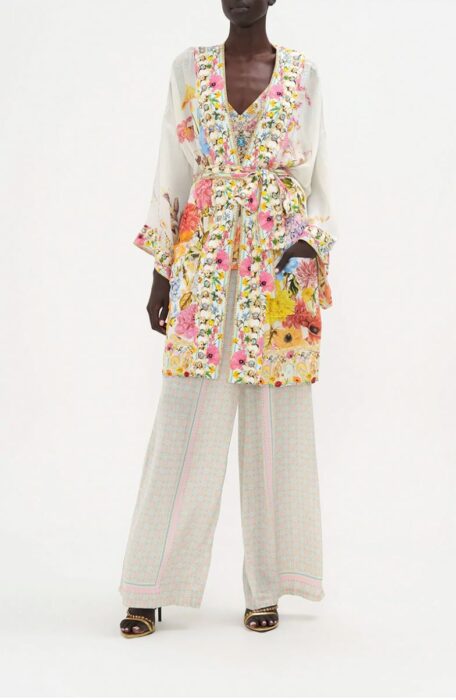 Immerse yourself in a dreamy world of enchantment with the Sunlight Symphony Kimono With Tie Belt. Crafted using Camilla's signature silk, this luxurious kimono showcases bold wide sleeves, a waist-tie that cinches and contours, and dazzling hand-embellished crystals. The relaxed cropped silhouette seamlessly complements any outfit, making it a versatile addition to your wardrobe. Get ready to make an entrance with this kimono that's certain to capture attention wherever you go. Embrace the magic, unleash the fun, and elevate your style to new heights!
Elevate Your Beach Look with the Retro Blouson Flared Dress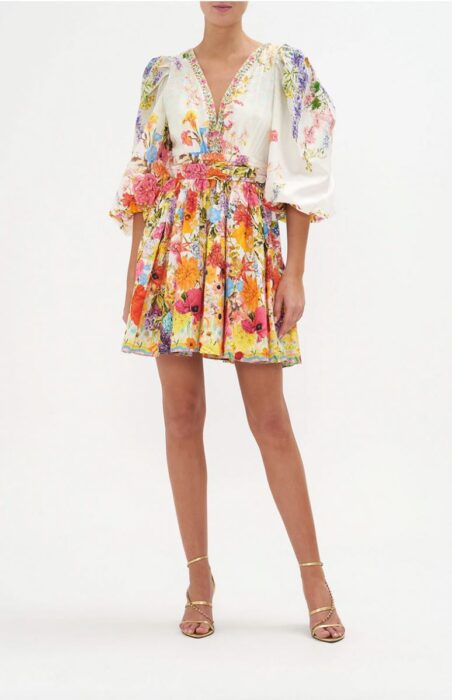 The Sunlight Symphony Blouson Flared Dress captures attention with its soft pink hue adorned with poppies in gentle blues, blushing carnations, and a delicate cascade of leafy vines. Enhanced by hand-placed Camilla crystals, this luxury cotton and silk dress boasts a deep V neckline, voluminous blouson sleeves, a relaxed mini silhouette that gracefully transitions into a decadent flare hemline, and a fitted waist that shapes and cinches.
Strut Your Style with the Camilla V-Neck Bra & V High-leg Pant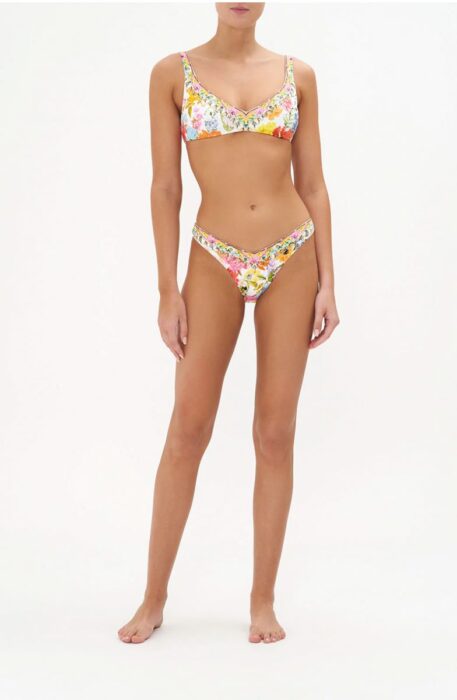 Crafted from ECONYL® regenerated nylon, this style not only champions eco-friendliness but also exudes elegance. The V-neckline adorned with dazzling hand-embellished crystals makes you feel like a true beach diva. With bust dart details ensuring a perfect fit, the fully adjustable straps give you complete control over your beach vibe. This guilt-free and magnificent look empowers you to confidently slay all summer long! The sustainable bikini bottom, created from ECONYL®, boasts a high-rise silhouette that elongates the leg, while the V-style cut complements the waist. Embrace eco-friendly fashion without compromising on style.
Visit Hamac Beach Boutique to explore an array of desirable beachwear and swimwear from renowned brands like Camilla. With multiple convenient locations in Dubai and Abu Dhabi, the boutique offers an extensive range of beloved brands, ensuring ample choices for discerning customers.
For more information, visit the boutique's website