Recipe: Berry Smiley Pancake Stack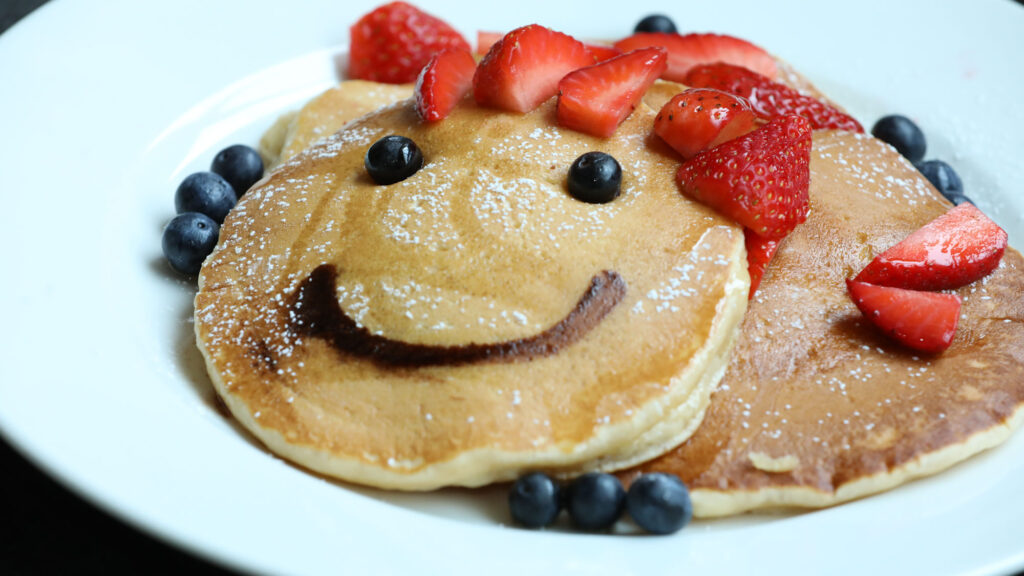 This recipe makes 6 pancakes.
Ingredients:
500g refined flour
60ml full fat milk
450ml full fat laban
4 eggs
115g sugar
1 ½ tbsp. baking powder
4 tbsp. softened butter
1/4 tsp vanilla extract
Maple syrup, to drizzle over
Method:
STEP 1: Whisk eggs and sugar until it becomes creamy.
STEP 2: Add butter and continue to mix.
STEP 3: Then add milk and laban into creamy mixture and whisk until combined.
STEP 4: Mix flour and baking powder in a bowl until well combined.
STEP 5: Then mix the dry and liquid mix together leaving tiny small lumps – try not to over-beat the batter.
STEP 6: Refrigerate the batter for 20 minutes prior to use.
STEP 7: Heat non-stick pan over medium heat and using a ladle gently pour pancake mix into the pan and leave for 2 mins. Then flip the pancake to cook other side.
STEP 8:  Remove from the heat and serve with maple syrup and top with berries.
Mums, if your child can't wait for it to cook, you can even make cookie-size tiny pancakes which are smaller and take less cooking time!
With thanks to Rohan Ariyasena, Executive Chef at Eggspectation
Here's another super easy and delicious recipe you might want to try
Photography: CPI Media Group